Should You Hire a CFO?
by Mark Henricks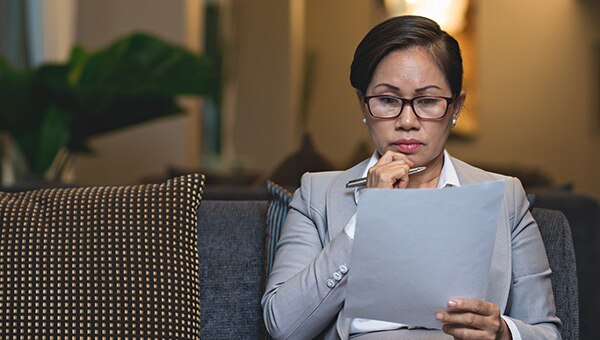 All big businesses have chief financial officers, but few small businesses do. If you grow to a mid-sized company, odds are you will at some point hire a CFO. Compared to other financial professionals such as bookkeepers, controllers and accountants, CFOs are less concerned with day-to-day accounting work such as handling the ledger and bank accounts—and more involved in strategy. That includes complex tasks such as raising capital, securing a loan, working with investors, and analyzing mergers and acquisitions.
When Does a Business Need a CFO?
There is no single indicator that a business needs a CFO, but one good sign is when the business is suffering because the CEO is distracted from important business development tasks in order to handle jobs that a CFO could do. Another indicator is if jobs a CFO would do, such as preparing financial statements and evaluating risk, are not being done or aren't being done well.
Size is clearly an issue, and when a business reaches $10 million or $20 million in revenues, a CFO may be needed. However, a CFO hire may only be justified in certain kinds of firms—depending on the business's complexity and financing needs. Firms that are fast-growing are more likely to benefit from a CFO while they're still relatively small.
When a company is a target for acquisition or merger, or may acquire another firm itself, a CFO is likely to be necessary for analyzing the deal and making sure due diligence is adequate. Almost certainly, a company contemplating an initial public offering will require a CFO well-versed in the legal and technical requirements of becoming a public company.
What Makes a Good CFO?
Businesses seeking financing often hire CFOs specifically to communicate with bankers and investors. A CFO with the proper image—one who knows what financiers want to hear and able to convey it convincingly—can make a significant difference in a firm's ability to access capital.
The first step in selecting a CFO is to look for the proper credentials. Most CFOs are CPAs (Certified Public Accountants). Other certifications to look for include Chartered Accountant and CMAs (Certified Management Accountant). Certain industries and types of firms tend to favor one kind of accreditation over another, and different countries recognize different certifications.
In addition to solid technical credentials, look for a CFO that demonstrates relevant industry experience. While an accountant may be able to apply knowledge adequately well in many different industries, a CFO works at a higher level and needs to be well-versed in the details of the particular challenges in your industry.
Other Considerations in CFOs
Communications skills represent another key differentiator between good CFO candidates and other financial professionals. A CFO must be able to clearly and convincingly explain the business's strategy to investors, directors, suppliers, employees, and other stakeholders. Ideally, the CFO must also convey an image of unshakeable integrity and competence. A CFO should also be a long-term solution, and have the ability and willingness to stick around for a few years, especially if a company is growing rapidly.
Of course, CFOs with all these talents do not come cheap, and even a small firm will likely have to offer a six-figure salary and benefits to secure a viable candidate. Alternatives to hiring a full-time CFO include arranging for a part-time or fractional CFO. Firms may also hire consultants to do specific projects, such as analyzing merger transactions.
Hiring a CFO is a big decision for any company, especially given the cost and the considerable discretion the CFO will be given to the direction of the company. It is a decision that should be periodically revisited as a company grows in size and complexity. This way, when the need for the CFO appears, the organization is well-prepared to fill it.
Optimize Your Business Cash Flow
Important Legal Disclosures and Information
PNC is a registered mark of The PNC Financial Services Group, Inc. ("PNC"). This article has been prepared for general information purposes by the author who is solely responsible for its contents. The opinions expressed in these articles are those of the author and do not necessarily reflect the opinions of PNC or any of its affiliates, directors, officers or employees. This article is not intended to provide legal, tax or accounting advice or to suggest that you engage in any specific transaction, including with respect to any securities of PNC, and does not purport to be comprehensive. Under no circumstances should any information contained in the presentation, the webinar or the materials presented be used or considered as an offer or commitment, or a solicitation of an offer or commitment, to participate in any particular transaction or strategy or should it be considered legal or tax advice. Any reliance upon any such information is solely and exclusively at your own risk. Please consult your own counsel, accountant or other advisor regarding your specific situation. Neither PNC Bank nor any other subsidiary of The PNC Financial Services Group, Inc., will be responsible for any consequences of reliance upon any opinion or statement contained here, or any omission. Banking and lending products and services, bank deposit products, and Treasury Management products and services for healthcare providers and payers are provided by PNC Bank, National Association, a wholly owned subsidiary of PNC and Member FDIC. Lending and leasing products and services, including card services and merchant services, as well as certain other banking products and services, may require credit approval.
GET IN TOUCH

Stay Connected

Join Us

Be part of our inclusive culture that strives for excellence and rewards talent.

Visit PNC Careers »
The PNC Financial Services Group, Inc. All rights reserved.