Toggle nav
Login
Sign on to Online Banking
---
Personal and Small Business:
---
Personal and Small Business:
---
Corporate and Institutional: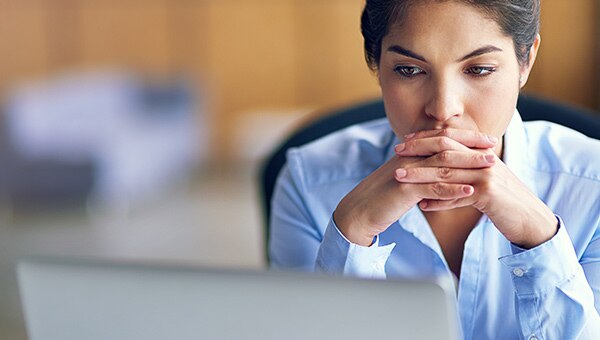 Every once in a while, you come across a client who can't or won't pay what they owe you. So you repeatedly remind them, you follow up, you may even have your attorney send an official letter. But when all that fails, what can you do? Show up at their office? Small claims court? Not so helpful if you're in different parts of the country.

Act sooner than later

One solution that can reduce your stress level and increase your odds of getting what you're owed is handing the task over to a collection agency. The key is to take that step sooner rather than later, explains Jeff DiMatteo, co-owner of American Profit Recovery, Inc., in Marlborough, Mass. Small business owners typically wait six to 12 months before retaining outside help, which is "way too long," he says.

Many companies try other tactics first because they want to avoid paying a percentage to a collection agency or they are afraid of alienating the past-due client. By waiting, however, they lower their odds of ever getting their money.
"The longer a bill goes delinquent, the harder it is to get collected," DiMatteo says. Approximately 10-14% of all accounts sent to collections at a year or more eventually pay up, he adds.

Put collection agencies to work for you

Most agencies take a third of any monies collected on behalf of clients, while others, like American Profit Recovery, take a flat fee for a certain level of work. American Profit charges between $10 and $22 per account at their Tier 1 Level. DiMatteo calls this service "diplomatic collections." It consists of an automated process that tries to open the lines of communication and encourage clients, nicely, to pay their bill. Typically, when someone gets a notice from a collection agency the bill becomes a higher priority, he says. For that reason, using this approach, he estimates, 40 to 50 percent of accounts pay their bills.

If that series of letters doesn't generate a payment, business owners then have the option to take further action, such as filing a small claims suit or moving to a Tier 2 collections process, where communications are more aggressive and the results affect a customer's credit report.

Know when to seek help

Horror stories about unprofessional collections agencies cause some entrepreneurs to be wary of relying on an outside company to handle money matters. DiMatteo agrees that finding a reputable agency is critical. He recommends looking at firms that are active in the Association of Credit and Collection Professionals, have overall positive online reviews and have experience in your particular industry.

Even more important, however, is starting early. Don't wait until a year has passed to get serious about collecting what you're owed. At that point, your client can come up with all sorts of justifications for not paying the bill, says DiMatteo.
Instead, create an internal process for staying on top of accounts receivable, such as invoicing promptly, sending a second invoice followed by a customer service call at 30 days, then another notice at 60 and 90 days.
If you've gotten nowhere by 90 days, consider handing over the account to a collection agency for Tier 1 service. Having an outside partner initiating the uncomfortable conversations helps to protect your relationship while simultaneously pushing for payment.
Optimize Your Business Cash Flow
Important Legal Disclosures and Information
PNC is a registered mark of The PNC Financial Services Group, Inc. ("PNC"). This article has been prepared for general information purposes by the author who is solely responsible for its contents. The opinions expressed in these articles are those of the author and do not necessarily reflect the opinions of PNC or any of its affiliates, directors, officers or employees. This article is not intended to provide legal, tax or accounting advice or to suggest that you engage in any specific transaction, including with respect to any securities of PNC, and does not purport to be comprehensive. Under no circumstances should any information contained in the presentation, the webinar or the materials presented be used or considered as an offer or commitment, or a solicitation of an offer or commitment, to participate in any particular transaction or strategy or should it be considered legal or tax advice. Any reliance upon any such information is solely and exclusively at your own risk. Please consult your own counsel, accountant or other advisor regarding your specific situation. Neither PNC Bank nor any other subsidiary of The PNC Financial Services Group, Inc., will be responsible for any consequences of reliance upon any opinion or statement contained here, or any omission. Banking and lending products and services, bank deposit products, and Treasury Management products and services for healthcare providers and payers are provided by PNC Bank, National Association, a wholly owned subsidiary of PNC and Member FDIC. Lending and leasing products and services, including card services and merchant services, as well as certain other banking products and services, may require credit approval.