Keeping Your Small Business Accounting Practices in Good Order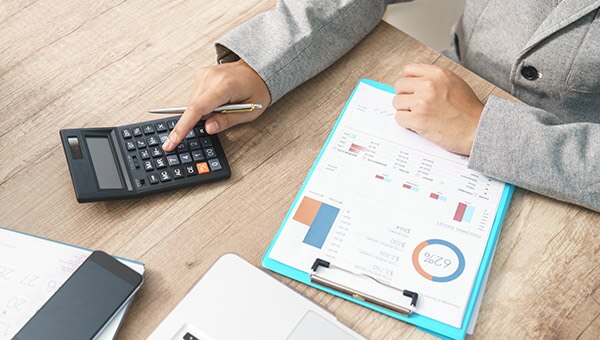 You may be accustomed to the do-it-all, multiple-hat-wearing mentality of running a small business, and technology makes it easier than ever to jump head-first into the role of accountant. An impartial third-party accountant, however, can catch mistakes that might distort the reality of your company's fiscal health — mistakes that could endanger the long-term viability of your business.
Here are some of the most common accounting mistakes small business owners make and how a great financial partner can help.
Missing Tax Write-offs and Other Cost-saving Opportunities
Managing all of your accounting in-house sometimes translates into missed opportunities to save money. Tax credit write-offs[1], for example, can vary, and include:
Petty cash expenses: Subway trips or taxi rides paid out of petty cash for business use can be written off, just be sure to keep the receipt.
Car expenses: Depending on how you use the car and whether you own or lease it, you may be able to write off the mileage or the payment (whichever is greater)
Document-preparation costs: If you paid to notarize documents, you might be eligible for a small deduction.
Bank fees: Charges imposed by banks on small businesses are often tax deductible, so keep those records in order.
Research costs and startup costs[2]: Did you obtain a patent for a product your small business is going to sell? If so, the cost can be written off.
It's one thing to claim a write-off and another to prove to the IRS that the write-off is accurate. This is where a trusted financial planner can become critically important to ensuring you get the tax credits you're entitled to without compromising the integrity of your business or its accounting practices.
Assigning Clear Budgets to New Projects
Every decision you make for a business has ramifications for the bottom line. Working with a financial services partner, like a bank or accountant, can help you assess multiple angles of a project in order to accurately assign a clear budget. Going into a project with a fuzzy idea of how much it might cost is an easy way to spend more than you want to. A pro can help you understand the costs — and the potential cost savings — with an accurate budget. But there are some things you can do to help organize your project and keep a budget on track, including:
Define any and all new costs including for labor, equipment, material, administrative, software, and travel.
Look to other projects your business has run for any considerations you're not already thinking about.
Monitor your resources and build in some flexibility to where the project money is funneled to.
Manage scope by defining and building the minimum viable product before you start adding new features.
Reconciling the Books with the Bank Accounts
Time is of the essence when running a small business. Business owners might not have the time to crosscheck the books to make sure they match the bank accounts. By books, we mean any system—high or low tech—that is managing sales, receipts, and inventory. These two systems are not always one in the same. Skipping the routine task[3] of crosschecking your bank records with your internal tracking systems could end up costing money. From time to time, small costs and expenses may also go unrecorded, which throws off the numbers and leaves you searching for answers at a later date.
Don't worry if you've already made some of these mistakes — it's never too late to improve.
Optimize Your Business Cash Flow
Important Legal Disclosures and Information
https://www.thebalancesmb.com/missed-business-tax-deductions-397624

https://www.irs.gov/businesses/small-businesses-self-employed/current-year-deduction-of-research-development-expenditures

https://quickbooks.intuit.com/r/bookkeeping/avoid-these-common-small-business-accounting-mistakes/
PNC is a registered mark of The PNC Financial Services Group, Inc. ("PNC"). This article has been prepared for general information purposes by the author who is solely responsible for its contents. The opinions expressed in these articles are those of the author and do not necessarily reflect the opinions of PNC or any of its affiliates, directors, officers or employees. This article is not intended to provide legal, tax or accounting advice or to suggest that you engage in any specific transaction, including with respect to any securities of PNC, and does not purport to be comprehensive. Under no circumstances should any information contained in the presentation, the webinar or the materials presented be used or considered as an offer or commitment, or a solicitation of an offer or commitment, to participate in any particular transaction or strategy or should it be considered legal or tax advice. Any reliance upon any such information is solely and exclusively at your own risk. Please consult your own counsel, accountant or other advisor regarding your specific situation. Neither PNC Bank nor any other subsidiary of The PNC Financial Services Group, Inc., will be responsible for any consequences of reliance upon any opinion or statement contained here, or any omission. Banking and lending products and services, bank deposit products, and Treasury Management products and services for healthcare providers and payers are provided by PNC Bank, National Association, a wholly owned subsidiary of PNC and Member FDIC. Lending and leasing products and services, including card services and merchant services, as well as certain other banking products and services, may require credit approval.
GET IN TOUCH

Stay Connected

Join Us

Be part of our inclusive culture that strives for excellence and rewards talent.

Visit PNC Careers »
The PNC Financial Services Group, Inc. All rights reserved.