Managing Inventory Efficiently
by Mark Henricks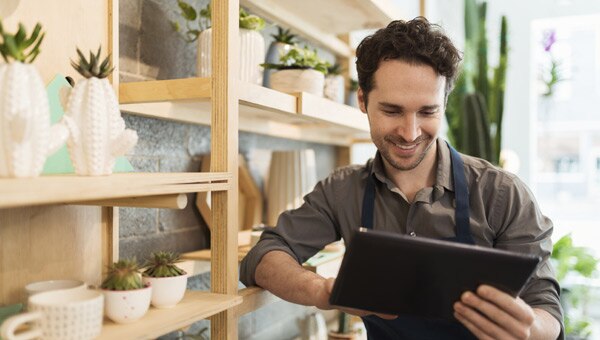 Inventory is more than just the contents of the warehouse. The financial value of the raw materials, finished products and other components make inventory one of the largest corporate assets owned by businesses. As a result, even modest improvements in managing inventory can significantly increase efficiency and profitability for your businesses — whether you're a manufacturer, distributor or retailer.
The Essentials of Inventory Management
There are two key questions underlying inventory management:
How much do you buy?
When should you buy it?
The correct answer to both is whatever enables the business to match supply and demand in the most cost-effective way. A specific set of considerations will help determine the best approach to these in almost any situation.
First, a business needs to know what the inventory costs. This is more than just the price vendors charge for materials, parts, tools, equipment or other items. It also costs money to hold and store inventory. If borrowed money is used to purchase inventory, interest costs must be included. If cash is used to purchase inventory, the cost of lost interest should be part of this calculation. When a business buys more inventory than necessary, these costs are increased and efficiency is decreased.
The business also needs to know how much it costs to not have enough inventory. One cost, for instance, is not having stock available when customers are ready to purchase it. Stock-outs can result in lost sales and damaged reputation. Running out of materials and supplies can also cause inefficient production or work stoppages, which only adds to costs. Placing last-minute orders for out-of-stock goods can increase costs if rush fees and express shipping charges are incurred.
Another factor of inventory management is the availability of price discounts that vendors may offer in exchange for large or frequent orders. Failing to take advantage of these discounts raises costs higher than they need to be. If prices for materials are going up over time, ordering more at lower prices today may reduce the overall average cost of goods in the future.
Assessing Inventory Demand
To make the decision about how much and when to order, a business must know how much of a given item it's consuming. For instance, this could be the number of cars an auto dealer sells in an average month. The inventory manager also needs to know how long it takes for an ordered product to be received after it is ordered. The idea is to order early enough for shipments to arrive before stocks are exhausted.
Demand is rarely forecasted with exact precision, so most businesses build in a safety margin by ordering more than the forecast to protect against uncertainty. Seasonal or cyclical demand changes are also considerations, as are fashion and technological trends. But having too large a safety margin can lead to having a warehouse stuffed with obsolete products that can only be sold at steep discounts — if at all.
Inventory Management Systems
There are two basic types of inventory management systems: continuous and periodic. In a continuous system, a constant order amount is placed any time inventory reaches a predetermined level. With the periodic system, the order amount may vary, but with a fixed time period (such as monthly).
In order to focus inventory management efforts where they'll do the most good, businesses often classify items by cost and consumption rate. High-value, high-consumption items get the most attention and are more carefully controlled. For instance, the semiconductor chips that supply the main processing power may be the most expensive parts for a computer manufacturer, so these may be tracked and managed much more carefully than other parts.
In an ideal inventory-management world, demand is known ahead of time with statistical accuracy, lead time between ordering inventory and receiving shipments is constant and reliable, and customers never have trouble finding the products they want. In the real world, it's usually much more complex, but experience and trends can inform the right decisions for your business.
One simple fact remains: Managing inventory wisely is essential to maximizing business efficiency.
Optimize Your Business Cash Flow
Important Legal Disclosures and Information
PNC is a registered mark of The PNC Financial Services Group, Inc. ("PNC"). This article has been prepared for general information purposes by the author who is solely responsible for its contents. The opinions expressed in these articles are those of the author and do not necessarily reflect the opinions of PNC or any of its affiliates, directors, officers or employees. This article is not intended to provide legal, tax or accounting advice or to suggest that you engage in any specific transaction, including with respect to any securities of PNC, and does not purport to be comprehensive. Under no circumstances should any information contained in the presentation, the webinar or the materials presented be used or considered as an offer or commitment, or a solicitation of an offer or commitment, to participate in any particular transaction or strategy or should it be considered legal or tax advice. Any reliance upon any such information is solely and exclusively at your own risk. Please consult your own counsel, accountant or other advisor regarding your specific situation. Neither PNC Bank nor any other subsidiary of The PNC Financial Services Group, Inc., will be responsible for any consequences of reliance upon any opinion or statement contained here, or any omission. Banking and lending products and services, bank deposit products, and Treasury Management products and services for healthcare providers and payers are provided by PNC Bank, National Association, a wholly owned subsidiary of PNC and Member FDIC. Lending and leasing products and services, including card services and merchant services, as well as certain other banking products and services, may require credit approval.
GET IN TOUCH

Stay Connected

Join Us

Be part of our inclusive culture that strives for excellence and rewards talent.

Visit PNC Careers »
The PNC Financial Services Group, Inc. All rights reserved.