Toggle nav
Login
Sign on to Online Banking
---
Personal and Small Business:
---
Personal and Small Business:
---
Corporate and Institutional:
5 Ways Successful Business Owners Maximize Time & Resources
by Sabah Karimi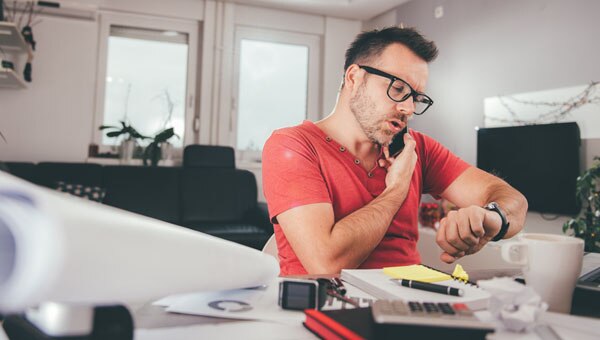 Successful business owners understand the value of their time and how their daily activities and productivity affect the bottom line. Since small businesses have small teams, it's even more important for business owners to be mindful of their time and eliminate workplace distractions that can undermine productivity. The most successful business owners take the time to map out their goals, stay organized, identify tasks and projects quickly, and execute plans without consuming too many resources.
Here are five essential productivity habits of successful business owners:
1. Prioritizing Vision and Execution
All business owners have a vision, but successful business owners have a clear vision and a detailed plan to execute on that vision. Making the time to brainstorm ideas and develop the vision and then to start mapping out a strategy to execute on that vision is a key to success.
Trying to make the vision come to life without a solid execution plan can be counterproductive and can leave the business owner — and team — wasting time and resources on activities that are not supporting the company vision.
2. Delegating Tasks to a Strong Team
Delegating tasks to qualified team members can help a small business owner succeed at their job. Since time management is a necessary skill for business leaders, it's important to build a strong team that will take care of assigned tasks as efficiently as possible.
From handling accounting and cash flow management tasks to organizing meetings, it's important to have at least one team member to hand off these tasks to. Delegating tasks helps to clear up the business owner's growing to-do list and gives team members opportunities to contribute and make full use of their skill sets.
3. Managing Meetings Effectively
Holding meetings without a defined purpose or agenda is not good business practice, reports the U.S. Small Business Administration. Stay productive by preparing for the meeting ahead of time and keeping the team on course. Make sure meetings have a stated start and end time, a clear purpose, and truly are the most efficient way to get something accomplished. If a meeting doesn't have a plan behind it, avoid scheduling one.
4. Using Project Planning Tools
Organizing projects and tasks can consume a lot of time, especially if a business owner doesn't have project management experience or hasn't hired a full-time project manager for assistance. Fortunately, there are several tools and programs available to help keep projects moving with minimal effort.
Project planning tools like Asana and Basecamp make it easy to break down projects and assign tasks to team members. They also provide a visual log of all activities, so it's easier to keep track of what is being worked on and where projects stand.
5. Making Decisions with Confidence
While it does take time to make bigger decisions — especially when there is an element of risk involved — business owners need to make decisions with confidence after reviewing data, seeking advice from mentors, and gathering other information they need.
Prioritizing vision and execution could help with this. By setting a vision and working towards a strategy, you can make decisions confidently based on your strategy and goals. Spending too much time analyzing or setting up meetings can be a real time waster. It can also affect productivity, since team members can't move forward until certain decisions are made. Making decisions swiftly and with confidence can improve productivity for all members of the organization.
Improving productivity can help small business owners improve their bottom line, optimize cash flow, and generate more revenue quarter after quarter. These five productivity habits are essential for any business owner looking to grow and excel in their industry.
Optimize Your Business Cash Flow
Important Legal Disclosures and Information
PNC is a registered mark of The PNC Financial Services Group, Inc. ("PNC"). This article has been prepared for general information purposes by the author who is solely responsible for its contents. The opinions expressed in these articles are those of the author and do not necessarily reflect the opinions of PNC or any of its affiliates, directors, officers or employees. This article is not intended to provide legal, tax or accounting advice or to suggest that you engage in any specific transaction, including with respect to any securities of PNC, and does not purport to be comprehensive. Under no circumstances should any information contained in the presentation, the webinar or the materials presented be used or considered as an offer or commitment, or a solicitation of an offer or commitment, to participate in any particular transaction or strategy or should it be considered legal or tax advice. Any reliance upon any such information is solely and exclusively at your own risk. Please consult your own counsel, accountant or other advisor regarding your specific situation. Neither PNC Bank nor any other subsidiary of The PNC Financial Services Group, Inc., will be responsible for any consequences of reliance upon any opinion or statement contained here, or any omission. Banking and lending products and services, bank deposit products, and Treasury Management products and services for healthcare providers and payers are provided by PNC Bank, National Association, a wholly owned subsidiary of PNC and Member FDIC. Lending and leasing products and services, including card services and merchant services, as well as certain other banking products and services, may require credit approval.
GET IN TOUCH

Stay Connected

Join Us

Be part of our inclusive culture that strives for excellence and rewards talent.

Visit PNC Careers »
The PNC Financial Services Group, Inc. All rights reserved.