Toggle nav
Login
Sign on to Online Banking
---
Personal and Small Business:
---
Personal and Small Business:
---
Corporate and Institutional: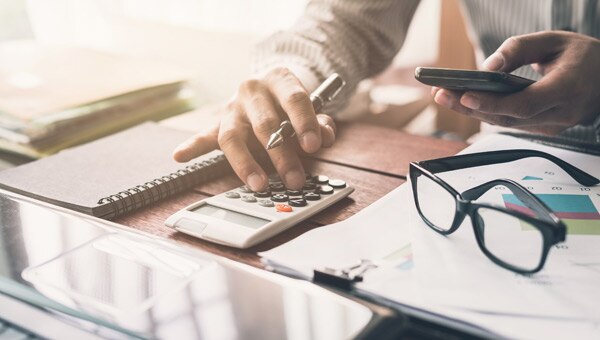 A common mistake for beginning entrepreneurs, which unfortunately even more established business owners tend to make, is intermingling their business and personal finances. It's understandable enough—many business owners feel that they work so hard, and their business is so powerfully connected to who they are as a person, that it's hard to distinguish "business" from "personal" life.
But just as you need to have a healthy work-life balance, you also need to have a clean, accurate separation of your personal financial life from your business finances.
It's understandably tempting to let a few things slide and blur the lines sometimes, but, on the whole, mixing your business and personal finances is a bad idea. If you do not have a clear, accountable division of your business and personal finances, you are running several risks that could cost you in both your business and personal lives.
Here are a few of the biggest risks of mixing your business and personal finances:
You might lose money. By mixing your business and personal finances, you might be missing out on key business tax deductions and paying more taxes than you legally owe. Every time you use a personal credit card to pay for a business expense, you are potentially losing money in extra income taxes.
You might waste time. Business owners already have enough on their plates in the daily rush of running a business, without losing time due to confusing or inaccurate record-keeping. If your business expenses are not easily findable and searchable in one place, it makes it harder to keep everything straight at tax time.
You might be at risk for an IRS audit. If you accidentally (or deliberately) claim personal expenses as a business expense, this might be a red flag for IRS audits. The best way to avoid discrepancies that get unwanted attention from the IRS is to make sure that only legitimate business expenses get reported on your tax returns.
Your business might operate less efficiently. With a clear dividing line between business and personal expenses, there are no surprises along the way, and your business can run more smoothly. It helps to have business credit cards that you and your employees can use to pay for business expenses, or a business line of credit (in the name of your business) that you can use to deal with cash flow shortfalls or to make investments in new equipment or business growth. You can't run your business effectively if you're putting business purchases on your personal credit card, or if you don't have a bank account in your business's name.
You might miss your chance to build business credit history. During the early days of running a business, it can be hard to get access to small business loans and other business financing. So small business owners often start their businesses by using personal funds and/or personal lines of credit. There are instances where using personal funds, personal credit cards, or personal lines of credit makes sense for an owner—for example, if the business is still in startup mode and doesn't yet have an established credit history.
When just starting a business, there may not be any other option than to use personal funds or a personal line of credit to get your business off the ground. But as the business grows and the finances become more complex, it's important to know when it's the "right time" to fully separate your business and personal finances.
Ideally, you should set up a business bank account as soon as your business is formed or incorporated. As soon as you can get approved for a business credit card, a business line of credit, or a small business loan, you should make sure that any business financing is done in the name of the business—not in your personal name. This also will help you build credit for your business and make it easier and cheaper to get business financing in the future.
Running a business is challenging enough without sabotaging yourself by intermingling your business and personal finances. Keep your business records clean and separate from your personal life, and both your business and personal finances will be more likely to prosper.
Optimize Your Business Cash Flow
Important Legal Disclosures and Information
PNC is a registered mark of The PNC Financial Services Group, Inc. ("PNC"). This article has been prepared for general information purposes by the author who is solely responsible for its contents. The opinions expressed in these articles are those of the author and do not necessarily reflect the opinions of PNC or any of its affiliates, directors, officers or employees. This article is not intended to provide legal, tax or accounting advice or to suggest that you engage in any specific transaction, including with respect to any securities of PNC, and does not purport to be comprehensive. Under no circumstances should any information contained in the presentation, the webinar or the materials presented be used or considered as an offer or commitment, or a solicitation of an offer or commitment, to participate in any particular transaction or strategy or should it be considered legal or tax advice. Any reliance upon any such information is solely and exclusively at your own risk. Please consult your own counsel, accountant or other advisor regarding your specific situation. Neither PNC Bank nor any other subsidiary of The PNC Financial Services Group, Inc., will be responsible for any consequences of reliance upon any opinion or statement contained here, or any omission. Banking and lending products and services, bank deposit products, and Treasury Management products and services for healthcare providers and payers are provided by PNC Bank, National Association, a wholly owned subsidiary of PNC and Member FDIC. Lending and leasing products and services, including card services and merchant services, as well as certain other banking products and services, may require credit approval.