3 Reasons Why You Need to Invest in a Mobile-Friendly Website
by Amanda Abella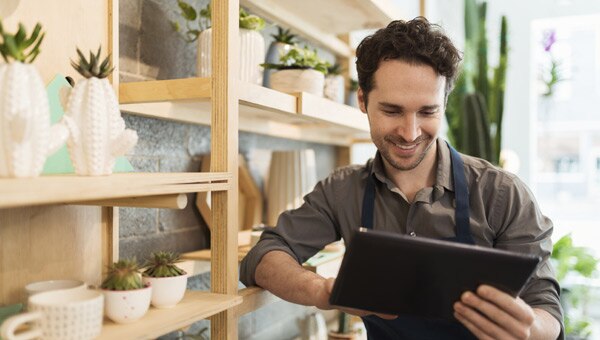 If you've been considering upgrading your website recently, your web designer or developer may have suggested making your business website mobile friendly. That is, to make your website design compatible with multiple — and smaller — screen sizes, not just a desktop.
Even if you haven't been pondering a new site design, you still may have heard about the importance of having a mobile-friendly website through the business grapevine.
You may have heard positive stories like the effect of mobile on e-commerce and how sales are now happening from smartphones. Or you may have heard news, like popular search engines penalizing non-mobile websites in search results.
1. You have to meet the people where they are.
A common rule of thumb for marketing is to meet potential customers where they are. Today, that means meeting them on mobile.
According to statistics from Smart Insights[1], a company dedicated to teaching people how to use digital marketing, people are starting to spend more time on their smartphones than they do on their desktops. The study found that users were on their mobile devices 2.8 hours out of the day as opposed to 2.4 hours per day on their desktop.
This means people are spending as much or more time browsing, searching, and shopping from smartphones and tablets as they are from their desktops.
2. It's all about the user experience.
The overall user experience of a website is extremely important when it comes to building trust with a potential customer. Small businesses are likely to have an advantage at making sales and connecting with customers if their site is mobile friendly. If not, customers will go somewhere else where it's easier to transact. A user and mobile-friendly website helps attract and keep customers on your website.
Additionally, a mobile-friendly website lets visitors know you're with the times. "Mobile-friendly design shows clients that your brand is modern, relevant, which helps build trust and credibility," explains Rachael Kay Albers, web designer at RKAInk.com[2].
As we move more towards mobile-first world and more of our lives happen in a handheld device, it's critical that websites are able to keep up so having a poor user experience and not having a mobile-friendly website can impact your search rankings. Popular search engines are now rewarding websites with mobile compatibility and penalize those who don't.
"Your website will drop in search rankings while your 'bounce rate' [how many users leave your site after only seeing one page] will skyrocket," warns Albers.
3. People are buying from their smartphones.
Since more traffic is coming from mobile, it should be no surprise that more people also are purchasing items from their smartphones.
According to a Quarterly E-Commerce Sales report from the U.S. Department of Commerce, e-commerce sales overall were $97.3 billion for the second quarter of 2016. This is an increase of 4.5 percent from the first quarter of 2016 and a 15.8 percent increase from the second quarter of 2015.
With everything being so easily accessible from a smartphone these days, it makes sense that it's becoming easier for people to shop there, too. Growth in sales via smartphone also helps explain why e-commerce sales are far surpassing department store sales: In 2015, the United States Census Bureau reported that e-commerce sales reached $48.3 billion dollars during the holiday season, while department stores only had $24.5 billion in sales.
In a world where everything has gone mobile, it's important that your business website does, too. The data is clear — if you don't go mobile with your website, you're leaving money on the table.
Important Legal Disclosures and Information
1. http://www.smartinsights.com/mobile-marketing/mobile-marketing-analytics/mobile-marketing-statistics/
2. https://www.rkaink.com/
PNC is a registered mark of The PNC Financial Services Group, Inc. ("PNC"). This article has been prepared for general information purposes by the author who is solely responsible for its contents. The opinions expressed in these articles are those of the author and do not necessarily reflect the opinions of PNC or any of its affiliates, directors, officers or employees. This article is not intended to provide legal, tax or accounting advice or to suggest that you engage in any specific transaction, including with respect to any securities of PNC, and does not purport to be comprehensive. Under no circumstances should any information contained in the presentation, the webinar or the materials presented be used or considered as an offer or commitment, or a solicitation of an offer or commitment, to participate in any particular transaction or strategy or should it be considered legal or tax advice. Any reliance upon any such information is solely and exclusively at your own risk. Please consult your own counsel, accountant or other advisor regarding your specific situation. Neither PNC Bank nor any other subsidiary of The PNC Financial Services Group, Inc., will be responsible for any consequences of reliance upon any opinion or statement contained here, or any omission. Banking and lending products and services, bank deposit products, and Treasury Management products and services for healthcare providers and payers are provided by PNC Bank, National Association, a wholly owned subsidiary of PNC and Member FDIC. Lending and leasing products and services, including card services and merchant services, as well as certain other banking products and services, may require credit approval.