Toggle nav
Login
Sign on to Online Banking
---
Personal and Small Business:
---
Personal and Small Business:
---
Corporate and Institutional: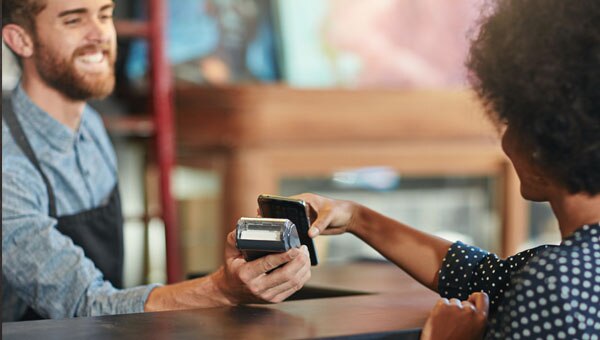 Mobile payment technology is steadily gaining ground among consumers who desire a convenient way to make purchases. The Federal Reserve's Consumer and Mobile Financial Services 2016 report found that 28% of smartphone owners reported using mobile payment services. In terms of how they're putting mobile payment apps to work, 42% used them to make purchases online, while 33% were paying through their phone in-store.
Accepting mobile payments offers some distinct advantages for small business owners who have an eye on growing their enterprise. If your business has yet to adopt this kind of technology, these key benefits just might persuade you to make the leap.
1. Loyalty Program Integration
Loyalty programs are a good way to encourage repeat business, and incorporating mobile payments can create an enhanced user experience for your customers. But syncing the two together makes it easier for shoppers to track rewards they're earning through the program.
In order to take your loyalty program to the next level, you could incentivize customers by offering special discounts or bonus rewards for choosing to pay via their mobile device.
2. Trend Tracking

Getting to know the people who are patronizing your business is important for identifying patterns in how often they spend and what they buy. Mobile payment technology allows small business owners to analyze customer data and pick out the most significant trends. That information can then be used for tailoring your marketing and sales promotions. This is another example of how syncing mobile payment technology and a loyalty program could pay dividends. Not only can you track patrons who frequent your establishment, tracking your customer data also allows you to make personalized recommendations for products or services based on a particular customer's previous purchase history.
Additionally, linking your mobile point-of-sale system with an inventory management software can help you keep tabs on inventory trends. That can make it easier to plan ahead, so you're not running short of a particular item during a peak sales period.
3. Reduced Transaction Costs

In 2011, the federal government enforced new rules regarding interchange fees for debit and credit card transactions. While the updated guidelines capped the fee for debit card purchases, there's no limit on credit card processing fees. If your business accepts credit cards, getting on board with mobile payments has the potential to save you money.
Some mobile payment companies charge a lower transaction fee compared to what the credit card company tacks on. Others may offer a discounted fee if you have a minimum amount of credit card sales each month. Even if the difference only works out to a few cents, that can add up to a significant amount of savings for your business over time.
4. Increased Security

Cyber-hacking has become a very real threat to consumers and small businesses alike. Having your point-of-sale system compromised can be disastrous, especially if it causes customers to be gun-shy of doing business with you again. Accepting mobile payments can alleviate some of the concerns that you and your customers may have about security.
Instead of storing customers' credit card numbers, mobile payment apps use tokenization to secure information. This is similar to the way credit card EMV chips work. Instead of providing the actual card number, the payment app creates a unique code that's linked to the customer's card. This cuts down on the odds of their number being stolen when they're checking out at the register.
Do Your Research First

Making mobile payments part of your business routine can give you an edge over the competition and help to increase sales. Getting started, however, requires a certain upfront investment in terms of updating your point-of-sale system to accommodate the technology. Running a quick cost-benefit analysis can give you an idea of what your business stands to gain from bringing mobile payments
Optimize Your Business Cash Flow
Important Legal Disclosures and Information
PNC is a registered mark of The PNC Financial Services Group, Inc. ("PNC"). This article has been prepared for general information purposes by the author who is solely responsible for its contents. The opinions expressed in these articles are those of the author and do not necessarily reflect the opinions of PNC or any of its affiliates, directors, officers or employees. This article is not intended to provide legal, tax or accounting advice or to suggest that you engage in any specific transaction, including with respect to any securities of PNC, and does not purport to be comprehensive. Under no circumstances should any information contained in the presentation, the webinar or the materials presented be used or considered as an offer or commitment, or a solicitation of an offer or commitment, to participate in any particular transaction or strategy or should it be considered legal or tax advice. Any reliance upon any such information is solely and exclusively at your own risk. Please consult your own counsel, accountant or other advisor regarding your specific situation. Neither PNC Bank nor any other subsidiary of The PNC Financial Services Group, Inc., will be responsible for any consequences of reliance upon any opinion or statement contained here, or any omission. Banking and lending products and services, bank deposit products, and Treasury Management products and services for healthcare providers and payers are provided by PNC Bank, National Association, a wholly owned subsidiary of PNC and Member FDIC. Lending and leasing products and services, including card services and merchant services, as well as certain other banking products and services, may require credit approval.