Toggle nav
Login
Sign on to Online Banking
---
Personal and Small Business:
---
Personal and Small Business:
---
Corporate and Institutional:
How Mobile Payments Can Improve Small Business Cash Flow
by Benjamin Gran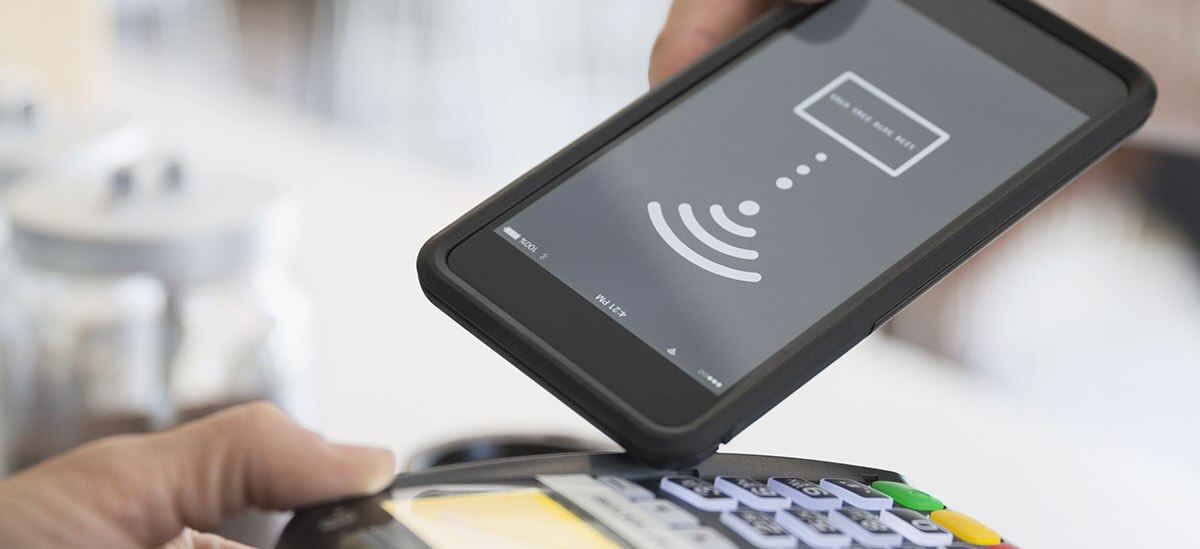 One of the most frustrating sentences for small business owners to hear from customers is, "The check is in the mail."
Promises don't pay bills, and a check is no good to you until it's cashed. Slow payments and unpaid invoices can create significant hardship for a small business, especially when you're counting on that money to make payroll and pay your own bills. When customers don't pay on time, many business owners resort to using loans, lines of credit or even high-interest credit cards to stay afloat.
Getting paid on time is a major concern for many small business owners. According to a 2012 survey from the Kauffman Foundation, 14% of entrepreneurs surveyed in 2010 said their biggest challenge was customers paying late or not at all.
Fortunately, there are new technologies on the market that can help small businesses get paid faster. To keep customers paying on time and your cash flow in line with your monthly expenses, here are some easy and affordable ways to make it happen.
Mobile Payment Solutions
The rise of smartphones and mobile devices has introduced an option that helps small businesses accept payments on the go, when they might otherwise have to send an invoice: a mobile payment app that turns your smartphone into a credit card swiping device. When you sign up for a mobile payment solution, the company sends a small device that plugs into a smartphone, enabling you to take payments from credit cards and debit cards at any location. Other mobile payment solutions don't even require a separate card reader, instead allowing payments to be made by simply scanning the credit or debit card.
These mobile payment solutions do cost a bit extra per transaction (ranging from 1.7% to 2.95% depending on the provider and whether or not you choose a monthly flat fee package), but a small transaction fee is often worth it if you can get paid on the spot, rather than waiting weeks for a check to arrive.
Electronic Invoicing
Another way to get paid on time is to ensure your customers receive invoices in a prompt, orderly fashion. Depending on the size of your business, online billing software might be a good solution to integrate into your accounts receivable process. These online tools make it fast and easy to create, send and automate invoices.
With some online billing tools, automatic reminders can be set up to notify customers by email whenever a payment is late. Many online billing tools are compatible with online payment services, so it's easy to immediately keep track of which invoices have been paid and which are still outstanding.
Online billing software is quite affordable, with monthly fees starting at around $15, depending on the number of users and client accounts you want to incorporate into the tool.
There are many things to worry about as a small business owner. Getting paid shouldn't have be one of them. Mobile payment solutions and online invoicing tools can help you go from "the check is in the mail" to "the money's in the bank."
Sources:
http://www.kauffman.org/newsroom/2012/06/challenges-with-customer-payments-growing-concern-for-young-firms-kauffman-foundation-study-shows
Optimize Your Business Cash Flow
Important Legal Disclosures and Information
PNC is a registered mark of The PNC Financial Services Group, Inc. ("PNC"). This article has been prepared for general information purposes by the author who is solely responsible for its contents. The opinions expressed in these articles are those of the author and do not necessarily reflect the opinions of PNC or any of its affiliates, directors, officers or employees. This article is not intended to provide legal, tax or accounting advice or to suggest that you engage in any specific transaction, including with respect to any securities of PNC, and does not purport to be comprehensive. Under no circumstances should any information contained in the presentation, the webinar or the materials presented be used or considered as an offer or commitment, or a solicitation of an offer or commitment, to participate in any particular transaction or strategy or should it be considered legal or tax advice. Any reliance upon any such information is solely and exclusively at your own risk. Please consult your own counsel, accountant or other advisor regarding your specific situation. Neither PNC Bank nor any other subsidiary of The PNC Financial Services Group, Inc., will be responsible for any consequences of reliance upon any opinion or statement contained here, or any omission. Banking and lending products and services, bank deposit products, and Treasury Management products and services for healthcare providers and payers are provided by PNC Bank, National Association, a wholly owned subsidiary of PNC and Member FDIC. Lending and leasing products and services, including card services and merchant services, as well as certain other banking products and services, may require credit approval.
GET IN TOUCH

Stay Connected

Join Us

Be part of our inclusive culture that strives for excellence and rewards talent.

Visit PNC Careers »
The PNC Financial Services Group, Inc. All rights reserved.