7 Tips for Handling Negative Customer Reviews
by Marcia Layton Turner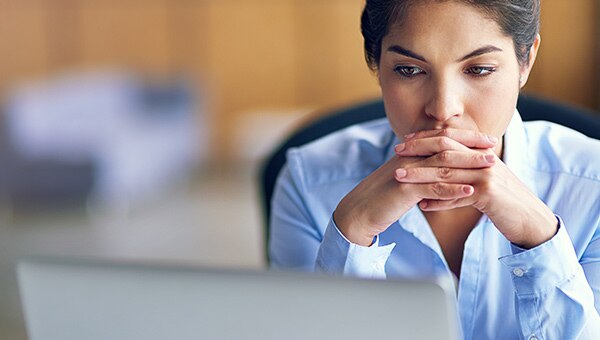 No matter how hard you try to avoid it, your business will likely receive a negative review from a customer at some point. Eventually someone will have an experience that doesn't meet their expectations, even though it doesn't necessarily mean you did a bad job.
And despite your best efforts, they may turn to popular sites with customer reviews to share their experience with others online. Customers tell others about their experiences 58 percent more today than they did five years ago,[1] which means there are more negative reviews in circulation.
Of course, you don't want to encourage bad reviews, but getting one isn't the end of the world—as long as you handle the situation professionally. Here are seven tips for dealing with negative customer reviews:
1. Respond to Complaints Quickly
The best way to mitigate a bad review is to respond immediately to any complaints. Prompt action helps demonstrate that you care about your customers, which is something other customers want to see. Responding appreciatively to positive customer comments is also smart.
When you respond to a customer who isn't happy, you're showing all your potential customers how you'd treat them if they had an issue. Showing that you care by getting back to a customer immediately is a great first step.
2. Apologize
Whether or not you agree with the merits of the review, apologize for the customer's bad experience. An apology can help lessen the blow of a public complaint. Take responsibility and express your disappointment in not being able to satisfy them.
If you happen to disagree and want to try and set the record straight, you may decide to respond publicly. Some review sites give you the option to respond privately. But as long as you stay calm and professional, it's generally in your best interest to weigh in with a nice and polite public response. Also, if you have proof that their story is false, you can request that the website remove the review. Many will, as long as you have proof.
3. Be Sincere
In your response, reference the particulars of their complaint and let them know that this is not a typical experience. Referring to the customer by name is also a nice touch. Whatever you do, do not copy and paste a standard response. Your customers will be able to tell, and it can make your company look insincere and cold.
4. Show How You'll Correct the Mistake
Sometimes customers complain to help prevent future customers from experiencing the same errors or issues. Reassure them that you'll take corrective action to fix the issue, whether it's retraining your employees or investing in quicker processes. Many customers will appreciate your proactive measures—and they can also help improve your business in the process.
5. Encourage Them to Return
Make sure the customer knows their feedback is appreciated and that they are welcome to return anytime. In fact, you'd love for them to return so that you can show them the improvements you've made because of their feedback. Be sure to offer an incentive for them to come back, like a discount or a free added service.
6. Follow Up Later
A phone call or email a week or so later is a nice way to reinforce that you care about the customer and you want to make sure they're happy. This level of extra attention can convert an unhappy customer into an extremely loyal one. Reiterate your offer of a discount.
7. Ask Other Customers for Reviews
Another way to reduce the potential negative impact on sales is to counteract them with positive customer reviews. Regularly encourage your satisfied customers to speak out on review sites. Mention it at the register, add a note to invoices, or even post reminders on your door.
Negative reviews influence 88 percent of buying decisions,[1] so make sure you've taken steps to address and correct any issues customers have made you aware of on review sites. As a small business owner, it's important for you to take constructive criticism and learn how to respond in a way that can benefit your business.
Important Legal Disclosures and Information
https://www.zendesk.com/resources/customer-service-and-lifetime-customer-value/
PNC is a registered mark of The PNC Financial Services Group, Inc. ("PNC"). This article has been prepared for general information purposes by the author who is solely responsible for its contents. The opinions expressed in these articles are those of the author and do not necessarily reflect the opinions of PNC or any of its affiliates, directors, officers or employees. This article is not intended to provide legal, tax or accounting advice or to suggest that you engage in any specific transaction, including with respect to any securities of PNC, and does not purport to be comprehensive. Under no circumstances should any information contained in the presentation, the webinar or the materials presented be used or considered as an offer or commitment, or a solicitation of an offer or commitment, to participate in any particular transaction or strategy or should it be considered legal or tax advice. Any reliance upon any such information is solely and exclusively at your own risk. Please consult your own counsel, accountant or other advisor regarding your specific situation. Neither PNC Bank nor any other subsidiary of The PNC Financial Services Group, Inc., will be responsible for any consequences of reliance upon any opinion or statement contained here, or any omission. Banking and lending products and services, bank deposit products, and Treasury Management products and services for healthcare providers and payers are provided by PNC Bank, National Association, a wholly owned subsidiary of PNC and Member FDIC. Lending and leasing products and services, including card services and merchant services, as well as certain other banking products and services, may require credit approval.