Toggle nav
Login
Sign on to Online Banking
---
Personal and Small Business:
---
Personal and Small Business:
---
Corporate and Institutional: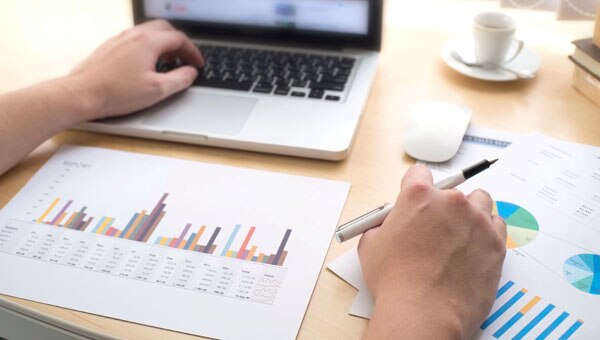 One of the underrated challenges of running a business is that there are so many operational processes and seemingly minor problems or small details competing for your attention. And you don't always know which of these "small things" are really going to turn out to be "big things" in the long run.
But just as small problems can grow into big ones, so, too, small improvements can become massive success stories. Many business owners find that by making some small adjustments in their company's daily operations, they can make a big difference in their business's success.
We talked to a few business owners and executives for examples of "small changes" that made a BIG difference:
Clarify Your "Ideal Customer"
Robert Hessel is President & CEO of Source 1 Solutions, an IT services company in the Tampa Bay area that provides commercial security systems and protects over $100 billion of assets for clients such as The Dali Museum, The Florida Aquarium, Amalie Arena, and The United States Air Force.
Hessel says that his company realized major improvements in its results by changing one thing related to understanding which customers were really the "right" customers.
"We became crystal clear on what our perfect customer profile looks like, and I then refined our pitch to position our company to only sell to that perfect client," Hessel says. "The end result has been better clients with larger margins, and we have stopped doing business with clients that in the end were actually costing us money. Our Q3 net earnings are greater than any previous entire fiscal year."
Hessel says that other business owners should look for ways to focus their business prospecting to identify only the best clients that are the best fit. This pays dividends in multiple ways.
"Become clear and focused on your perfect client and do not be afraid of losing other opportunities that might be a good fit for your company," Hessel says. "In the end you will still have those opportunities, but they will be willing to pay a higher price for your services and you will find yourself in a position of saying yes or no to your prospective client rather than the other way around."
Offer Live Chat
Lisa Chu is the Owner of Black N Bianco Kids Apparel, a company that sells fashionable dress clothes for kids.
"The one small thing that I changed with my business was implementing a live chat service on our e-commerce site," Chu says. "It gave customers a faster and more reliable option to contact us with any questions or concerns. We were able to increase our conversion rate due to the ability to provide our customers with immediate access to help. Walking our customers through any confusion or questions eliminated the potential bounce and made it easier to ensure our customers were checking out. The painful phone waiting or 24 – 48 hour email response were obsolete in comparison. Convenience equals happy customers."
Chu says that her website analytics have shown a significant rise in sales conversions, even with the same amount of traffic, and the data also showed that customers started making more frequent return visits to the site after the implementation of the live chat service.
Just like any other business operation, implementing live chat requires careful planning and training.
"If you plan on using a live chat service for your small business be sure to put in the time to write guidelines on how to serve your customers," Chu says. "Without guidelines and proper live chat etiquette, it may hurt your small business due to being viewed as unprofessional. Proper training of your live chat representatives will be critical to ensuring your customers are receiving the best service possible."
Reevaluate Your Revenue Model
Nick Braun is the Founder of PetInsuranceQuotes.com, a company that helps connect people who want pet insurance with companies that offer pet insurance coverage.
"We changed our revenue model from a lead generation model where we were getting paid for leads, to a commission model where we are now getting paid for sales," Braun says. "This subtle change exploded our revenue over 100% and allowed us to focus on sales, as opposed to lead volume."
Sometimes taking a fresh look at how your company makes money can be a surprisingly simple way to make a massive improvement in your sales results.
"We aligned our interests with our partners and have reaped the rewards," Braun says. "I would advise other small business owners to evaluate how they are paid and consider higher risk, higher reward revenue models that can really drive more income. It's worth the risk if you set it up right!"
Offer Your Partners a Better Deal
Gene Caballero is co-founder of GreenPal, a mobile on-demand service that connects homeowners with lawn care professionals with a tap of a button on its app.
Caballero says that his company recently made a small change by requiring all of its homeowner app users to commit to weekly or biweekly service, instead of being one-off customers.
"This did two things that have made a big difference," says Caballero. "First of all, it captured the attention of our vendors because they knew that GreenPal customers would be an ongoing source of business for them, and they could make more money. Second, this alleviated the customer care nightmare of needing to explain to homeowners one-at-a-time why a vendor couldn't come out and service their lawn by adding a last minute appointment."
GreenPal has benefited as well from this focus on more lucrative customers. "This small change helped grow our revenues by $300,000 this past season because we made it much easier for the homeowner to 'set it and forget it' by using our app to get ongoing lawn service," Caballero says.
The old saying in business is that the customer is always right, but it's often better to focus on finding the right customers. "Don't try to please all your customers," Caballero says. "Instead, find the ones that make you the most money and make it easier for them to buy your product or service."
There are many "small changes" that you could try with your business. One of the greatest things about being a business owner is that you have the freedom to experiment and innovate, whether it's as simple as trying a new method of customer service or as ambitious as reinventing your business model.
Optimize Your Business Cash Flow
Important Legal Disclosures and Information
PNC is a registered mark of The PNC Financial Services Group, Inc. ("PNC"). This article has been prepared for general information purposes by the author who is solely responsible for its contents. The opinions expressed in these articles are those of the author and do not necessarily reflect the opinions of PNC or any of its affiliates, directors, officers or employees. This article is not intended to provide legal, tax or accounting advice or to suggest that you engage in any specific transaction, including with respect to any securities of PNC, and does not purport to be comprehensive. Under no circumstances should any information contained in the presentation, the webinar or the materials presented be used or considered as an offer or commitment, or a solicitation of an offer or commitment, to participate in any particular transaction or strategy or should it be considered legal or tax advice. Any reliance upon any such information is solely and exclusively at your own risk. Please consult your own counsel, accountant or other advisor regarding your specific situation. Neither PNC Bank nor any other subsidiary of The PNC Financial Services Group, Inc., will be responsible for any consequences of reliance upon any opinion or statement contained here, or any omission. Banking and lending products and services, bank deposit products, and Treasury Management products and services for healthcare providers and payers are provided by PNC Bank, National Association, a wholly owned subsidiary of PNC and Member FDIC. Lending and leasing products and services, including card services and merchant services, as well as certain other banking products and services, may require credit approval.