Toggle nav
Login
Sign on to Online Banking
---
Personal and Small Business:
---
Personal and Small Business:
---
Corporate and Institutional: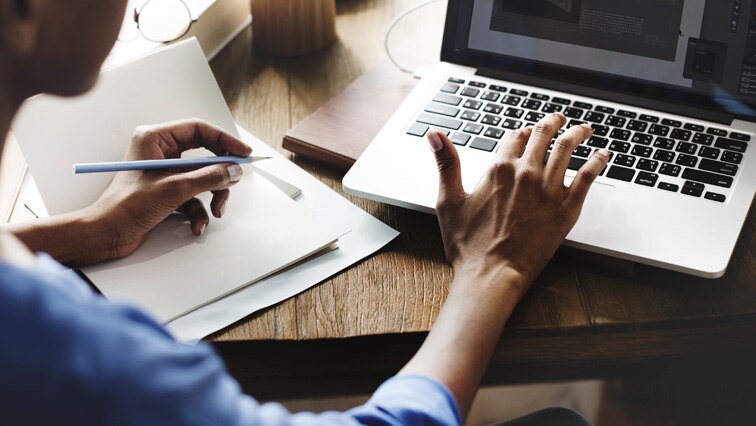 The past-due letter, also known as a demand letter, is a written notice to let a customer know that a bill is unpaid and an account is delinquent. This is a basic document that almost every business—even small businesses—will need to use sooner or later. It's very helpful for keeping receivables from piling up and, in the case of unpaid bills, sending a past-due letter is enough to encourage a slow-paying customer to put a check in the mail.
Why Send a Past-Due Letter?
In the debt collection process, the past-due letter should be in the middle—after reminder emails and phone calls, but before turning the matter over to a collection agency. The essential purposes of the demand letter include:
Notifying the customer of their debt. Inform them the account is delinquent and payment is expected.
Encouraging action. Let the customer know you are taking the matter seriously and it will not go away.
Specifying consequences. State that unless payment arrives soon, you will take further action, such as hiring a collection agency or going to court.
Providing evidence. If you do go to court, a letter will show you attempted to collect the debt.
How to Send a Past-Due Letter
There are a few general rules to follow for writing and sending past-due letters. Most important, make sure you're following the law. Familiarize yourself with the federal Fair Debt Collection Practices Act (FDCPA)[1], which governs what can and cannot be done when collecting debts. If you have any doubts or questions about the FDCPA, you may want to consider consulting an attorney before further pursuing the debt.
Be sure to act fast. The sooner you send your letter, the better your chances of eventually collecting. You should also be formal and be polite. Use a letterhead and a standard business printer font. There are times to send handwritten letters to clients; this isn't one of them.
Avoid anything that could be perceived as a threat or personal attack. Give the customer every benefit of the doubt, at least at first. But, be direct. State in clear and plain language how much is owed, what products or services were delivered and when you expect payment. You should also include the history of the transaction. Briefly recount your previous interactions, such as dates of shipments and previous requests for payment.
When you're sending the latter, consider a method of delivery that requires the recipient to sign, showing that they've received your letter. If you're using the United States Post Office, send via certified mail with a return receipt. You'll be provided a tracking number that you can follow online.
Following Up on Past-Due Letters
Consider alternatives. If a first demand letter does not produce payment, you may want to offer an installment plan, or perhaps even a one-time discount for immediately settling the bill. Offering a discount to a customer who hasn't paid may seem counter-intuitive, but you may want to weigh the costs of further pursuing the debt with resolving the issue quickly and quietly. Also, consider the thought processes of the intended recipient. They will likely look at it in a practical fashion, calculating the legal, reputational or other costs of further delay versus the benefits of paying. Make it as easy as possible for them to resolve it without further incident.
When following up, you may want to escalate the intensity. If initial contacts and offers of alternatives aren't productive, begin stressing possible negative consequences, such as additional late fees and interest. Make sure you state these consequences. In a non-threatening manner, clearly describe the next steps you will take to collect payment, like turning it over to a collection agency, going to small claims court or hiring an attorney.
You should also save the letters, as well as anything that proves the recipient received them, such as tracking numbers and signed return receipts. If you wind up in court, printed evidence of your efforts to collect the debt will likely be valuable when stating your case.
Unfortunately, many businesses will experience unpaid bills and invoices from customers, with a negative effect on cash flow. An official past-due letter is your chance to make the case that the best move is to pay now.
Optimize Your Business Cash Flow
Important Legal Disclosures and Information
1. http://www.ftc.gov/bcp/edu/pubs/consumer/credit/cre27.pdf
PNC is a registered mark of The PNC Financial Services Group, Inc. ("PNC"). This article has been prepared for general information purposes by the author who is solely responsible for its contents. The opinions expressed in these articles are those of the author and do not necessarily reflect the opinions of PNC or any of its affiliates, directors, officers or employees. This article is not intended to provide legal, tax or accounting advice or to suggest that you engage in any specific transaction, including with respect to any securities of PNC, and does not purport to be comprehensive. Under no circumstances should any information contained in the presentation, the webinar or the materials presented be used or considered as an offer or commitment, or a solicitation of an offer or commitment, to participate in any particular transaction or strategy or should it be considered legal or tax advice. Any reliance upon any such information is solely and exclusively at your own risk. Please consult your own counsel, accountant or other advisor regarding your specific situation. Neither PNC Bank nor any other subsidiary of The PNC Financial Services Group, Inc., will be responsible for any consequences of reliance upon any opinion or statement contained here, or any omission. Banking and lending products and services, bank deposit products, and Treasury Management products and services for healthcare providers and payers are provided by PNC Bank, National Association, a wholly owned subsidiary of PNC and Member FDIC. Lending and leasing products and services, including card services and merchant services, as well as certain other banking products and services, may require credit approval.