Toggle nav
Login
Sign on to Online Banking
---
Personal and Small Business:
---
Personal and Small Business:
---
Corporate and Institutional: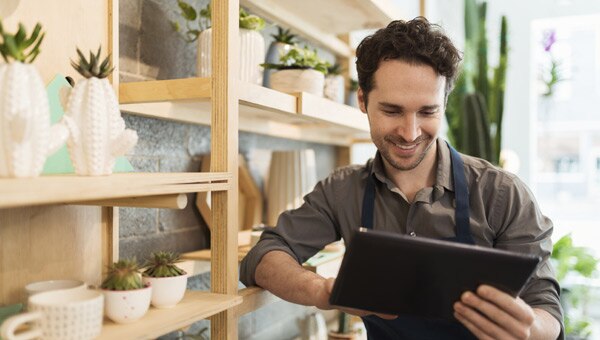 Cash flow can make or break a small business's health. More often than not, maintaining it is a balancing act between credit and cash on hand, and it's a tricky tightrope to walk.
As your business begins to grow, this intricate balance has the potential to become even more complicated. Especially if you're relying on big clients or irregular payment cycles, your cash flow can become unpredictable. As the numbers grow, so do the stakes — and the best possible asset you can have is a plan.
Consider the case of handmade jewelry business Anne Vaughan Designs. Founded nine years ago by a husband and wife team, the company has grown to half a million dollars in revenue and seven employees.
"We have taken no outside investment and have no ongoing business debt," says co-founder Aaron Vaughan. "Cash flow has been critical to helping us grow this way."
Vaughan explains that while growth has been slow for the company, this approach to cash flow has given the team extreme flexibility and time to develop their product lines.
"We started with a $500 personal investment from our savings and strategically focused on creating innovative designs, delivering affordable price points, cultivating a loyal customer base and paying it forward in terms of investments back into the business," says Vaughan.
That doesn't mean they don't utilize credit. But their business credit cards are paid off, in full, monthly. Vaughan encourages other small businesses to take the following steps to remain similarly debt-free while leveraging the power of credit to maintain healthy cash flow:
1. Plan sales strategically
Anne Vaughan Designs relies on temporary retail shows, wholesale galleries and the company website to generate sales. As a result, the company is careful to strategically select the right sales opportunities.
"We never take a show just because it has a great reputation," says Vaughan. "We only focus on opportunities that have a good track record of paying customers."
The team extends this approach to its online marketing opportunities as well. Research is critical to making the most out of sales opportunities and extending the business's reach.
2. Map out growth trajectories
Growth, for the Vaughans, doesn't happen by accident. The team is diligent about increasing sales at regular shows and online through careful analysis and goal setting.
"We use the additional sales to invest in employees, equipment and marketing," says Vaughan. This approach came from a tough lesson learned regarding less reliable sources of revenue.
"When we first started off, we did mainly retail shows – some of which were outdoor," he says. "When you bank on an outdoor show to bring in a certain level of income and you have an unexpected stormy weekend, you end up losing money due to factors outside of your control."
"We made the decision to diversify our show schedule and branch out into wholesale, website and other avenues to even out our cash flow." This careful approach to growth and planning has empowered the Vaughans with a steadier source of income.
3. Prioritize relationships over credit
The Vaughans have incorporated a business credit card into their cash flow operations with vendors. They carefully plan the amount, based on projected sales, that they should expect to spend on credit.
"This is the number that we pay off monthly," says Vaughan.
He also recommends getting a credit card with a rewards program that can be used to help with expenses such as travel. Vaughan encourages business owners, when using their credit cards, to remain on positive terms with their vendors, and to openly discuss all terms up front. This open dialogue will help facilitate a mutual sense of trust, encouraging on-time payment and ample warning if a delay is expected.
The more familiar and in sync you are with your vendor's business terms, the better positioned you will be to predict your cash flow, and correspondingly, pay your debts in full each month. Planning and forecasting will be critical to this end goal.
Optimize Your Business Cash Flow
Important Legal Disclosures and Information
PNC is a registered mark of The PNC Financial Services Group, Inc. ("PNC"). This article has been prepared for general information purposes by the author who is solely responsible for its contents. The opinions expressed in these articles are those of the author and do not necessarily reflect the opinions of PNC or any of its affiliates, directors, officers or employees. This article is not intended to provide legal, tax or accounting advice or to suggest that you engage in any specific transaction, including with respect to any securities of PNC, and does not purport to be comprehensive. Under no circumstances should any information contained in the presentation, the webinar or the materials presented be used or considered as an offer or commitment, or a solicitation of an offer or commitment, to participate in any particular transaction or strategy or should it be considered legal or tax advice. Any reliance upon any such information is solely and exclusively at your own risk. Please consult your own counsel, accountant or other advisor regarding your specific situation. Neither PNC Bank nor any other subsidiary of The PNC Financial Services Group, Inc., will be responsible for any consequences of reliance upon any opinion or statement contained here, or any omission. Banking and lending products and services, bank deposit products, and Treasury Management products and services for healthcare providers and payers are provided by PNC Bank, National Association, a wholly owned subsidiary of PNC and Member FDIC. Lending and leasing products and services, including card services and merchant services, as well as certain other banking products and services, may require credit approval.