Toggle nav
Login
Sign on to Online Banking
---
Personal and Small Business:
---
Personal and Small Business:
---
Corporate and Institutional: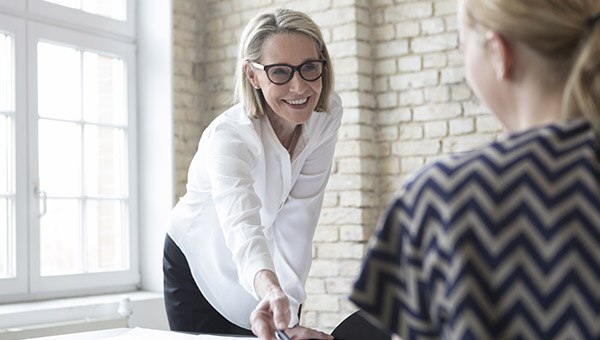 There's nothing fast about selling a business. There's a lot to do, and many people involved. Experts say you should start preparing for a sale at least two years in advance.[1] Specifically, you should do these five things to prepare to sell your business and transition out of ownership.
1. Prepare an earnings forecast.
One of the first things a potential buyer wants to know is how your business generates money. To show how your business fares financially, create an earnings forecast so buyers can see what their future looks like if they buy.
Buyers want to see increasing profits year after year. If you're not showing that right now, it's time to make some changes. If you start the planning process early, you have time to make adjustments.
2. Know what your business is worth.
Every owner wants top dollar for his or her business, but sometimes what you think your business is worth is far from reality. How do you come up with a realistic sale price? There isn't one simple formula, but there are several widely accepted models: asset-based approach, earning value approach and market value approach.[2]
To figure out which model is best for your business, speak with a financial advisor. You need someone who knows your business and can look at your assets, revenue and expenses to create a realistic valuation.
3. Bring a financial advisor on board.
You don't just need an expert to help with your business valuation — you need one throughout the sales process. A financial advisor with experience in mergers and acquisitions can provide advice as you go. You may have questions about finding potential buyers, identifying the right time to sell and determining how to present your business in a way that earns top dollar. Your banker may have recommendations to help you with this process.
4. Cut costs and eliminate redundancies.
You don't want potential buyers to spot excess costs or redundancies. Go through your expenses. Is there anything you can cut? What about your workflow? Are there redundancies in the process that you can close to save time and money? Take the time to examine your business and tighten up your finances and operations.[3]
5. Create a SWOT analysis.
Every business, no matter what its profits are or how well it's run, has strengths and weaknesses. Potential buyers ask about both. Be prepared to tout your strengths and defend your weaknesses.
Before the sale, create a SWOT analysis of your strengths, weaknesses, opportunities and threats. Working through this process takes time, and you may need to ask your management team for help. Bringing in your top advisors to work through a SWOT analysis can provide deeper, out-of-the-box insights.
If you're thinking about selling your business, it's time to start preparing today. It's estimated that only 20-30 percent of businesses actually sell once they hit the market, according to the Exit Planning Institute.[4] Why so few? Because many owners don't take the time to plan. Don't let that happen to you. Talk with a financial advisor today to plan your exit strategy.
Optimize Your Business Cash Flow
Important Legal Disclosures and Information
7 Steps to Selling Your Small Business. https://www.investopedia.com/articles/pf/08/sell-small-business.asp

3 Business Valuation Methods. https://www.thebalance.com/business-valuation-methods-2948478

Preparing Your Private Business for Sale. http://www.ey.com/Publication/vwLUAssets/EY-Preparing-your-private-business-for-sale/$FILE/EY-Preparing-your-private-business-for-sale.pdf.

Study Shows Why Many Business Owners Can't Sell When They Want To. https://www.forbes.com/sites/sageworks/2017/02/05/these-8-stats-show-why-many-business-owners-cant-sell-when-they-want-to/#1f18350644bd.
PNC is a registered mark of The PNC Financial Services Group, Inc. ("PNC"). This article has been prepared for general information purposes by the author who is solely responsible for its contents. The opinions expressed in these articles are those of the author and do not necessarily reflect the opinions of PNC or any of its affiliates, directors, officers or employees. This article is not intended to provide legal, tax or accounting advice or to suggest that you engage in any specific transaction, including with respect to any securities of PNC, and does not purport to be comprehensive. Under no circumstances should any information contained in the presentation, the webinar or the materials presented be used or considered as an offer or commitment, or a solicitation of an offer or commitment, to participate in any particular transaction or strategy or should it be considered legal or tax advice. Any reliance upon any such information is solely and exclusively at your own risk. Please consult your own counsel, accountant or other advisor regarding your specific situation. Neither PNC Bank nor any other subsidiary of The PNC Financial Services Group, Inc., will be responsible for any consequences of reliance upon any opinion or statement contained here, or any omission. Banking and lending products and services, bank deposit products, and Treasury Management products and services for healthcare providers and payers are provided by PNC Bank, National Association, a wholly owned subsidiary of PNC and Member FDIC. Lending and leasing products and services, including card services and merchant services, as well as certain other banking products and services, may require credit approval.