Toggle nav
Login
Sign on to Online Banking
---
Personal and Small Business:
---
Personal and Small Business:
---
Corporate and Institutional: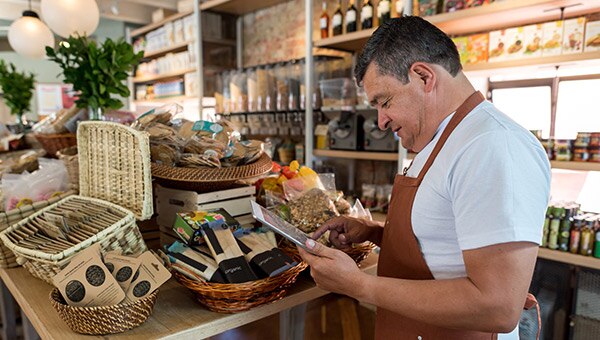 One of the most effective ways to increase profit and cash flow is to raise the price for the product or service you are selling. All things being equal, a fair price increase goes directly to the bottom line and quickly benefits cash flow if sales are unaffected by the increase. If you are experiencing cost increases, you may find you'll need to increase prices just to maintain profit and cash flow at current levels. But this is ideally done carefully with a lot of thought, planning and research.
Understand Why You're Raising Prices
A price increase is best done strategically. Make price increases part of your business plan. Anticipate when you will have to raise prices, whether it's regularly scheduled, such as every year, or triggered when your costs increase due to labor, rent, fuel, or other rising expenses. If you plan for repeated yet smaller increases over time, customers may find it less disrupting than larger increases that are less frequent.
Whether you're implementing a planned increase or one in response to an unexpected cost increase, have a goal in mind. Know how much additional profit and cash flow you want the increase to generate. Use that to set the amount of the increase you seek. If your costs have risen by a certain amount, calculate how much higher prices will have to go to cover the new cost structure.
Maintaining Value with New Pricing
Once you've decided when to increase prices and by how much, consider simultaneously increasing the value of what you're offering. The increase may be cosmetic, as in new packaging. It may be functional, as in adding new features to the product or bundling it with add-ons. Customers will be less likely to balk if you present a changed offering along with the changed pricing. Remember that if you do add value, the value increase must increase your costs by less than the price increase.
Alternatively, you can keep the price the same, but decrease the cost. Sometimes this can be done by removing features that were nice to have, but not essential to the sale or service. You may also be able to reduce the volume of the typical sale, as is done when consumer goods companies sell an 11 oz. package for the same price as the old 12 oz. package. But these methods can be risky if the competition is offering more for less.
Another way to effectively increase prices is to remove or reduce the discounts that are being offered. Business-to-business sellers can do this by ending or reducing discounts offered for rapid payment of receivables. However, this can have a negative effect on cash flow, so it needs to be used with discretion.
Selling Customers on Price Increases
The great fear of any business owner contemplating a price hike is that customers will stop buying. In some businesses, this can be dealt with by having the new higher prices apply only to new customers. In any business, it can help enormously if the business owner simply explains why the price increase is being instituted. Justifying a price increase on the basis of increased costs for things such as fuel, which everyone consumes, can be effective. But what about when fuel costs drop, as in recent years? Shipping costs, materials, talent retention (raises), and many other factors can explain the value of an increase to customers.
Sellers can also convince customers of the need for a price hike by pointing out how long it has been since prices were raised. When explaining a price hike, it's a good idea to also highlight positives, such as the improvements in quality or service that are been added to the offering.
And it's often best to notify customers of a hike in advance. This gives them a chance to plan and adjust budgets and, if necessary, negotiate with sellers for a more modest increase. Not infrequently, announcing a price hike in advance leads to a surge in sales as buyers try to get their orders in before the new pricing goes into effect.
Raising prices can be an anxiety-provoking move for any business owner. After careful consideration, it can offer many positives. And, if done correctly, a well-timed and thoughtfully communicated price increase can provide a strategic boost to business profits and cash flow.
Optimize Your Business Cash Flow
Important Legal Disclosures and Information
PNC is a registered mark of The PNC Financial Services Group, Inc. ("PNC"). This article has been prepared for general information purposes by the author who is solely responsible for its contents. The opinions expressed in these articles are those of the author and do not necessarily reflect the opinions of PNC or any of its affiliates, directors, officers or employees. This article is not intended to provide legal, tax or accounting advice or to suggest that you engage in any specific transaction, including with respect to any securities of PNC, and does not purport to be comprehensive. Under no circumstances should any information contained in the presentation, the webinar or the materials presented be used or considered as an offer or commitment, or a solicitation of an offer or commitment, to participate in any particular transaction or strategy or should it be considered legal or tax advice. Any reliance upon any such information is solely and exclusively at your own risk. Please consult your own counsel, accountant or other advisor regarding your specific situation. Neither PNC Bank nor any other subsidiary of The PNC Financial Services Group, Inc., will be responsible for any consequences of reliance upon any opinion or statement contained here, or any omission. Banking and lending products and services, bank deposit products, and Treasury Management products and services for healthcare providers and payers are provided by PNC Bank, National Association, a wholly owned subsidiary of PNC and Member FDIC. Lending and leasing products and services, including card services and merchant services, as well as certain other banking products and services, may require credit approval.