Toggle nav
Login
Sign on to Online Banking
---
Personal and Small Business:
---
Personal and Small Business:
---
Corporate and Institutional: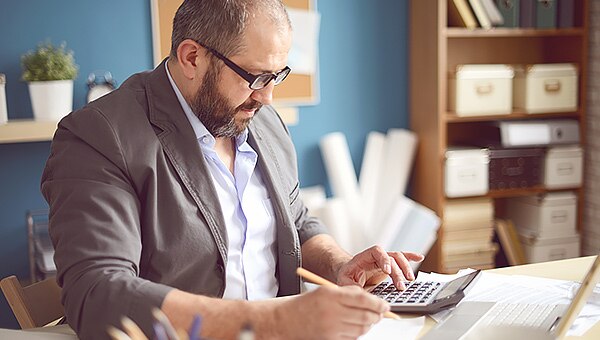 Here's the good news: Your company is growing. Record sales, better quarters — it's all happening for you now. But there's one area where you could improve your financial groove, and it's called cash flow. Why not use this handy checklist to ensure your growing company is growing financially as well?
Establish an Evaluation Schedule
If you haven't set up a regular financial evaluation schedule for your company, now's the time to put that practice in place. If you want to avoid surprises, try a quarterly cash flow review schedule. Be sure to evaluate each cost center individually, and see if there's one in particular that's dragging your flow down.
When reviewing cost centers, make sure you're accounting for the fully loaded costs for all the services and products you provide. For example, rather than simply counting how much cash you pay each employee per hour when considering labor costs, be sure to include their benefits and employment taxes. You might be setting prices incorrectly or missing opportunities to streamline costs.
Seek Cash Infusions
Should you find you're in need of cash to tide you over during lean times, don't fret. There are plenty of options.
Lines of credit allow for cash to be ready and waiting for you when you need it. Speak with your business banking professional about how you can qualify for and set up a line of credit.
There are also receivables-based solutions where you can be advanced or loaned money against your outstanding invoices. Your banking professional or a web search can help you explore these options.
Finally, there are also business loans. These are generally longer-term offerings and can help your company avoid cash flow shortages during times of planned growth.
Grow Into New Solutions
Finally, it's time to look at your bookkeeping, accounting and inventory control software. As you grow, you'll likely outgrow your original systems in need of more robust inventory and financial solutions. A sit-down with your banker, bookkeeper and tax professional can help determine if there's a need for an upgrade, but here are a few questions to help determine if the time is approaching:
What capabilities do you wish your current systems had that they do not?
How critical are those capabilities to your growth potential and overall business goals?
Who needs access to your financial and inventory data, and from where? Are your current solutions meeting these needs?
Is your business suffering because of any of your current software solutions?
Are you able to run cash flow projections using your current software? If not, what benefit would projections offer to your buying, inventory, shipping, payroll and other critical business practices?
Now you have a solid set of criteria to guide you toward better cash flow for the future. Remember, the more you know about where and how you make money, the more you know about where you're not making money. And that knowledge is powerful when it comes to keeping the cash flowing and your business growing year-round.
Optimize Your Business Cash Flow
Important Legal Disclosures and Information
Source:
http://www.inc.com/magazine/20090501/street-smarts-how-to-fix-cash-flow-problems.html
PNC is a registered mark of The PNC Financial Services Group, Inc. ("PNC"). This article has been prepared for general information purposes by the author who is solely responsible for its contents. The opinions expressed in these articles are those of the author and do not necessarily reflect the opinions of PNC or any of its affiliates, directors, officers or employees. This article is not intended to provide legal, tax or accounting advice or to suggest that you engage in any specific transaction, including with respect to any securities of PNC, and does not purport to be comprehensive. Under no circumstances should any information contained in the presentation, the webinar or the materials presented be used or considered as an offer or commitment, or a solicitation of an offer or commitment, to participate in any particular transaction or strategy or should it be considered legal or tax advice. Any reliance upon any such information is solely and exclusively at your own risk. Please consult your own counsel, accountant or other advisor regarding your specific situation. Neither PNC Bank nor any other subsidiary of The PNC Financial Services Group, Inc., will be responsible for any consequences of reliance upon any opinion or statement contained here, or any omission. Banking and lending products and services, bank deposit products, and Treasury Management products and services for healthcare providers and payers are provided by PNC Bank, National Association, a wholly owned subsidiary of PNC and Member FDIC. Lending and leasing products and services, including card services and merchant services, as well as certain other banking products and services, may require credit approval.