Toggle nav
Login
Sign on to Online Banking
---
Personal and Small Business:
---
Personal and Small Business:
---
Corporate and Institutional: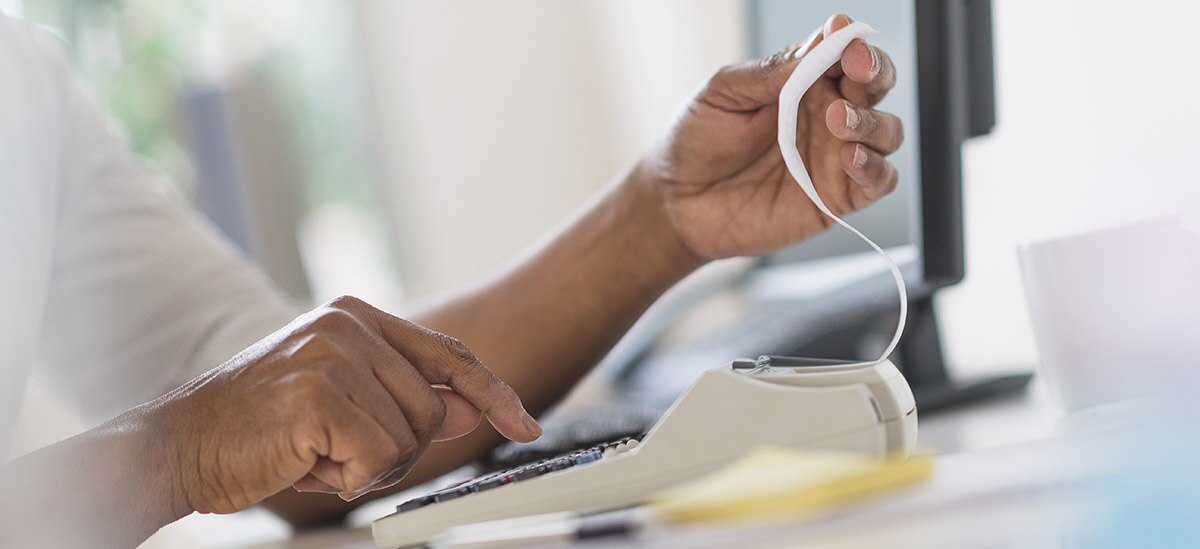 When it comes to profitability, most small businesses focus their attention on making sales and earning revenue. However, managing accounts payable can have just as big an impact on the bottom line.
There are several steps small businesses can take to spread out expenses while paying bills on time, allowing them to maintain a strong credit record, strengthen relationships with vendors and operate on a cash-flow-positive basis.
1. Build in some breathing room for bills
One way small businesses can give themselves some breathing room is to pay by credit card. Whether the business needs office supplies or furniture, or even if it's on the hook for estimated taxes, paying by business credit card lets small businesses get what they need today and pay when the bill comes, days or weeks later. In the meantime, the business will be earning income from clients that can be used to pay the bill in full when it comes due. This is important to avoid incurring any interest charges.
2. Set up a petty cash system
It's a good idea to have a plan in place for dealing with small purchases, especially if you want to avoid issuing business credit cards to all employees or entrusting them with yours.
One option is to set up a petty cash system where you keep enough cash on hand to cover two to four weeks of small purchases, such as a roll of stamps or photocopies. Workers given access to the fund can take what they need and then return the change with a receipt to account for expenses. Companies worried that keeping cash on hand should consider a prepaid debit card for small purchases.
3. Stay on top of payments due
The best way to ensure you are never late paying a bill is to create a schedule and note when particular payments are due. Include credit card bills, vendor invoices and any other debts outstanding. Being aware of upcoming payments helps ensure you never miss one.
4. Avoid late payment fees
Even with a schedule, we have all been there: A bill comes due and you realize it too late. Late fees make that a costly error, especially if late payments are a recurring problem. A simple solution is to pay your bills through an online bill pay system. This will save you money on postage and, most important, will likely save your credit rating.
5. Communicate with vendors
No one wants to be surprised by a missed payment. Maintain good relationships with your vendors regarding what you owe them. Pay on time, but if it is not possible to pay on time, let them know immediately that you will be late. Communicate frequently. If needed, ask to arrange new payment terms. Staying in touch will keep you on your vendors' good sides.
6. Watch your cash flow
Know how much you can afford to spend and when by creating a cash flow projection. Pay attention to your accounts receivable and payable before you make a big purchase. If possible, wait until you have been paid to make commitments to others. Monitoring what you are owed and what you owe will help ensure you remain cash-flow-positive as your business grows.
Money management can make or break a small business. Regular cash flow monitoring will help ensure you have money to pay bills on time — and that you can make arrangements that are agreeable to all sides if the time ever comes when you can't.
Optimize Your Business Cash Flow
Important Legal Disclosures and Information
PNC is a registered mark of The PNC Financial Services Group, Inc. ("PNC"). This article has been prepared for general information purposes by the author who is solely responsible for its contents. The opinions expressed in these articles are those of the author and do not necessarily reflect the opinions of PNC or any of its affiliates, directors, officers or employees. This article is not intended to provide legal, tax or accounting advice or to suggest that you engage in any specific transaction, including with respect to any securities of PNC, and does not purport to be comprehensive. Under no circumstances should any information contained in the presentation, the webinar or the materials presented be used or considered as an offer or commitment, or a solicitation of an offer or commitment, to participate in any particular transaction or strategy or should it be considered legal or tax advice. Any reliance upon any such information is solely and exclusively at your own risk. Please consult your own counsel, accountant or other advisor regarding your specific situation. Neither PNC Bank nor any other subsidiary of The PNC Financial Services Group, Inc., will be responsible for any consequences of reliance upon any opinion or statement contained here, or any omission. Banking and lending products and services, bank deposit products, and Treasury Management products and services for healthcare providers and payers are provided by PNC Bank, National Association, a wholly owned subsidiary of PNC and Member FDIC. Lending and leasing products and services, including card services and merchant services, as well as certain other banking products and services, may require credit approval.