Toggle nav
Login
Sign on to Online Banking
---
Personal and Small Business:
---
Personal and Small Business:
---
Corporate and Institutional: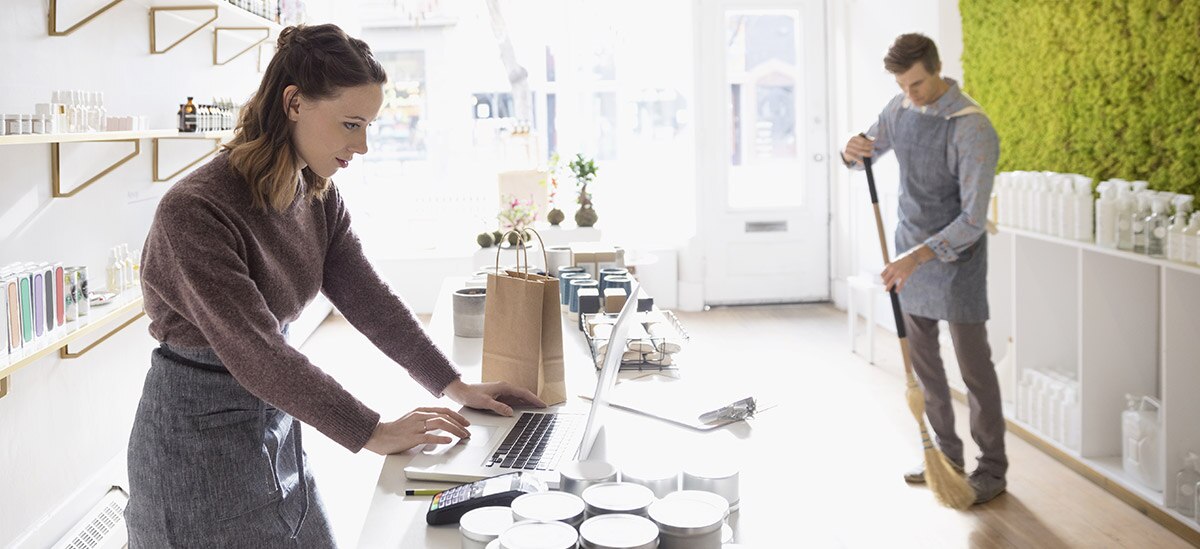 Ah, spring is finally in the air. Folks are cleaning out the garage, diving into home improvement projects, and clearing away the mess revealed after that last pile of snow has melted. From a business perspective, it's also tax season, which provides a prime opportunity to revisit your payments system and strategies. These five spring-cleaning steps for sprucing up your accounts receivable approaches can help ensure you are maximizing cash flow.
Update your invoice: As any experienced business owner or CFO knows, any hiccup in the invoicing process can send your payment into purgatory. If you've noted a trend of delayed receivables lately, it may be time to revisit your standard invoice to make sure it is clear, contains all the essential information required by clients, and is formatted in a way that is easy to process. In particular, be sure to clearly present exactly what goods and services were provided and at what fee, so the accounts payable department doesn't have to hunt down details that could delay payment.
Deal with delinquents: One of the quickest and easiest ways to improve cash flow is to actively pursue the sometimes unpleasant work of collecting on overdue receivables. Small-business and management consultant Barry Maher suggests a proactive and professional approach: "The key to dealing with those who are behind on their payments is to treat them as valued customers," he said. Maher also suggests following up on overdue payments in way that is to the point, but that also shows understanding and allows the client to "save face." Avoid being confrontational at first so the client doesn't "become defensive and look for reasons why they shouldn't have to pay in the first place," said Maher. Also, commit to a system of consistently following up with overdue clients, starting with the friendly reminder and getting steadily more forceful if the payments don't come through. Only when it appears clear that a payment will not be made should you consider handing the issue over to a collections agency.
Forecast the future: Armed with the clear picture of your tax situation that April provides, you can turn your attention to the future--specifically, on identifying what your anticipated cash needs are for the year ahead and beyond. Update the analysis each month moving forward, and be sure to include in your assessment the capital needed for long-term asset purchases such as equipment, vehicles or technology. "This work tells you how much cash inflow will come from business operations, and how much cash needs to be raised through assets sales or raising capital," said Ken Boyd, author of the book Cost Accounting for Dummies. "When you are looking for funding, you will be able to quickly answer the question, 'How much capital do you need, and for what purpose?"
Pursue payment plans: Many companies have clients they do business with in bits and spurts. They may do a lot of billable business with the clients over short periods of time, then the client may go silent for a few weeks until it needs services again. In these instances, consider establishing payment plans or retainers as a means to balance out revenue. Spreading payments over 12 months, for example, can help generate more consistent cash flow for you (and more consistent cash expenditures for your client). Just make sure to include language that allows for periodic review of the terms to ensure you are charging accurately for the work being done.
Tighten your terms: It's a simple fix, but one that can get the money flowing faster. When possible, change the terms of your invoices to Payable Upon Receipt. "For service-based [companies], poor invoicing practices can kill their businesses," said Allan Branch, co-founder of LessAccounting.com. "Never [require payment] by net 90, net 60 or even net 30 days. The payment is due today--right now.
 And don't wait on a check; use some electronic payment processing if possible. Waiting
on a check can delay cash by three to 10 days."
Taking even a few of these steps this spring will help provide clarity and peace of mind that's much more satisfying than a clean garage. And these actions can put you well on the path to a profitable summer--and beyond.

Optimize Your Business Cash Flow
Important Legal Disclosures and Information
PNC is a registered mark of The PNC Financial Services Group, Inc. ("PNC"). This article has been prepared for general information purposes by the author who is solely responsible for its contents. The opinions expressed in these articles are those of the author and do not necessarily reflect the opinions of PNC or any of its affiliates, directors, officers or employees. This article is not intended to provide legal, tax or accounting advice or to suggest that you engage in any specific transaction, including with respect to any securities of PNC, and does not purport to be comprehensive. Under no circumstances should any information contained in the presentation, the webinar or the materials presented be used or considered as an offer or commitment, or a solicitation of an offer or commitment, to participate in any particular transaction or strategy or should it be considered legal or tax advice. Any reliance upon any such information is solely and exclusively at your own risk. Please consult your own counsel, accountant or other advisor regarding your specific situation. Neither PNC Bank nor any other subsidiary of The PNC Financial Services Group, Inc., will be responsible for any consequences of reliance upon any opinion or statement contained here, or any omission. Banking and lending products and services, bank deposit products, and Treasury Management products and services for healthcare providers and payers are provided by PNC Bank, National Association, a wholly owned subsidiary of PNC and Member FDIC. Lending and leasing products and services, including card services and merchant services, as well as certain other banking products and services, may require credit approval.