5 Simple Ways to Take Your Small Business Marketing Plan to the Next Level
by Rebecca Lake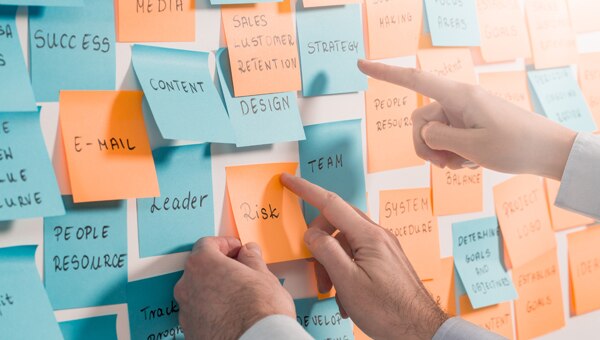 When it comes to fostering success for your small business, offering a quality product or service is only one part of the equation. A well-planned marketing strategy is just as important—but marketing often proves to be a stumbling block for some business owners. Spending money on ads or hiring a marketing specialist isn't always cost-effective. Besides that, growing a brand can be time-consuming.
Keeping things simple may prove to be a more effective way of marketing your business than attempting to launch a major campaign on your own. If you're ready to update your marketing plan without making it overly complicated, here are five relatively hassle-free ways to bring in new customers.
1. Team up with other small businesses.
There's always a certain amount of competition in the small business community, but that doesn't mean forging partnerships with other entrepreneurs is out of the question. Joining forces with another small business owner to offer a cross-promotion is something you can do without having to invest huge amounts of time or money.
For example, let's say you're a florist and you want to get involved in doing arrangements for weddings. You could pair up with the owner of your local bridal boutique to offer a joint discount for brides-to-be who patronize both of your businesses. You don't have to choose businesses that are in your same niche necessarily, but it does help to target ones that have the kind of clientele you're hoping to attract.
2. Host a giveaway or in-store event.
Giveaways and special events are another way to get your business's name out there, and you don't need a substantial budget to pull it off. Giving away a free sample of your products or services is a good way to reach out to people who may not be familiar with your business or who know about it but have been hesitant to try it.
Someone who owns a housekeeping service, for instance, could offer a free cleaning for first-time customers. If you run a hair salon, you could host a free one-day workshop featuring styling tutorials and give away trial products to those who attend. The best thing about using a giveaway or a special event as a marketing tool is that you can tailor it to the scale that best fits your budget.
3. Target your social media efforts.
Social media can be an exceptionally powerful marketing tool, but it's easy to get bogged down in updating multiple accounts.
If trying to maintain a half dozen social media profiles is making you crazy, pick just one to focus on and put all your efforts into marketing your business through that channel. Not sure which one you should choose? Aim for the outlet that tends to get the most traffic from the kind of customers you're hoping to connect with.
4. Build your email list.
Like social media, email marketing is something that can pay huge dividends if it allows you to expand your customer base. There are several ways you can put email to work.
Drafting a simple newsletter on a weekly or monthly basis is one option. Using email to promote upcoming sales or to announce a new product or service you plan to offer is another. Email automation software allows for no-muss, no-fuss marketing since you can effectively put your campaign on autopilot. Do keep in mind that there are regulations that businessness must comply with when it comes to email marketing for commercial purposes.
5. Give for the greater good.
Making donations to a local nonprofit or acting as a sponsor for a charitable organization can work wonders for your marketing plan, while allowing you to give something back in the process. The holidays are a good time to put charitable giving in the spotlight, but it's something you can do to market your business all year round.
For example, if you own a restaurant, you could offer to cook a free meal once a month at your local homeless shelter. If you run a pet grooming business, you could host a donation fundraiser for your neighborhood animal shelter.
Lending a helping hand to charities shows that you care about your community, which could lead to a boost in sales if you're catching the eyes of customers who support the same causes.
Important Legal Disclosures and Information
PNC is a registered mark of The PNC Financial Services Group, Inc. ("PNC"). This article has been prepared for general information purposes by the author who is solely responsible for its contents. The opinions expressed in these articles are those of the author and do not necessarily reflect the opinions of PNC or any of its affiliates, directors, officers or employees. This article is not intended to provide legal, tax or accounting advice or to suggest that you engage in any specific transaction, including with respect to any securities of PNC, and does not purport to be comprehensive. Under no circumstances should any information contained in the presentation, the webinar or the materials presented be used or considered as an offer or commitment, or a solicitation of an offer or commitment, to participate in any particular transaction or strategy or should it be considered legal or tax advice. Any reliance upon any such information is solely and exclusively at your own risk. Please consult your own counsel, accountant or other advisor regarding your specific situation. Neither PNC Bank nor any other subsidiary of The PNC Financial Services Group, Inc., will be responsible for any consequences of reliance upon any opinion or statement contained here, or any omission. Banking and lending products and services, bank deposit products, and Treasury Management products and services for healthcare providers and payers are provided by PNC Bank, National Association, a wholly owned subsidiary of PNC and Member FDIC. Lending and leasing products and services, including card services and merchant services, as well as certain other banking products and services, may require credit approval.