Cash Flow-Friendly Ways to Expand
By Ritika Puri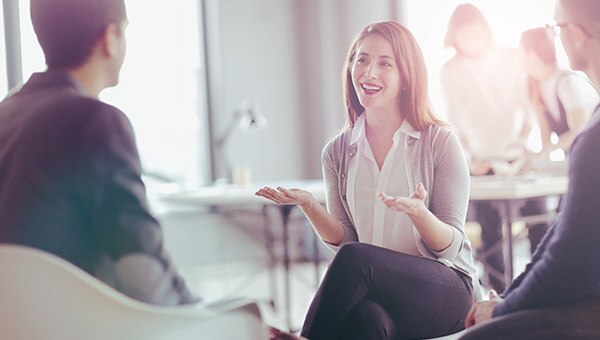 If you're running a professional services firm, you've probably noticed that your biggest challenge is also your biggest opportunity: your path to expansion comes with immense flexibility. For instance, if you're consulting, you could hire a team and expand into an agency. You could also teach workshops, build software, or take on new types of products.
With so many potential opportunities, it can be tough to figure out the path that's right for you going forward. Expansion can also introduce new risks and uncertainties—one of the biggest being your cash flow. How do you prepare for potential upfront loss? When will the timing be right?
Here are lessons that one marketing agency founder—Crystal Kendrick, the president of The Voice of Your Customer—learned from transitioning her business from a secret shopping service into a full-fledged marketing consultancy.
Strengthen Your Financial Footing
As a small business owner, your business's health is in your hands—it's up to you to set strategy and absorb risks. That's why before you make the decision to expand, you need to be mentally prepared for a big change to your workflow. Above all, you need to have a financial buffer that leaves you feeling empowered and at peace with your decision. Why take unnecessary personal risks?
"When I started my business, I was very fortunate to be in a decent financial, personal financial situation, in that I did not have a lot of personal debt and my mortgage was affordable for my lifestyle ..." says Kendrick. "My startup costs were low because I started my business at home."
Before Kendrick even had plans to grow her business, she kept her costs low to ensure that she could build a personal financial buffer.
"I just was very, very fortunate to have profitable, steady business—in addition to a line of credit that allowed me to operate," says Kendrick. "From the beginning, I prioritized having low monthly costs and low fixed costs, both personally and professionally, that allowed me to cover initial expenses."
Early on, high margins can put your business in your best possible position to grow and over time, the savings generated from low costs can add up.
Diversify Your Customer Base & Payment Structures
When Kendrick made the decision to grow her business from a secret shopping service into a marketing agency, she committed to reaching her goal without debt. While she did rely on a few lines of credit, she focused on being able to pay her bills in full each month. She credits her early profitability to her strong control over her cash flow.
"When you're doing businesses with corporations, you risk dealing with long payment cycles," says Kendrick. "For that reason and to avoid collections problems, we focused on growing our customer base of government agencies who paid us on regular cycles."
"The government's fiscal year is July 1 through June 30, so my income was coming in in big spurts in the summertime but not so plentiful in the wintertime," continues Kendrick.
To avoid potential hiccups in payment cycles and to create more stable revenue, she made the decision to diversity her customer base by their fiscal years, working with local businesses that work on a calendar year from January 1 to December 31.
"And doing that enabled us to better manage our cash flow, and our resources, and our work schedules, and our efficiency because we were now doing more work throughout the year and receiving more payments throughout the year, instead of large lump sums at the same time of every year," says Kendrick.
Keep Financial Advisors Close
One of the most important lessons that Kendrick learned was to keep her financial advisors close.
"You need to have a good relationship with your bookkeeper and your accountant," says Kendrick. "If you're only talking to these individuals once a year, you'll risk ending up in a pickle."
For Kendrick, that pickle was a large, unforeseen tax burden during her first year of business. Having gone through this challenge, she emphasizes the importance of keeping financial advisors close during a business's expansion stages.
"I was not separating my costs or expenses correctly," says Kendrick. "It's important to have this guidance upfront—to create a sustainable, predictable growth plan while ensuring that your personal lines of credit remain intact."
It was good financial advice that helped Kendrick realize that cash flow was entirely within her hands.
"One simple change that we made when we expanded was to our invoicing practices," says Kendrick. "Now, we ask for 5 percent or 10 percent, a small amount upfront just to make sure that we're set up effectively in our clients' payment systems and that no bumps arise when we invoice for the full amount."
It's a subtle, logistical technique that gives Kendrick greater control and predictability over her finances. At any given time, she can predict her business's cash positioning. The result? Kendrick has predictability over her company's expansion strategy too.
Optimize Your Business Cash Flow
Important Legal Disclosures and Information
PNC is a registered mark of The PNC Financial Services Group, Inc. ("PNC"). This article has been prepared for general information purposes by the author who is solely responsible for its contents. The opinions expressed in these articles are those of the author and do not necessarily reflect the opinions of PNC or any of its affiliates, directors, officers or employees. This article is not intended to provide legal, tax or accounting advice or to suggest that you engage in any specific transaction, including with respect to any securities of PNC, and does not purport to be comprehensive. Under no circumstances should any information contained in the presentation, the webinar or the materials presented be used or considered as an offer or commitment, or a solicitation of an offer or commitment, to participate in any particular transaction or strategy or should it be considered legal or tax advice. Any reliance upon any such information is solely and exclusively at your own risk. Please consult your own counsel, accountant or other advisor regarding your specific situation. Neither PNC Bank nor any other subsidiary of The PNC Financial Services Group, Inc., will be responsible for any consequences of reliance upon any opinion or statement contained here, or any omission. Banking and lending products and services, bank deposit products, and Treasury Management products and services for healthcare providers and payers are provided by PNC Bank, National Association, a wholly owned subsidiary of PNC and Member FDIC. Lending and leasing products and services, including card services and merchant services, as well as certain other banking products and services, may require credit approval.
GET IN TOUCH

Stay Connected

Join Us

Be part of our inclusive culture that strives for excellence and rewards talent.

Visit PNC Careers »
The PNC Financial Services Group, Inc. All rights reserved.