Toggle nav
Login
Sign on to Online Banking
---
Personal and Small Business:
---
Personal and Small Business:
---
Corporate and Institutional: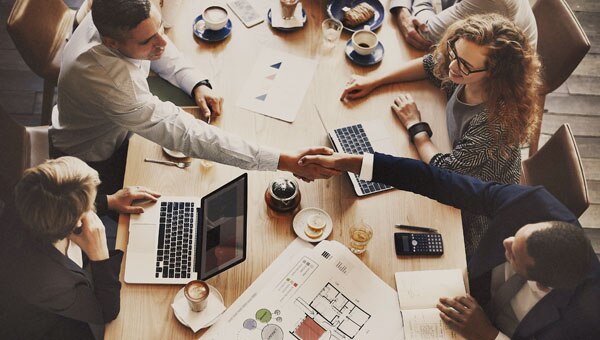 One of the biggest decisions you'll make as a small business owner is deciding when and how to expand your business. Partly, the decision to expand should be made based on solid evidence: for example, if you are seeing stronger demand for your products and bigger sales.
Sometimes business owners decide to expand for more intuitive "gut-level" reasons: If you are sensing new opportunities on the horizon or if you have a creative vision for how to do things differently in your market, that could be a sign that your business is ready to grow even if your sales do not yet support it.
Here are a few of the key signs to look for to know when to expand your business:
Repeat Business
Do you have customers who keep buying from you again and again? If you have a solid foundation of loyal customers, this is a good sign that you have the necessary momentum to expand your business.
If your existing customers love your product or service, they will be more likely to help you spread the word about your business and attract a new wave of customers.
Steady Profits and Positive Cash Flow
You have to walk before you can run. If your business is already profitable and you have strong cash flow, that's a sign that you may have the financial strength to invest in further growth. If not, try to cut costs and boost sales until your business is on more solid footing.
Limited Capacity
Are you having to turn customers away because you're too busy? Are you struggling to produce enough of your product to keep up with demand? If so, this is a sign that you need to expand your business and invest in more production capacity to meet customer demand—whether that's a bigger facility, more equipment, or an expanded production line.
Strong Market Growth
If your overall market is growing, this is a sign that your business can stand to expand to claim your share of that growing market. Even if your business is still a small player, it's better to be a small player in a fast-growing market than a big fish in a shrinking pond.
Cross-Selling Opportunities
If your business is already showing strong cash flow and profits from your existing product lines or service offerings, you could expand your business by selling related products and services to your existing customers.
Think about how to solve your customers' problems with accessories or add-ons to your primary solution. Expanding your business by selling new products to your existing customers can also open up new markets; you might find that by developing new products, you uncover opportunities to expand into side areas that were only partly related to your original product.
You've Created Systems
The best businesses don't depend only on people for success, but also on processes. In a way, the best businesses run themselves with automated processes and consistent systems. Of course, that doesn't mean you get to be completely removed from the daily operations, but ideally, if your business is ready to grow, you will already have put in place the systemic, process-oriented operational features and functions that can help your business scale up.
For example, do you have written documentation of your company's workflow? Do you have standard guidelines for how to train new employees? Do you have a strong company culture that can be taught and replicated as your company expands? If so, this is a sign that your company is truly ready to grow and expand into new locations and new markets.
Expanding your business often involves a leap of faith. It's a lot like starting a new company, but sometimes more risky because you already have your existing business to worry about. However, with an evidence-based approach—by looking at your sales, cash flow, and existing operational systems—and strong insights backed by the support of your customers, you can feel confident in knowing when it's the right time to take that next step and scale up your company to the next stage of growth.
Optimize Your Business Cash Flow
Important Legal Disclosures and Information
PNC is a registered mark of The PNC Financial Services Group, Inc. ("PNC"). This article has been prepared for general information purposes by the author who is solely responsible for its contents. The opinions expressed in these articles are those of the author and do not necessarily reflect the opinions of PNC or any of its affiliates, directors, officers or employees. This article is not intended to provide legal, tax or accounting advice or to suggest that you engage in any specific transaction, including with respect to any securities of PNC, and does not purport to be comprehensive. Under no circumstances should any information contained in the presentation, the webinar or the materials presented be used or considered as an offer or commitment, or a solicitation of an offer or commitment, to participate in any particular transaction or strategy or should it be considered legal or tax advice. Any reliance upon any such information is solely and exclusively at your own risk. Please consult your own counsel, accountant or other advisor regarding your specific situation. Neither PNC Bank nor any other subsidiary of The PNC Financial Services Group, Inc., will be responsible for any consequences of reliance upon any opinion or statement contained here, or any omission. Banking and lending products and services, bank deposit products, and Treasury Management products and services for healthcare providers and payers are provided by PNC Bank, National Association, a wholly owned subsidiary of PNC and Member FDIC. Lending and leasing products and services, including card services and merchant services, as well as certain other banking products and services, may require credit approval.