Zero-Based Budgeting — Is it for You?
by Mark Henricks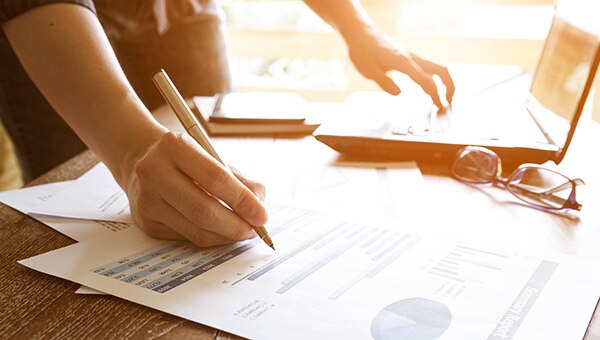 The most common method of preparing a budget for most companies and managers is to take last year's budget and increase it by a few percent to account for inflation and business growth. Zero-based budgeting calls for examining every line item and program and justifying every dollar spent, as if the business had no history at all of devoting funds to that expenditure. Basically, the department's budget starts at zero dollars.
Why Consider Zero-Based Budgeting?
Zero-based budgeting is likely to be considered when businesses are attempting to achieve cost savings or productivity enhancements after more conventional cost-cutting alternatives—such as outsourcing or offshoring—have been considered or tried. It may also be part of a response to a workforce reduction or proposed as a remedy for chronic overspending.
An alternative method of managing budgets for cost savings is for senior management to mandate across-the-board cuts. That approach can be easier to specify and implement. However, managers may be forced to cut mission-critical programs in order to meet requirements for those across-the-board cuts. That can harm the organization more seriously than overspending.
Zero-based budgeting promises to be more flexible while, at the same time, potentially offering greater cost savings.
Advantages of Zero-Based Budgeting
Zero-based budgeting helps avoid automatic budget increases that can cause programs to become bloated simply by virtue of being around for a long time. Because every expenditure must be examined, it can help reduce or end spending on unnecessary or irrelevant activities.
The process of justifying every line item on a budget requires aligning expenditures more closely to company strategy. And the same process forces assumptions to be challenged, potentially improving efficiency. Zero-based budgeting can help encourage greater communication among managers as they debate justifications for budgets.
Pitfalls of Zero-Based Budgeting
Disadvantages of zero-based budgeting exist primarily in the extra cost, complexity, and time it requires compared to conventional budget processes. A business may have to hire additional staff and provide training for existing staff, and a company-wide rollout can take a long time.
Because of the difficulty and time required for zero-based budgeting, it becomes more challenging to update budgets frequently. As a result, budgets may easily drift out of line with changing business objectives and market realities. And, although some organizations report significant cost savings from zero-based budgeting, the payoff for any given business may be uncertain. Spending more in order to save more can be hard to justify in the absence of clear benefits.
Zero-based budgeting can be more costly, time-consuming, and complex than the usual method of simply adding an increment to the previous year's budget. Zero-based budgeting can be distracting and disruptive to a company's core activities and, while cost savings and a sharper focus on strategy are some of the benefits that can result, it can be difficult to evaluate potential payoffs ahead of time.
Implementing Zero-Based Budgeting
To moderate these potential negative impacts, some businesses call for zero-based budget only every few years. In the intervening budget cycles, traditional budgeting processes are used. Some businesses specify zero-based budgeting in only a few key departments or functions, rather than requiring it of the whole company.
Businesses that are investigating the practice often do pilot programs. Performing zero-based budget processes in one or two departments can help demonstrate the process and give guidance about the likely results.
For companies that have seen sales, general, administrative, or other costs expand faster than revenues, and been unable to tame increases using more mainstream techniques such as outsourcing, zero-based budgeting offers the prospect of identifying waste, focusing attention on business strategy, and targeting resources to key goals.
When conventional budgeting methods seem only to perpetuate last year's problems, zero-based budgeting offers a chance for a fresh start.
Optimize Your Business Cash Flow
Important Legal Disclosures and Information
PNC is a registered mark of The PNC Financial Services Group, Inc. ("PNC"). This article has been prepared for general information purposes by the author who is solely responsible for its contents. The opinions expressed in these articles are those of the author and do not necessarily reflect the opinions of PNC or any of its affiliates, directors, officers or employees. This article is not intended to provide legal, tax or accounting advice or to suggest that you engage in any specific transaction, including with respect to any securities of PNC, and does not purport to be comprehensive. Under no circumstances should any information contained in the presentation, the webinar or the materials presented be used or considered as an offer or commitment, or a solicitation of an offer or commitment, to participate in any particular transaction or strategy or should it be considered legal or tax advice. Any reliance upon any such information is solely and exclusively at your own risk. Please consult your own counsel, accountant or other advisor regarding your specific situation. Neither PNC Bank nor any other subsidiary of The PNC Financial Services Group, Inc., will be responsible for any consequences of reliance upon any opinion or statement contained here, or any omission. Banking and lending products and services, bank deposit products, and Treasury Management products and services for healthcare providers and payers are provided by PNC Bank, National Association, a wholly owned subsidiary of PNC and Member FDIC. Lending and leasing products and services, including card services and merchant services, as well as certain other banking products and services, may require credit approval.
GET IN TOUCH

Stay Connected

Join Us

Be part of our inclusive culture that strives for excellence and rewards talent.

Visit PNC Careers »
The PNC Financial Services Group, Inc. All rights reserved.