Journaling Can Give You a New Lease on Life
The potential benefits of this ancient practice run deep.
---
Though they began as a medium for recording events for the public, journals evolved to become one of the most cherished of personal possessions. Leonardo da Vinci filled thousands of journal pages with his ideas and observations, and writers including Tolstoy, Kafka and Thoreau produced some of their finest work within the personal space of their journals.[1]
Today, journaling is making a comeback as people recognize the breadth and depth of its benefits. Unplugging from our mobile devices and desktops to actually put pen to paper seems to free our minds and souls. This freedom, researchers say, can make us healthier, happier, and even smarter. They point to four areas positively influenced by journaling:
OUR MINDS
The action of writing things down sharpens your critical thinking skills and cognition by requiring you to think through and summarize each event, idea or feeling you're striving to capture. You will clarify your thoughts and better organize your ideas.
Researchers Pam A. Mueller of Princeton University and Daniel M. Oppenheimer of the University of California, Los Angeles say that this "encoding" of information as you write can improve understanding, learning and retention, as well as the meaningfulness of your notes when you refer to them in the future. Their studies of college students revealed that those who took notes longhand learned and retained substantially more of the information presented than those who took notes on laptops. Why? The traditional note takers processed and summarized the information as they received it, rather than recording it verbatim.[2]
OUR BODIES
It may take only one or two good journaling sessions to feel the cathartic powers of purging your emotions onto paper. In her 2014 book "The Healing Power of Writing," psychotherapist Susan Borkin says she has used journaling successfully for more than 30 years with clients coping with anxiety, grief, low self-esteem, depression, addiction, post-traumatic stress and life events such as divorce, remarriage, parenting and step-parenting.
And psychological healing is just the start. Two decades of research led by James W. Pennebaker, Ph.D., Regents Centennial Chair of Psychology at the University of Texas at Austin, suggests that journaling can actually promote physical healing as well. Pennebaker and his associates found that expressive writing boosted immune function in individuals with HIV/AIDS, asthma, arthritis and other illnesses.[3] Today, doctors and psychologists alike encourage journal writing as a tool for general health and well-being.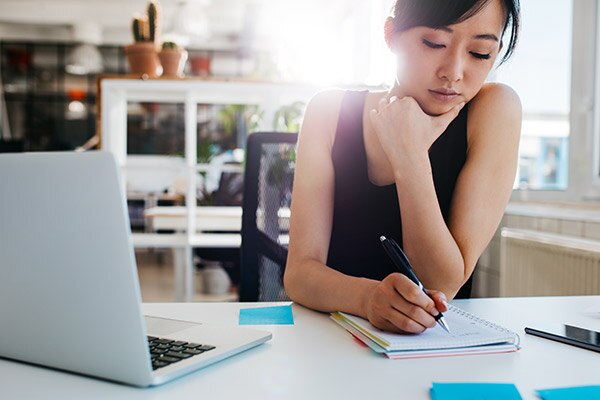 OUR SPIRITS
Are you familiar with gratitude journals? These special journals are devoted to recognizing and acknowledging the many people and things you appreciate in your life — "counting your blessings," in other words.
Again, there's plenty of research to back up the benefits of journals that help you develop an attitude of gratitude. Notable among these is a 2003 study conducted by University of California, Davis Professor Robert Emmons and University of Miami Professor Michael McCullough. For 10 straight weeks, three groups of students wrote down five things they were grateful for, five hassles or five neutral events, respectively, each week. The students who listed things they were grateful for were happier and even physically healthier than those in the other two groups.[4]
In his book "Thanks! How Practicing Gratitude Can Make You Happier," Emmons reports, "The evidence on gratitude contradicts the widely held view that all people have a 'setpoint' of happiness … in some cases, people have reported that gratitude led to transformative life changes."
OUR PROFESSIONAL GROWTH
Spending as little as 15 minutes journaling each day can make you more effective in your current position and better able to see the career options available for moving forward.
Reflecting on your day, identifying its most important components and organizing your thoughts on paper will increase your engagement in your ideas and efforts, thus improving your ability to set and reach meaningful goals. Journaling also brings your right brain into play, helping you develop creative solutions to problems that have perhaps defied analytical approaches. And when you need to get your arms around a complex issue or conversation, there's nothing like journaling to help you see every facet so that you can make wise decisions and recommendations.
Don't underestimate the power of learning moments, either. Brett Steenbarger, a clinical associate professor of psychiatry and behavioral sciences at SUNY Upstate Medical University, who works as a performance coach for portfolio managers and traders, recently shared with Forbes his insights into journaling practices among money managers he knew.
"The journals of the most successful money managers served learning functions," he said. "The journal entries specifically analyzed what had happened in the recent past, but then went further to frame goals for going forward. It struck me that these successful journals had actually become platforms for deliberate practice: evaluating experience, making corrective efforts, and re-evaluating performance after those efforts."[5]
The bottom line? When you think things through and communicate them clearly, if only to yourself in the private pages of your journal, you can drive yourself toward greater success.
I never travel without my diary. One should always have something sensational to read in the train.
Oscar Wilde's Gwendolen Fairfax in "The Importance of Being Earnest"
Solutions
Get More Solutions for Women

---
Important Legal Disclosures & Information
"A Brief History of Journaling," Marianne Ingheim Rossi, Journaling for Your Life, February 2, 2015 http://journalingforyourlife.com/2015/02/02/a-brief-history-of-journaling/

"Attention, Students: Put Your Laptops Away," James Doubek, "Weekend Edition Sunday," NPR, April 17, 2016, http://www.npr.org/2016/04/17/474525392/attention-students-put-your-laptops-away

"Writing to Heal," Bridget Murray, "Monitor on Psychology," American Psychological Association, June 2002, http://www.apa.org/monitor/jun02/writing.aspx

"Counting Blessings Versus Burdens: An Experimental Investigation of Gratitude and Subjective Well-Being in Daily Life," Robert A. Emmons and Michael E. McCullough, American Psychological Association, 2003, http://greatergood.berkeley.edu/pdfs/GratitudePDFs/6Emmons-BlessingsBurdens.pdf
"Two Powerful Reasons to Keep a Journal," Brett Steenbarger, Forbes, July 10, 2015, https://www.forbes.com/sites/brettsteenbarger/2015/07/10/two-powerful-reasons-to-keep-a-journal/2/#25be4e462292
The article(s) you have read were prepared for general information purposes only and are not intended as legal, tax or accounting advice or as a recommendation to engage in any specific transition, including with respect to any securities of PNC, and do not purport to be comprehensive. Under no circumstances should any information contained in this article be used or considered as an offer or a commitment, or a solicitation of an offer or a commitment, to participate in any particular transaction strategy. Any reliance upon any such information is solely and exclusively at your own risk. Please consult with your own counsel, accountant or other advisor regarding your specific situation. Neither PNC Bank nor any other subsidiary of The PNC Financial Services Group, Inc. will be responsible for any consequences of reliance upon any opinion or statement contained here, or any omission. The opinions expressed in this article are not necessarily the opinions of PNC Bank or any of its affiliate, directors, officers or employees.