Toggle nav
Login
Sign on to Online Banking
Sign on to another service:
---
Personal and Small Business:
---
Personal and Small Business:
---
Corporate and Institutional:
The Next Big Leadership Tool: Pen on Paper
This could become the most powerful 15 minutes of your day.
---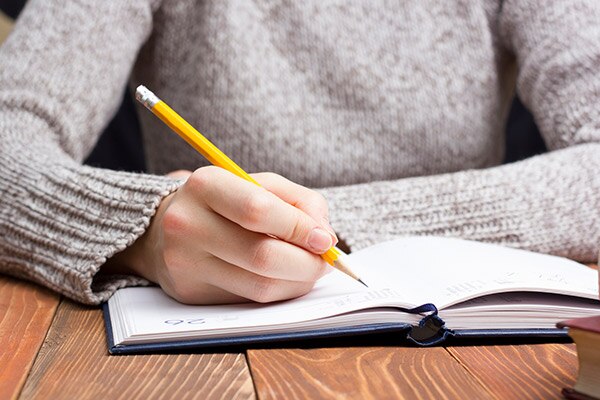 "Extraordinary leadership is rooted in several capabilities: seeing before others see, understanding before others understand, and acting before others act. A leader's unique perspective is an important source of creativity and competitive advantage. But the reality is that most of us live such fast-paced, frenzied lives that we fail to leave time to actually listen to ourselves."
This quote from a recent Harvard Business Review article[1] about journaling is a wonderful reminder that everything you need for effective leadership is already inside you. The secret to tapping into your leadership potential? Simply, letting it out!
How? Set aside 15 minutes each day to write in a journal. According to Harvard Business School Professor Francesca Gino,[2] several minutes of daily reflection is far more valuable than if you had spent the time trying to cross off one more thing on your to-do list. Our brains need this time to process and make sense of what we've done during the day so that we can learn and grow from the experience, Gino notes.
Some experts say that you should journal at the end of each day, to record ideas, thoughts and feelings while they're still fresh in your mind. Others, including business consultant Bruce Rhoades, say morning is best. "Writing early in the morning gets the juices flowing before your mind has its normal defenses and filters in place," he says. Morning writing can help you home in on key priorities, formulate tasks and frame issues, and start your day with a clear framework and to-do list.
Regardless of when you write, the important part is getting into the journaling habit. What can you gain by committing to this standing 15-minute appointment with yourself?
Track your achievements and challenges. When you've done something right, write about it! Bask in the moment and the confidence that comes from acknowledging your own success. Alternately, when a situation didn't go quite the way you would have liked, think it through: What might you have done differently? How can you learn from this experience? In addition to giving you an emotional lift, journal entries can serve as a reference tool for future problem-solving and decision-making.
Anticipate challenges and opportunities. Journaling helps clear your head so you can think more strategically about today and the future.
Prioritize. Journaling helps align your actions with your intentions. It will enable you to see where you are spending energy so that you can make adjustments to stay on track toward your goals.
Explore new ideas. Whether it's an idea of your own, that of a colleague or something you heard on the news, give yourself the freedom to examine possible applications or adaptations that might make your company, department, career or family life stronger.
Get in touch with yourself. Your journal gives you the opportunity to gain new insight into your own personality and state of mind — critical components to your performance and well-being. Are you happy at home? At work? In your position? In your industry? Journaling may help you make the most of what's positive in your life and keep improving it.
When you've done something right, write about it! Bask in the moment and the confidence that comes from acknowledging your own success.
Learn More about Journaling
---
You Might Also Enjoy

---
We've Made One Business Decision Easier —
Business Checking from PNC
Earn a cash reward when you open a qualifying PNC business checking account by 12/31/18. Get Offer Details »
---
Solutions
Get More Solutions for Women

---
Important Legal Disclosures & Information
"Want to Be an Outstanding Leader? Keep a Journal," Nancy J. Adler, Harvard Business Review, January 13, 2016, https://hbr.org/2016/01/want-to-be-an-outstanding-leader-keep-a-journal

"Why You Should Keep a Journal at Work," Lisa Evans, Fast Company, June 16, 2014, https://www.fastcompany.com/3031889/why-you-should-keep-a-journal-at-work
The article(s) you have read were prepared for general information purposes only and are not intended as legal, tax or accounting advice or as a recommendation to engage in any specific transition, including with respect to any securities of PNC, and do not purport to be comprehensive. Under no circumstances should any information contained in this article be used or considered as an offer or a commitment, or a solicitation of an offer or a commitment, to participate in any particular transaction strategy. Any reliance upon any such information is solely and exclusively at your own risk. Please consult with your own counsel, accountant or other advisor regarding your specific situation. Neither PNC Bank nor any other subsidiary of The PNC Financial Services Group, Inc. will be responsible for any consequences of reliance upon any opinion or statement contained here, or any omission. The opinions expressed in this article are not necessarily the opinions of PNC Bank or any of its affiliate, directors, officers or employees.
GET IN TOUCH

Join Us

Be part of our inclusive culture that strives for excellence and rewards talent.

Visit PNC Careers »
The PNC Financial Services Group, Inc. All rights reserved.