Toggle nav
Login
Sign on to Online Banking
---
Personal and Small Business:
---
Personal and Small Business:
---
Corporate and Institutional:
Spend a few minutes learning from the profound and often funny experiences these highly sucessful business women have encountered on the road to the executive suite.
Jenn Lim - Chief Happiness Officer (CHO)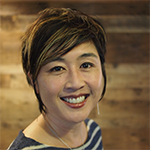 Jenn Lim, is the CEO and CHO (Chief Happiness Officer ) of Delivering Happiness, a company she and Tony Hsieh (CEO of Zappos.com) co-founded to inspire science-based happiness, passion and purpose at work, home and in everyday life.
Jenn has been a consultant with Zappos from its start-up days in 2003 to the several billion-dollar business it is today.
Jenn's experience with Zappos, combined with her development of scientific frameworks for workplace happiness, created the evidence that happier employees = happier customers = successful companies (and meaningful lives).
Jenn was the featured speaker for a PNC Small Business Month webcast, focusing on the impact on productivity in a culture of workplace happiness. In addition to the webcast, she also produced four short videos exclusively for PNC on these related topics:

Does having a higher purpose matter for your organization?
Ten steps for a values-driven culture
Creating a culture action plan based on Progress, Control and Connectedness

Learn the aspects of authenticity, listening and clear communication
Conversations with Susan Packard

PNC's celebration of Women's History Month in 2016 featured Susan Packard, cofounder of Scripps Network Interactive and former chief operating officer of HGTV. Under Packard's helm, HGTV became one of the fastest-growing cable networks in television history. She hosted a lively discussion on topics ranging from career advancement to personal success that continue to resonate.
The following are excerpts of her presentation:
Influencing Change
"When we get into the position as an equal around the table, we can influence change."
Play
---
Thinking Like an Athlete
"We come into the workplace as adults, and our points of view on competition and winning are very different than a man's."
Play
---
Resilience and Respect
"The bravest people I know aren't fearless, they're intimate with fear."
Play
Important Legal Disclosures and Information
The Seminar and/or Webinar and materials that you will view were prepared for general information purposes only by the speaker and are not intended as legal, tax or accounting advice or as recommendations to engage in any specific transaction, including with respect to any securities of PNC, and do not purport to be comprehensive. Under no circumstances should any information contained in the presentation, the webinar, or the materials presented be used or considered as an offer or commitment, or a solicitation of an offer or commitment, to participate in any particular transaction or strategy. Any reliance upon any such information is solely and exclusively at your own risk. Please consult your own counsel, accountant or other advisor regarding your specific situation. Neither PNC Bank nor any other subsidiary of The PNC Financial Services Group, Inc. will be responsible for any consequences of reliance upon any opinion or statement contained here, or any omission. The opinions expressed in these materials or videos are not necessarily the opinions of PNC Bank or any of its affiliates, directors, officers or employees.