Women Who Achieve: Christina Stratton
ISM Spa and Privai
My PNC banking team has taught me a lot and demonstrates great confidence in us. They understand our companies and goals.
Holistic Approach Boosts ISM Spa
When Christina Stratton toured the United States as lead singer and songwriter for i5 (International Five), a pop band that opened for big names including NSYNC and Britney Spears throughout 2000, she found respite and inspiration in some of the nation's top hotel spas.
"Spa treatments transformed my outlook, calming me in the throes of my whirlwind schedule," she says. "I would leave a spa feeling relaxed and confident, ready to take on the world again. I was moved by these experiences to learn more about the spa industry and how I could bring this sense of peace to others."
As she continued to perform, Christina began studying spa application techniques and the science behind skin- and body-care products, particularly those made of natural ingredients. Her research paid off when, after leaving the band and moving her family from Los Angeles to Asheville, North Carolina, she met Ilana Alberico, a spa supervisor with strong beliefs about the healing powers of botanical ingredients and the holistic benefits of spa treatments.
"Our first meeting, in 2005, was lightning in a bottle," Christina says. "Ilana's passion for the spa industry matched my own, and we discussed opportunities for not only creating our own spa, but then taking the expertise we would develop to potential business partners."
The Business Takes Shape — and Takes Off
In 2007, Christina and Ilana incorporated Innovative Spa Management (ISM Spa) and opened Spa Theology in Asheville. Once they had perfected their operational, training and management processes, they approached luxury hotel and resort decision-makers with a plan to enhance their properties' appeal and profitability through well-designed, well-managed spas.
Today ISM Spa, named to Inc.'s 5000 Fastest-Growing Private Companies in 2013 and 2014, provides luxury resorts, hotels and residential communities across the United States, as well as in Mexico and the Caribbean, with services including facility design, management, employee training, and wellness and lifestyle programming. Christina and Ilana also sell a full line of skin- and body-care products under their own Privai brand in spas and online.
"It wasn't easy at the start," says Christina, who invested all of her personal savings into the business. "In hindsight, we realize that we could have saved ourselves a lot of trouble by identifying our ideal bank sooner. It's vital for women entrepreneurs to find bankers who take the time to get to know you, who will believe in you and support your efforts."
Christina found these supportive bankers at PNC. "Our SBA loan representative referred me to PNC when I was seeking financing for Privai, and we had great rapport from the start," she explains. "My PNC banking team has taught me a lot and demonstrates great confidence in us. They understand our companies and goals. Our relationship is wonderful."
Her relationship with Ilana is also a wonderful business asset, too, says Christina. "I'm fortunate to have an incredible business partner," she shares. "We achieve amazing things together because everything we do is for the greater good of the company.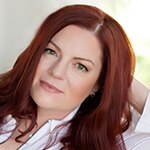 Christina Stratton, Founding Partner & Chief Creative Officer
---
Business Details
Company: ISM Spa and Privai
Location: Asheville, NC
Website: ismspa.com, privai.com
---
Lead with your head and your heart. Listen to your gut. And establish a relationship with a bank that recognizes your potential. They are investing in you, not just your business.
Christina Stratton
---
Business Awards
2015 Women Entrepreneurs Best In Business Award (Founding Partner/CEO Ilana Alberico), Asheville Chamber of Commerce
2014, 2013 Inc. 5000 Fastest-Growing Private Companies
50+ awards and accolades earned on behalf of client spas from Condé Nast, Travel & Leisure, Harper's Bazaar, SpaFinder and others
---
Associated Products & Services