Women Who Achieve: Vicki Pero & Colleen Niese
The Marlyn Group
I was impressed by the emphasis PNC places on supporting women-owned businesses. The bank we had been using didn't have that focus.
Parking Business Requires Endless Drive
When Vicki Pero and Colleen Niese established The Marlyn Group in 2011, they were prepared for the challenges ahead. Having worked together in the parking industry for nearly a decade, they had seen how difficult it could be for women to excel in this male-dominated field. This knowledge fueled their commitment to succeed, and inspired them to pave the way for other female executives and emerging leaders.
"We had seen too many talented women come and go," shares Colleen. "As we worked in this $30 billion industry, we recognized a couple of opportunities: (1) to build a strong company that would encourage other female entrepreneurs to establish roots here, and (2) to become active leaders in organizations and efforts supporting not just the industry's strength but, specifically, the strength of women within the industry."
Vicki and Colleen have leveraged both of these opportunities. The Marlyn Group, which provides training, human resources, recruitment and audit services to small to mid-size private and public parking businesses, has enjoyed consistent growth in terms of both clientele and scope of services. The first consultancy of its kind, Marlyn expanded in 2013 to serve an additional market niche through a program called UDrive, which provides customizable online resources for companies with modest budgets.
Supporting Female Entrepreneurs and Executives
Colleen and Vicki are active in the National Parking Association (NPA) and Women in Parking (WIP). Colleen is the founding chair of WIP, and both women serve on the certification advisory board of NPA. Additionally, Vicki serves as a board member for the Green Parking Council, and is a member of the International Parking Institute's sustainability committee.
"Whether we're leading an organization or committee, delivering a conference presentation or writing articles for industry publications, we are striving toward making the parking industry a more welcoming environment for women," explains Vicki. "Our plans include developing a leadership institute that exposes midlevel managers to education, best practices and data analysis that will help them advance in their careers."
Colleen and Vicki participate in a variety of women's organizations outside of the parking industry as well. In fact, Vicki met her PNC banker at an event PNC was hosting on behalf of Women for Economic and Leadership Development (WELD) and the National Association of Women Business Owners (NAWBO).
"I was impressed by the emphasis PNC places on supporting women-owned businesses. The bank we had been using didn't have that focus," says Vicki. "We switched our business banking and wealth management relationships to PNC, and our experience has been wonderful. Our banking team takes the time to understand our needs and proactively fulfills them."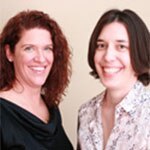 Vicki Pero & Colleen Niese, Principals
---
Business Details
Company: The Marlyn Group
Location: Worthington, OH
Website: marlyngroupllc.com
---
Community Involvement

Worthington Food Pantry, 2011 - Present
---
Business owners experience a lot of ups and downs. Take the time to celebrate the wins, and don't be discouraged by the obstacles; when you push through them, they lead to success.
---
Associated Products & Services