Women Who Achieve: K. Melissa Kennedy
48 Innovate
My PNC banking team has been especially instrumental in helping me understand the complexities of growing a business. Our relationship is invaluable to me as an entrepreneur.
The Fast Track to Innovation
While Fortune 500 executives may enjoy the salary, benefits and backing of their large corporations, they are sometimes disappointed at the pace of innovation, especially when they compare it to the agility of startups. After experiencing this "startup envy" herself, Melissa Kennedy decided to do something about it.
"What makes innovation 'innovation' is its newness. If it takes months or years to slog through corporate processes to get ideas to the implementation phase, what's the point?" she says. With 15 years of large-corporate experience behind her, Melissa left her executive position and established 48 Innovate, a consulting company that leads corporate clients from idea to action within 48 hours through a process called Smart Speed™.
"I worked in partnership with a Fortune 500 company on Smart Speed to ensure we were addressing common concerns. The result is a process that enables a big company to behave like a startup," Melissa explains. "We bring management and employees together for a two-day session where they pitch and vote on ideas and then develop full-scale solutions, complete with plans for implementation."
Solving the focused, measurable challenge at hand is only one aspect of the benefits of this program. "Participants go back to their offices and apply this new intrapreneurial approach, making their workplaces more collaborative and nimble," she adds.
Overcoming Challenges
Within three years of inception, 48 Innovate has facilitated $1 billion in revenue-generating projects for clients. Signing new clients can be challenging, though. Executives are sometimes skeptical of the "48 hour" premise. Gender bias can also be a drawback.
Melissa shares, "Ninety-five percent of innovation leaders globally are men, so I am a true minority in this space. The notion that I don't look like the typical innovation thought leader makes some people hesitate."
To counter these challenges, Melissa is thoughtfully building her credibility. She recently authored "The Innovation Revolution: Discover the Genius Hiding in Plain Sight," a book that achieved bestselling status on Amazon in 12 categories, including organizational change, organizational learning and workforce behavior, and she uses testimonials from big-name clients that hold sway. She's also careful about selecting supportive business partners and advisors, and counts PNC among them.
"Before I ran my own business, I was more of a transactional customer: an ATM gal," Melissa says. "But now when I have business questions— Am I thinking about this the right way? When is the right time to make this move? — I'm grateful to have meaningful face-to-face conversations with my banker. My PNC banking team has been especially instrumental in helping me understand the complexities of growing a business. Our relationship is invaluable to me as an entrepreneur."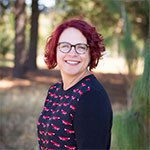 K. Melissa Kennedy
Managing Partner & Global Innovation Facilitator
---
Business Details
Company: 48 Innovate
Location: Raleigh, NC
Website: 48innovate.com

---
Pursue your passion relentlessly. The path is never straight, but if you press on, you will arrive right where you want to be.
K. Melissa Kennedy
---
Business Awards
2017 40 Under 40 Leadership Award, Triangle Business Journal
We've Made One Business Decision Easier —
Business Checking from PNC
Earn a $200 cash reward when you open and use a qualifying PNC business checking account by 06/30/19.
Get Offer Details »
---
GET IN TOUCH

Stay Connected

Join Us

Be part of our inclusive culture that strives for excellence and rewards talent.

Visit PNC Careers »
The PNC Financial Services Group, Inc. All rights reserved.