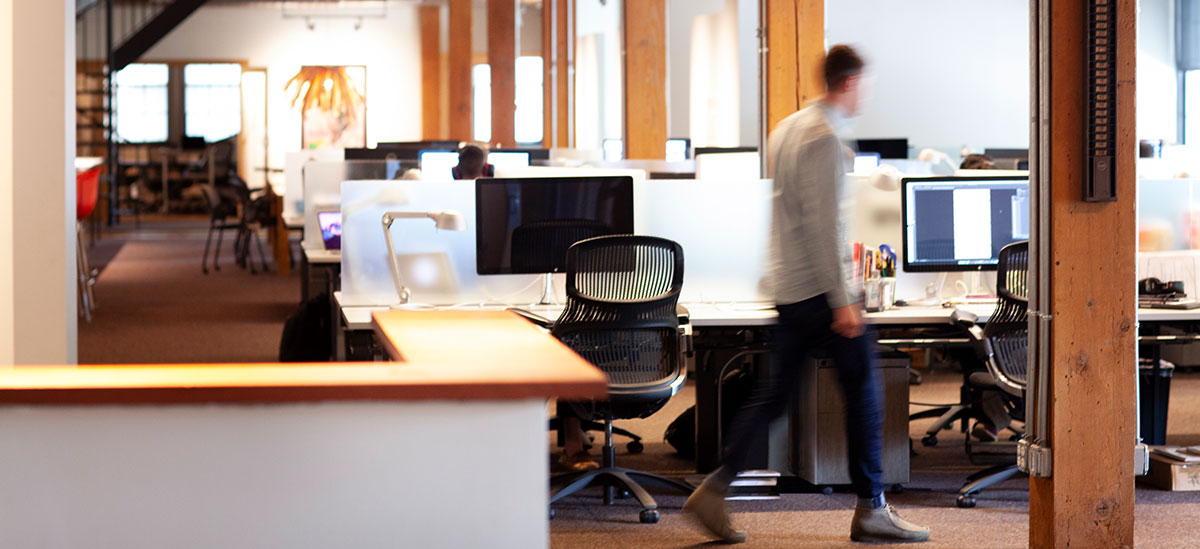 With offices in Chicago and New York, 50,000feet is an independent creative agency specializing in helping brands define their message and engage with their target audiences. 50k combines strategy, creative and technology to help brands tell their stories in powerful and impactful ways.

Need
A lack of proactive business guidance from 50k's previous banking partner sent their team in search of a new relationship. When the pandemic hit, 50k also wanted to find a bank who would be able to help them navigate a dynamic and challenging economic environment.
In addition, the company wanted to augment its current employee benefit offering to include financial wellness support and education. For 50k, an ideal banking relationship was one in which they could manage both employee benefits and company finances with a single provider. "We want to be able to grow into new benefits and help our employees," explains Mike Petersen, Principal / Executive Creative Director at 50k. "If we can provide our employees with valuable tools, then it demonstrates that we care about them."
Solution
PNC gained an understanding of 50k's goals and culture and brought in a team who could provide relevant services and expertise. Leveraging PNC's proprietary tools, the PNC team showed 50k leadership how they were performing against their peers and competitors, which enabled their team to think through long-term goals and build a customized financial plan.
"The ability to gain perspective on the market in which we operate and more importantly, on the insight that can help us to improve how we service our clients and support our team, is critical to us," says Chris Prescher, Principal / Chief Strategy Officer at 50k. The process provides valuable insight into our strategic planning process."
As part of the relationship, 50K sought PNC's direction on creating a strategic alliance with another agency to help provide a broader national platform to service their growing client roster. "Working with PNC helped us put the opportunity into context and understand it from multiple perspectives," says Ken Fox, Principal at 50k. "Together we were able to build a relationship that has significantly increased our presence in the New York market and has improved every aspect of our business."
Results
After the initial conversation, PNC built an internal team with expertise across products and services to find solutions for 50k's immediate and longer-term needs. PNC's Treasury Management team helped 50k streamline their workflow processes and provided a framework that supports the business as it scales. PNC's Organizational Financial Wellness group worked with 50k to craft a personal finance benefits package for employees.
Through its relationship with PNC, 50k was able to:
Set up liquidity solutions, including a line of credit
Consolidate, digitize and update all treasury management and deposit accounts through a single provider
Form a strategic alliance that has helped accelerate growth of the company
Expand clientele and business networks
Offer financial wellness benefits to employees

If you want to be a best-in-class company, you have to work with best-in-class partners. With PNC we are getting advice, tools and support that we weren't getting anywhere else, which has helped us expand significantly.
— Jim Misener, Principal/President, 50k