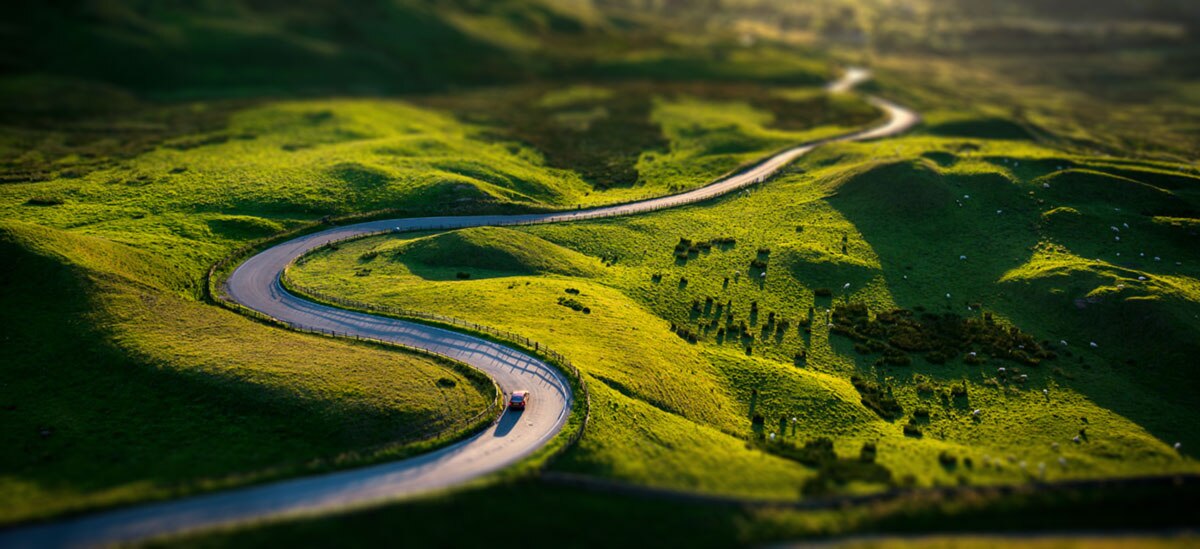 As popularized on the reality TV show Ice Road Truckers, driving a semi-truck across remote Arctic highways is a dangerous job. These truckers literally take their lives in their hands steering massive rigs through treacherous and sometimes unchartered terrain, delivering supplies to remote locations across Alaska and Canada. During a summer day on the Pennsylvania Turnpike, for example, a semi can achieve relatively attractive fuel efficiencies coasting downhill. However, toward the end of a long trip (10 years perhaps?), a semi going uphill in a Yukon blizzard requires the skill of its ice road trucker to adjust to whatever Mother Nature may throw his or her way.

A number of obstacles remain on the road ahead, and the market is still grappling with some major cracks that developed during 2018. These include but are not limited to:
populism and political instability;
tighter monetary policy and a flatter yield curve;
protectionist policies and dollar strength;
slower global economic growth; and
the need for more capital investment to drive higher productivity.
While the terrain investors are likely to face in 2019 may seem daunting and possibly create detours at times, we believe there is still forward progress to be made on this business cycle's journey.
Check Engine Light — Policy Uncertainties and Business Confidence
Monetary Policy
Global equity markets have proven extremely sensitive to rising bond yields, and we believe this will continue to be one of the most influential forces moving through 2019.
Our opinion is that the Federal Reserve (Fed) will be extremely cautious in attempting not to overly tighten policy, leading to a pause in rate hikes during 2019. Furthermore, the inversion of the short end of the yield curve would indicate to us the bond market is not expecting any additional hikes in 2019. This will be an important development, in our opinion, that would allow the market to advance in the coming quarters.
Trade Policy
While the United States is a relatively closed economy, with just 10% of GDP derived from exports (compared to 40% for Germany), publicly traded equities such as the S&P 500® are far more exposed to global economic conditions. According to data from FactSet Research Systems, Inc., nearly 40% of sales from S&P 500 companies are generated abroad, while some sectors such as Information Technology derive well over half of their sales internationally (Apple, for example, only has one-third of its revenues coming from the United States).
Bottom line: U.S. companies may be affected by any negative global growth consequences associated with trade tariffs.
An additional consequence is the possible impact on corporate confidence, which could delay much needed increases in capital expenditures (capex). We believe reinvigorating growth in capex is critical to the extension of the business cycle. When companies engage in capital investment, it usually leads to higher productivity gains, which in turn leads to increased economic growth. If trade tensions persist, corporate confidence may start to erode and chief executive officers may simply choose to table plans for additional investment until things become clearer.
Key Components of Our Investment Process
Road Construction Ahead — Business Cycle in a Slowing Expansion
We believe the countdown to the next economic downturn has begun, but there may be some gas left in the proverbial cyclical tank.
The Organisation for Economic Co-operation and Development has reduced its global growth estimates for 2019 but only modestly below their cycle peak. Global real GDP is expected to grow at 3.5% in 2019 versus 3.7% in 2018. Therefore, although the narrative of slowing global growth appears true, with some regions worse than others, we view broad recessionary forecasts for 2019 as overly pessimistic.
Weigh Station Ahead — Valuations
The valuation picture in the United States is mixed, depending on the particular metric being analyzed. But taken in combination, we believe current valuation levels are above average and will be a constraint on long-term forward returns (think lower returns, on average, over the next 10 years). That said, the distinction between price and value has improved during the past few months given strong earnings growth in 2018 coupled with the recent market swoon. For context, the 5 times (x) multiple contraction is the fifth largest in the last 50 years. Although our forecast is not for material multiple expansion in 2019, lower price/earnings ratios do create some additional headroom for equity markets.
Given our outlook on the business cycle, among other factors, we conclude conditions are in place that should sustain current valuation levels and help support further market advances in the coming year.
E-ZPass Lanes Closed — Technicals
Stocks became oversold heading into late December 2018, attracting buyers and leading to some strong positive days. For example, just 15% of the S&P 500 was left above its 200-day moving average. The last time this happened was at the major lows in 2011 and 2015–16. We have also seen improving breadth during up days — 16 to 1 advancing to declining stocks on December 26 when the S&P 500 rose over 5% was impressive and a near- term positive, in our view.
Watch for Falling Rocks — Equities
U.S. Equities
Fundamentals
On an earnings basis, the growth rate for 2018 is projected at 20.4%, the highest earnings growth rate since 2011, and with all 11 sectors posting positive growth rates. For full-year 2019, the consensus earnings growth rate is projected at 7.6%. While a notable deceleration from the earnings growth
rate registered in 2018, it is largely a function of the challenging year-over-year comparisons, and largely driven by the one-time profit margin step-up from the Tax Cuts and Jobs Act.
The estimated revenue growth rate for the S&P 500 in 2018 is now 8.8%, with every sector expected to contribute. According to FactSet Research Systems Inc., if this growth rate is achieved, it will mark the highest annual revenue growth for the index since 2011. For full-year 2019, the consensus revenue growth estimate is projected to be somewhat lower at +6.4% overall. In spite of decelerating growth rates, and the long list of macroeconomic headline risks highlighted earlier, consensus estimates for earnings and revenue growth suggest profit margins actually may have some room to expand modestly in 2019.
Earnings Revisions
Even as earnings estimates have come down, the pace of negative revisions has been normal.
Historically, analysts' optimistic forecasts tend to be revised down over time, and the trends observed for fourth-quarter 2018 and full-year 2019 almost match average downward revisions.
International Equities
Developed International
Developed international forward P/E multiples have declined over the year and remain well below that of the United States (12x and 15x, respectively).
Valuation differentials will likely result in better performance for international stocks over time, but near-term catalysts seem elusive.
Given the numerous headline risks, we caution that developed international equities may actually be "cheap" for a reason, reflecting the current volatile political, economic, and social backdrop across the region. Should conditions stabilize, earnings growth re-accelerate, and global central banks retain their dovish monetary policy stances, developed international markets could surprise to the upside. Low expectations may also help in this regard, but we remain more cautious near term. This does not mean we want to completely avoid portfolio exposure to developed international equities. Rather, we simply prefer to play developed international equities via astute active managers who have the ability to tilt toward or away from certain benchmark exposures and make nuanced assessments about country and sector-specific opportunities and risks.
Emerging Markets
After a year in which the MSCI Emerging Market (EM) equity index fell close to 15%, valuation spreads between EM and U.S. stocks have pushed past one standard deviation in favor of EM. We believe long-term investors are being presented with a compelling opportunity; however, caution in the very near term may still be warranted. Any surprise resolution of trade conflicts would likely provide a sentiment boost for EMs. Also, any dollar weakness precipitated by a growth convergence between the United States and other large international economies could serve as a catalyst.
In balancing both the near-term risk and longer- term opportunity, we prefer exposure in EM equities via actively managed strategies instead of passive vehicles. The economic health and political dynamics across various countries in the asset class differ widely.
As a result, we believe the experience active managers bring in deciphering these nuanced differences could be meaningful and valuable, particularly in the current environment.
Bridge Ices Before Road — Fixed Income
Interest Rates
The U.S. economy can continue to grow but will likely experience a cyclical moderation. A decelerating growth rate combined with contained inflationary pressures likely gives the Fed cover to pause the current interest rate hike cycle sometime in 2019, which limits additional upside in interest rates from current levels.
We maintain a neutral duration recommendation in our fixed income portfolios.
In our view, the majority of the adjustment higher in interest rates has likely already occurred; subsequently, core fixed income has become relatively more attractive.
Corporate Credit and High Yield
Credit spreads may have bottomed in January and may track current levels or widen in the near term. 2018's above-trend economic growth appears to be moderating, and generally speaking, when growth begins to slow credit spreads tend to move wider. So while valuations have indeed cheapened in domestic credit markets, our suggestion is to be patient as the economy potentially moderates in 2019, which may push spreads to even more attractive levels.
Emerging Market Debt
Heading into 2019, economic expansion in EM countries should remain well above that of developed economies, albeit at slower but still positive growth rates. Despite the positive economic growth outlook, EMD spreads based on the Bloomberg Barclays EM USD Aggregate Index with U.S. Treasuries are at their highest level since mid-2016, at 340 bps. Therefore, we believe valuations are already pricing in much of the negative sentiment reflected in EM equity prices. Also, if the dollar remains range-bound or weakens in 2019, it would act as an additional positive catalyst for EMD.
We believe EM fixed income allocations should remain in line with strategic allocation targets.
The fundamentals underpinning EM economies coupled with attractive valuations should help provide improved risk-adjusted returns.
Get Better Mileage — Responsible Investing
From an environmental ("E"), social ("S"), and governance ("G"), or ESG, lens, we focus on the trends in corporate governance, since we believe the "G" component drives the interaction with shareholders and the directors voted to represent them. Without that engagement between shareholders and the board, the "E" and "S" changes demanded by minority shareholder groups may be difficult to achieve. Alternatively, some investors may choose to simply exclude stocks with poor ESG metrics from their portfolios, but keep in mind that removing them also removes any opportunity for a voice in shareholder engagement altogether.
Off the Beaten Path — Alternatives
Over the past year, the environment for alternative strategies has continued to improve. In our view, the positive catalysts we believed were just starting to develop in early 2018 have finally taken hold in earnest and appear likely to persist throughout 2019 and beyond, helping to create a favorable backdrop for alternatives strategies in general. 
FOR AN IN-DEPTH LOOK
The Long & Winding Road Continues - How Much Gas Is Left in the Tank?