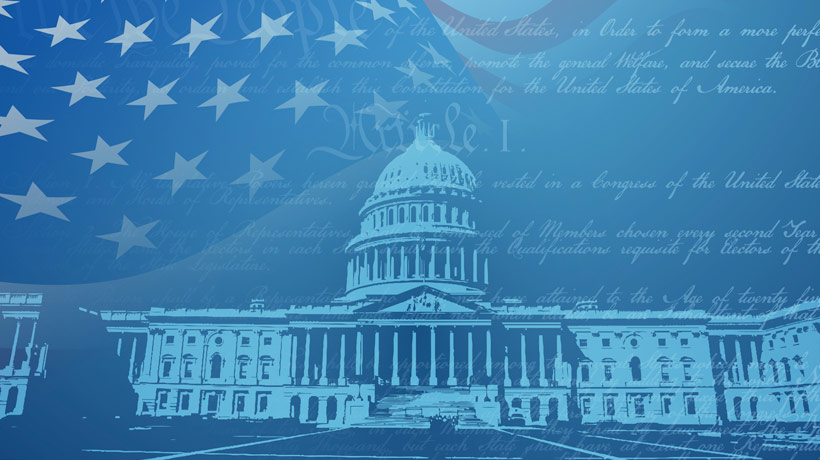 In November, PNC hosted a webinar to discuss political and economic impacts resulting from the outcomes of the 2022 midterm elections. PNC Vice Chairman of Corporate & Institutional Banking Harold Ford approached the discussion through a political lens, while AMG Chief Investment Officer Amanda Agati shared her thoughts from an investment and economic perspective. Though their areas of focus differed, each leader highlighted a common theme that is likely to have a significant impact on businesses going forward: continued gridlock. 
Highlights
Political gridlock is likely to continue, given narrow margins of control in the House of Representatives (Republicans) and Senate (Democrats).
Bipartisan support is possible in some areas, including foreign policy issues and domestic energy security.
Federal Reserve's monetary tightening policy is likely to continue into 2023, meaning more rate hikes, a higher terminal rate and a longer overall tightening cycle.
Recession in 2023 is not a foregone conclusion, but avoiding it will require improvement in inflation and a slow or pause in interest rate hikes.
New Leadership and the Ongoing Struggle for Bipartisanship
Ford began the discussion with an overview of midterm election results, citing that at the time of the webinar Republicans had achieved a majority in the House of Representatives. This outcome proved true as election results were finalized later in the month.
Ford noted that following the clarity of results, the first critical decision will focus on passing the debt ceiling bill, which requires finding some level of consensus in Congress. He noted this will be hard to come by, given the partisan energy in the House and the fact that Democrats retain control of the Senate. In his view, much of the legislation the House will push forward will not be considered in the Senate, and political gridlock will remain the defining foundation over the new few months.
Despite this, Ford expressed optimism that there may be bipartisan support on some foreign policy issues, including the conflict in Ukraine. The White House has asked Congress to approve $37.7 billion in additional aid for Ukraine's defense against Russia, and Ford noted this may prove to be a rare opportunity for a show of unity between the president, House and Senate. Ford also mentioned optimism resulting from the recent meeting between President Biden and President Xi Jinping of China, noting that the midterm elections likely played a role in what many regard as the meeting's favorable outcome. Although Democrats lost the House, the margin of defeat was narrower than many had expected, and Democrats also achieved gains in other races across the country. In Ford's view, this projected a show of strength for the Democratic party and bolstered President Biden's standing as he met with President Xi Jinping.
Ford also highlighted the potential for bipartisan cooperation in the area of domestic energy security. Democrats will be defending 21 seats in the Senate in the 2024 elections, with many of these senators representing states where domestic energy production is a key issue.
Finding the Economic Path Forward
Political gridlock was also featured prominently in Amanda Agati's remarks on the economic outlook following the midterm elections. In her view, the margins of control in both chambers of Congress are sufficiently narrow that any extreme legislation or political change is unlikely to occur. Agati noted that markets always prefer gridlock –and that a divided government seems to be the most favorable outcome for the markets.
Even as gridlock persists in Washington, the macroeconomic headwinds contributing to market volatility continue to swirl. "Supply chain disruption is an underappreciated force adding fuel to the inflationary fire," Agati said, citing that at the start of the year she considered supply chain stabilization the single most important catalyst to keeping economic growth on an upward trajectory. The conflict in Ukraine is another inflationary factor, putting pressure on energy and commodity prices.
The Federal Reserve's actions also are playing a significant role in contributing to market volatility, as it continues its monetary tightening policy at a pace much faster than the markets have anticipated. Agati said the markets have been playing catch-up to the Fed effectively all year, leaving the Fed in the driver's seat on the path forward.
Agati said that, while recent results of the CPI and PPI reports were better than expected, levels were still much too high to expect the Fed to pivot, pause or make a move toward lowering rates in the near future. Agati characterized her view of the Fed's monetary policy strategy going forward as "longer for longer" – meaning more rate hikes, a higher terminal rate and a longer overall tightening cycle.
While Agati thinks the markets have been well positioned to handle rate hikes in 2022, they may face a challenge in 2023. The Fed is projected to continue to raise rates, which in Agati's view is critical. She noted that, from a historical point of view, each time the Fed has raised rates to 4.6% or higher during a tightening cycle, the economy has tipped into recession.
In terms of earnings growth, Agati noted that underlying fundamentals are strong enough to prevent an earnings recession in 2022, with potentially 5% or 6% earnings growth in the S&P 500. To the extent that the Fed continues to tighten conditions, however, Agati cited that earnings growth projections are likely to fall significantly in 2023.
While the outlook may not be positive, Agati thinks there is an upside. With the Fed firmly in the driver's seat, the market will continue to anticipate and try to price in the Fed's tightening moves very quickly, which means that a potential downturn may be relatively short-lived. In Agati's view, it's not a foregone conclusion that we are likely to enter a recession, but avoiding it will require continued improvement on the inflationary front, as well as an indication that the Fed will slow or pause additional rate hikes.
Click here to view a video replay of the midterm election webinar.
Looking for More?
For more insights and information, please visit our webpage or follow us on LinkedIn.