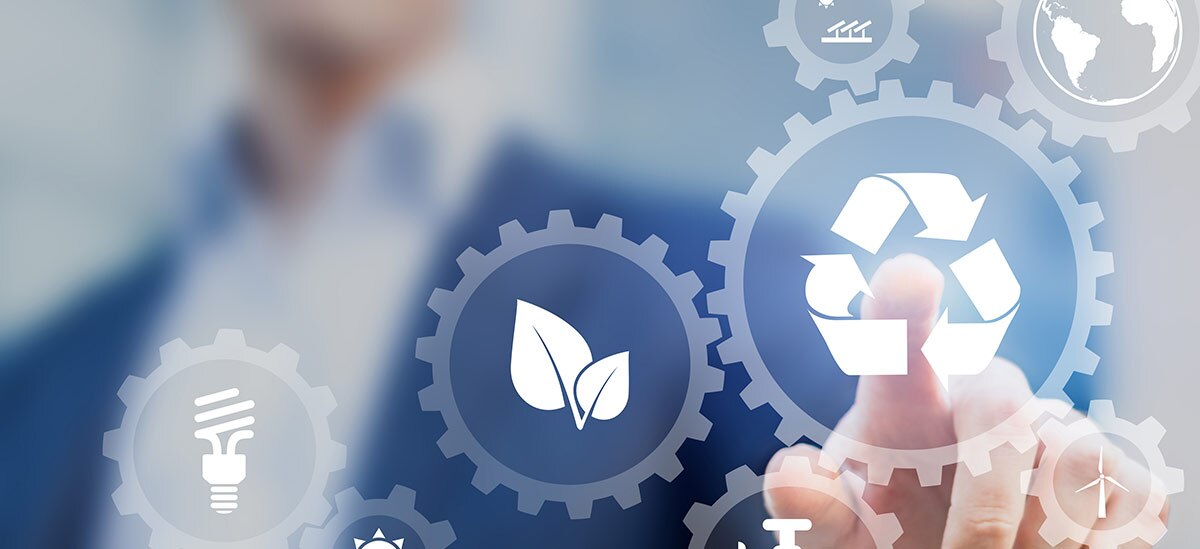 Trending Topics summarizes news, information and perspective on matters affecting businesses and business leaders today. This insight is being provided to keep you up to date on the latest developments and trends influencing these topics. These views do not necessarily represent the views and opinions of PNC. For additional research on these topics, please consult the sources cited in this article.
Sustainability is an increasingly essential criterion of sound investment strategy, and behind the scenes the challenge for investors is how to embed risk factors into an assessment of risk across a whole portfolio, whether by providing early signs of a scandal or detecting where the cost of pollution or climate change may come back to bite.
Last November, wildfires scorched California and in February, Chicago was in the clutches of a deep freeze. It is now acknowledged that the twenty warmest years since records began in 1850 have occurred in the past 22 years.
Global warming, soil infertility, insect losses, ocean acidification, and chemical leaching are becoming a new and urgent dimension of risk for investors.[1]
Recognizing Emerging Risks
Many fund managers are now recognizing the importance of environmental, social and governance (ESG) risks, which includes susceptibility to oil spills, lawsuits, corporate instability, climate change, as well as social factors such as levels of employee satisfaction.[2] These risks need to be minimized by the investment community for their investment to be classified as sustainable.
Sustainability Can Pay
Where once, fund managers paid little heed to sustainability, today it is becoming mainstream. In fact, according to a survey by Edelman,[3] 89% of investors have become more attentive to ESG practices, having either changed their voting and/or engagement policy, with the companies they are invested in. 
Moreover, sustainable investment, according to the latest evidence, pays. London Business School Professor Alex Edmans reports that high employee satisfaction leads to better corporate performance.[4]
Professor Ms. Xi Li, of the London School of Economics, demonstrates that successful ESG engagements created stronger stock and company accounting performance.[4] Therefore, it is hardly surprising that stock exchanges around the world are facing increasing calls to enforce ESG standards.[5] This increasing evidence of an association between corporate performance and good ESG behavior is the impetus behind louder demands for ESG reporting standards.
According to research by Robert G. Eccles, Visiting Professor Said Business School, Oxford University, investors' concerns alongside government requirements have increased the demand for ESG information from the corporate sector. For example, in Europe, in response to the EU's latest non-financial reporting directive, more than 6,000 firms are making ESG disclosures. Current trends in the United States suggest that trillions of dollars could be allocated to ESG-oriented equity investments and therefore to stocks that are attractive on ESG metrics.[6]
A "Wild West" of Reporting Standards
The big difficulty for investors and fund managers is that there are no common global ESG reporting standards. Robert G. Eccles describes the current situation as a bit like a "Wild West" with many different ESG data vendors marketing their own proprietary sets of often commercially secret criteria.[6]
This leads to confusion. ESG assessments of carmaker Tesla are a case in point. Investment Bank CLSA on September 17 placed Tesla at the bottom of its global auto ESG index. Data vendor MSCI placed Tesla at the top, whilst data analyst, Sustainalytics' ranked Tesla in the middle of world carmakers.[7]
Nor does it help that ESG data is unavailable or difficult to access across industries or even a sector for comparison or benchmarking purposes. For instance, data on a company's carbon footprint, the number of women on its board and the labor used in its supply chain are not often included in a company's financial reports or chairman's statement.
When ESG Data is Wrong
One of the biggest challenges for fund managers, given the lack of reporting standards, is that a company's ESG data may be wrong or misleading, which works against investors and companies alike. A case in point is that of Volkswagen. The Dow Jones Sustainability Indices ranked the German-based carmaker Volkswagen as the most socially responsible carmaker in 2015, yet later that year, the VW emission scandal broke, the stock price crashed and the company was ejected from the index.[8]
In practice however, it is very difficult to create a single set of common ESG business performance metrics for benchmarking purposes. However, "a sector-specific framework is possible" as the work of Eccles demonstrates: A Thomson Reuters score on Environmental Innovation was a strong signal of return in Materials and Energy (3-year alpha of ~30ppt and ~20ppt, respectively) but generated no alpha in Consumer sectors.[6] Ethics-related governance (e.g., MSCI's Business Ethics & Fraud, Sustainalytics' Bribery & Corruption Policy) were among the most alpha-generative factors within Financials and Health Care but not within Discretionary.[9]
Can the data problem be solved?
To overcome these problems, the Corporate Reporting Dialogue[10] is bringing together organizations that set standards for corporate ESG reporting including the Global Reporting Initiative, Climate Disclosure Standards Board, and the International Organization for Standardization and the Sustainability Accounting Standards Board. Its ongoing 'Better Alignment Project' aims to find practical ways by which respective ESG frameworks and standards can be aligned and rationalized as a step towards information sharing and present a common voice to key regulators. To this end it is currently producing a series of research papers for both the industry and regulators to debate.
To reduce climate related risk, The Task Force on Climate-related Financial Disclosures (TCFD),[11] convened by the Financial Stability Board and chaired by Michael R. Bloomberg[12] has already encouraged some 500 public- and private-sector organizations to disclose high-level climate-related exposures and run scenario analysis on a consistent basis. However, awareness of TCFD disclosure amongst investors and executives is just 10 percent according to HSBC research.[13]
In practice, we are in the early stages of a sustainability revolution. As every investor knows, if you cannot measure it, you cannot risk-manage it. Better data will help investors seize the opportunities for sustainable finance.
Ready to Help
Sustainability is just one of the issues businesses must address in order to mitigate risk. Fraud and cybersecurity are also significant threats. Find out how PNC can help you educate your workforce and protect your financial transactions with a suite of products and services and a library of information. Reach out to your Relationship Manager for more.