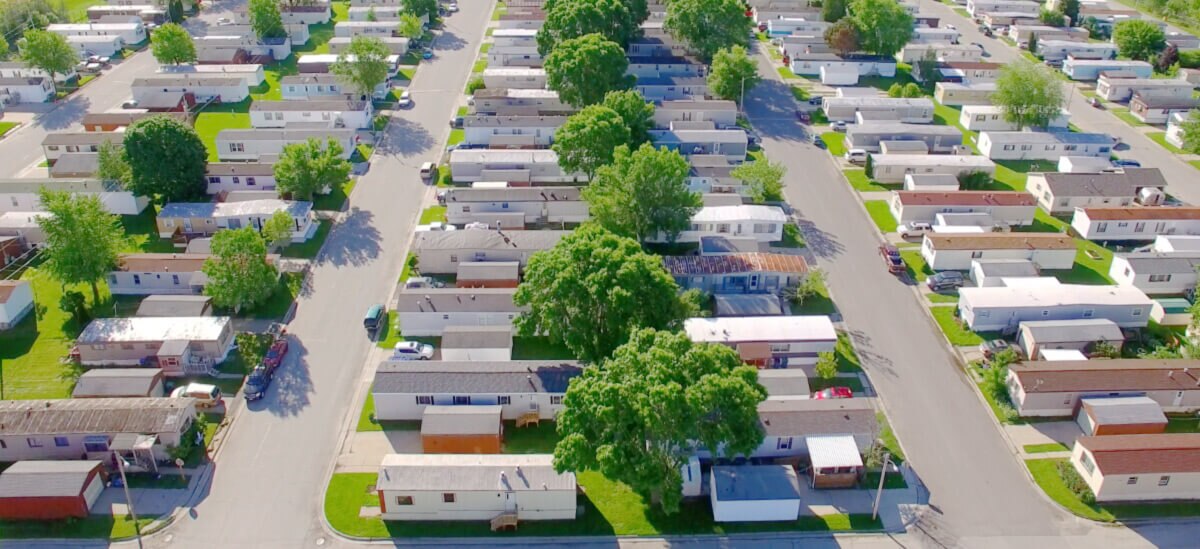 What, exactly, is manufactured housing? These are homes that are built off-site — generally in factories — then delivered in pieces to a destination, where they are assembled. Stick-built or site-built housing, on the other hand, is built on-site and anchored to a foundation. Thanks to the National Manufactured Housing Construction and Safety Standards Act of 1974, manufactured housing must be built to a set of rigorous guidelines and requirements.[1]
Manufactured housing has come a long way from flimsy construction, run-down appearances and uninteresting interiors. Today's manufactured home can be spacious and welcoming, boasting a variety of architectural styles and interior/exterior finishes. Furthermore, these homes are high-quality. Standards and requirements, set by the U.S. Department of Housing and Urban Development (HUD), regulate the design, construction, strength, durability, fire resistance, energy efficiency and wind safety of manufactured homes.
A Note on Costs
"Today's manufactured homes offer excellent quality at lower prices, versus their stick-built counterparts," said PNC Real Estate's Michael Janabi, a production analyst who focuses on manufactured housing.
According to the Manufactured Housing Institute (MHI), the average cost of building a manufactured home in 2017 was $70,000. Meanwhile, the cost of putting up a new-built stick home was $286,000 — which doesn't include the land.
"This can be attributed to the assembly line operation of manufactured homes, which creates economies of scale from purchasing large quantities of materials," Janabi added.
Economies of scale, combined with lower construction costs, are among the many reasons why HUD Secretary Ben Carson is targeting manufactured housing as a way to offer homeownership opportunities and wealth creation for families that might otherwise not qualify for, or be able to afford, site-built housing.
"Even at this lower price, manufactured homes appreciate in value at a rate similar to site-built homes, according to the Federal Housing Finance Agency Housing Price Index," Carson said, in a speech to attendees at the recent Innovative Housing Showcase.[2] He noted that the average net worth of a renter is $5,000, whereas the average homeowner net worth is $200,000. "With comparable home appreciation rates to site-built homes, manufactured homes exhibit their own extraordinary potential to be a wealth creation tool for ordinary, everyday American families," the HUD Secretary said.
Building Communities
According to a 2018 MHI report, 66% of manufactured housing is assembled on private land, owned by either the homeowner or someone else.[3] Meanwhile, 34% of the homes are situated within specific manufactured housing communities. With the latter, residents don't own the land outright, but rather, sign land leases for a specific amount, per month.
This arrangement provides many benefits. The individual doesn't have to pay for the land on which the house will be assembled. Furthermore, putting the house together requires less labor and fewer costs. The result is a low-cost entry point for home ownership, as well as the ability to build equity.
Then, there is the community aspect. Many manufactured housing locales can be tight-knit and friendly neighborhoods, factors that might not be available within rental communities or stick-built subdivisions. Additionally, "owners of manufactured housing communities are building in more features, offering on-site clubhouses, fitness facilities and swimming pools to provide amenities to residents, and to strengthen the bonds between neighbors," Janabi said.
Financing Options
Ownership financing of manufactured housing can differ from obtaining a mortgage for a stick-built domicile. The manufactured home can be titled either as personal property, requiring a chattel loan, or real property, if it involves the land on which the house sits. Housing in leased communities is considered personal property, and, as such, would be eligible for a chattel loan, versus a conventional mortgage. Chattel loans can be easier to obtain than a mortgage, and usually have 20-year amortization (versus the 30 years through a standard home loan).
Fannie Mae[4] and Freddie Mac[5] are starting to take notice in the value of this property type. The GSEs currently have programs for manufactured homes involved with "real property" (i.e., land ownership). Additionally, the agencies are exploring the potential of offering chattel loans for personal property.
Conclusion
Because of increase in quality and lower costs of manufacturing and assembly, manufactured housing will continue to play a vital part in making homeownership affordable to millions of Americans. In addition, land-lease communities are working hard to ensure that residents live in tight-knit neighborhoods and can experience a great lifestyle.
This is supported by MHI metrics, which demonstrated increasing occupancy within this sector.[3]
"Demand for manufactured housing is increasing," Janabi observed. New home sales reached 96,500 in 2018 compared to the low of 49,700 in 2008. That's a 94% increase in demand over 10 years.