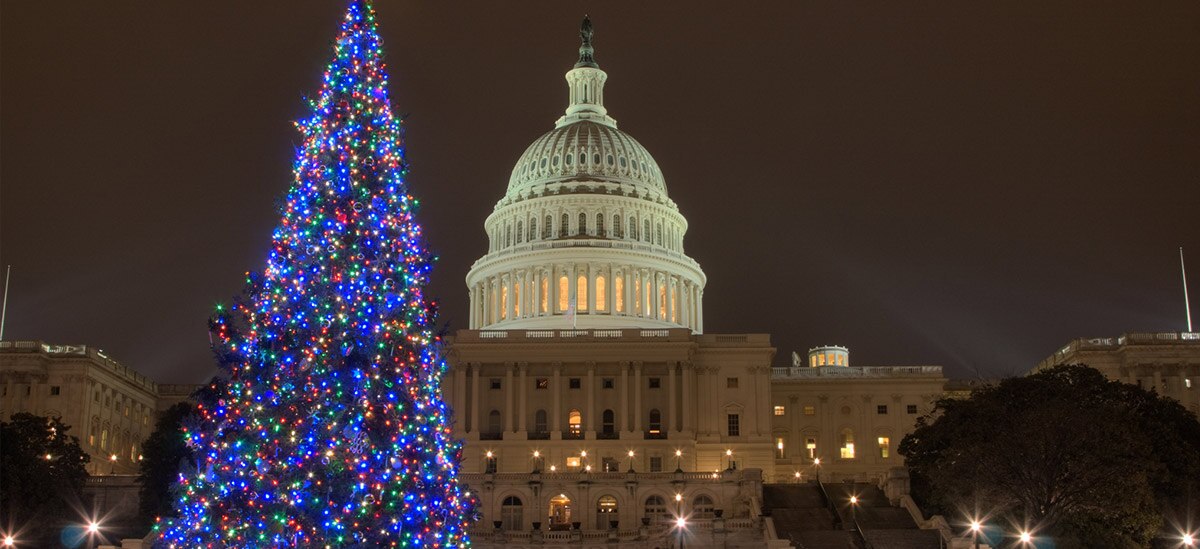 Given how volatile markets have been in just the last two weeks alone, we thought it the opportune time to highlight how we work through our investment process in order to make informed investment decisions and avoid kneejerk reactions when sentiment is so clearly negative.
Do They Know It's Christmas?
Heading into December, there was a long list of possibly market-moving events yet to take place in 2018. And most of those events came with uncertain, potentially binary outcomes:
Federal Reserve (Fed): First we had Fed Chair Jerome Powell's speech at the end of November essentially fixing the damage of his speech from early October. His speech was initially viewed by investors as a positive event; however, other Fed officials subsequently offered opposing views or confusing guidance. Communication from the Fed effectively brought us back to a neutral or even net-negative position. Since Chair Powell's speech, the S&P 500 is down 7%, reinforcing our belief that communication from the Fed has been a significant overhang for the market in the very short run.
G-20 meeting: Despite the optimism heading into the G-20 meeting, its outcome was rather neutral. U.S. trade negotiations with China are headed down a better path; however, we have yet to see concrete details. As it stands, the G-20 meeting was not a positive driver for the market.
Brexit: With headlines changing by the hour, Brexit remains a convoluted scenario, and the process is unfolding with no clear resolution. The situation has not been a reprieve for markets. For perspective, the British FTSE 100 is up just 0.1% (annualized) since the Brexit vote in 2016; in comparison, the S&P 500 is up 10% (annualized) over that same timeframe.
Italy: Progress in Italy is possibly the single positive, or closest to a positive, event for markets. The Italian government is still working on a resolution for its fiscal and budgetary woes. As we await clarity, we are seeing early indications the government is compromising with the European Commission's guidelines.
The event calendar over the last few weeks had few positive outcomes, so it should be no surprise to us the market has struggled in the very short run.
Where's the Santa Rally?
To sum up the recent negative news and price reaction from markets, we borrow, with apologies, from a seasonal tune: All I Want for Christmas is a Fed Pause in 2019. As equity markets face one of the worst Decembers in history, we don't think wishing for a pause in 2019 is too much to ask! Recent economic data we've seen unfold also suggest a pause in rate hikes may be justifiable:
weaker housing-related activity;
higher, but still in check, inflation;
trade uncertainty (and its damage to global growth prospects);
tightening financial conditions;
recent layoff announcements from major corporations; and
moderating global growth.
Taking those factors into account, Fed policy changes aren't as simple as flipping a switch and making an immediate pivot. Therefore, while markets may initially be disappointed with the FOMC decision today, we believe the subtle shift in tone from the Fed is notable: less hawkish than they had been all Fall, but not overtly dovish in their outlook for 2019.
Where's the Holly Jolly?
So with all the above, where's the good news? When sentiment is negative, we believe we need to go back to our investment process.
Earnings growth remains solid, despite a moderation in year-over-year forecasts and normalizing negative revisions in the short term. Industrial production and the other leading indicators we track are also moderating, but still at healthy levels. Macroeconomic analysis from PNC's Economics team shows no recession is imminent. In addition, our internal recession risk indicator combines various data series of leading and coincident indicators to provide context, suggesting there is still runway left to the cycle. In short, the key fundamental leg of the investment process is showing positive news.
The distinction between price and value has improved, in our view. Not every valuation metric looks cheap, but earnings multiples at the start of year were much more challenged compared with where we are today.  We believe the market focuses on the forward earnings multiple as the primary metric. In 2018, we are seeing 20% earnings growth, yet the earnings multiple has contracted 4 points. 2018 was all about earnings growth. For context, this year's 4x multiple contraction is the fifth worst in the last 50 years: a function of strong underlying earnings growth and the recent market swoon. Therefore, we believe net-net we are at a better place relative to the start of the year, which creates head room for the market in 2019.
Technicals continue to be largely under pressure, but this is more reflective of the challenging backdrop of where we came from, not the leading driver of where we go from here.
Will It be a Happy New Year?
What does 2019 look like? There is a long list of positive underlying fundamentals in the U.S.:
Economic growth is solid.
The 2019 earnings story remains positive despite knowing year-over-year comparisons are going to be more challenging.
The labor market is still very strong.
Industrial production continues to gather momentum.
Retail sales data are accelerating; the November retail sales report highlighted strong online retail sales, which indicates to us a successful holiday sales season.
We believe sentiment has been so sharply negative that 2018 became a year of "peak uncertainty."
And 2019 could be the year of upside surprises given how low the bar has been set. This is not to say we're blindly bullish. There is a long list of headline risks weighing on markets. Based on recent equity market performance, we believe many investors have forgotten about the positives at these valuation levels.
In our view, one of the potential upside surprises could come from U.S.-China trade relations. President Donald Trump likely understands that if he pushes things too far, there could be unintended consequences. He still has two years left in his first term, and with a divided Congress in 2019 the different forces will likely have to come together to compromise on a trade resolution with China.
We received negative economic data from China in November. Like the Fed has difficulty shifting monetary policy swiftly, the Chinese government has a difficult time managing its economy in a slow, fluid way. There is an awful lot of stimulus fed into the Chinese economy, but the second- largest economy in the world probably isn't going to turn on a dime; we expect there will be a lagged effect.
Therefore, we think 2019 has the potential to be an upside year for Chinese growth, for emerging markets as a whole, and may even help reaccelerate global GDP growth. U.S. GDP could also surprise to the upside if the trade overhang goes away.
A Fed pause in 2019 might help, too. The Fed could create the breathing room that equity markets, investor sentiment, and business confidence likely need.
Resist the Grinch
Fight the fixation to focus on the negative. There are still positives to promote economic growth and potential for upside surprises in the new year. Sentiment is the most negative we've seen in some time, and those low expectations could be cleared in 2019. For more details, stay tuned for our 2019 Outlook.