United States
Markets rally on positive virus data and stimulus, while fundamentals take a backseat.
Domestic equities staged a frantic recovery in April, as markets focused on improving virus-related data while riding the massive wave of liquidity offered by the Federal Reserve's (Fed's) latest round of quantitative easing, along with multiple fiscal stimulus programs introduced by the federal government.
For the month, the S&P 500® closed up 12.8%, the index's best month since January 1987. Overall, domestic equities experienced broad positive momentum, with the S&P 1500® climbing 12.9%, S&P 400® mid-cap stocks up 14.2%, and S&P 600 small-cap stocks up 12.7%.
The rally in April capped what was a historic — albeit highly volatile — period following the all-time market high on February 19. From that day through March 23, the S&P 500 took just 23 trading days to fall into its first bear market in over a decade (-34%). Subsequently, US stocks entered a new bull market after rallying 30% in the 27 trading sessions through the end of April.
Stocks rallied despite deteriorating US economic data, which are beginning to reflect the ongoing disruption from "stay-at-home" orders prompted by the novel coronavirus (COVID-19). Initial claims for unemployment insurance, a leading indicator of actual unemployment, have increased by more than 30 million since mid-March, suggesting the unemployment rate could move above 15% over the coming months. For context, the peak unemployment level during the 2008-09 global financial crisis was about 10%. Parallel to the job loss numbers, consumer spending, which represents about 70% of US GDP, fell by 7.5% in March, the sharpest monthly decline in history. This decline led to a 4.8% annualized contraction in first-quarter GDP, the first contraction since first-quarter 2014.
The ongoing supply-demand mismatch in oil markets sent the price of West Texas Intermediate crude below zero for the first time ever on April 20 (Chart 1). The price per barrel plunged below -$37 before ending the month near $19 per barrel. While technical drivers were partly to blame, in our view, the decline into negative price territory is a function of the unprecedented destruction in demand that stay-at-home orders have had on a global scale. Estimates put the decline in demand related to COVID-19 at around 19 million barrels per day, dwarfing OPEC's commitment to cut production by 10 million barrels per day starting in May. Given this mismatch, we believe the pressure on oil markets is likely to continue for some time, impacting the earnings power for related companies.
West Texas Intermediate Crude Oil Futures Prices As of 4/20/20 (Chart 1)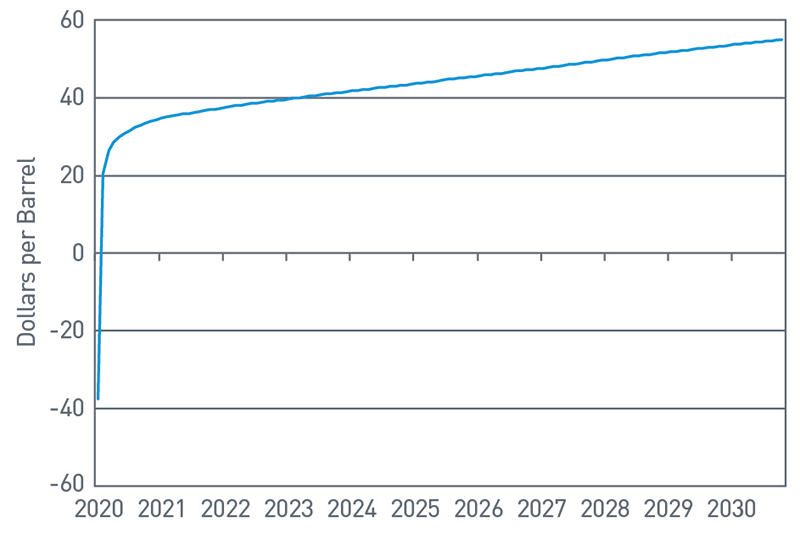 View accessible version of chart 1
Source: Bloomberg L.P., PNC
From a technical perspective, the backdrop has improved since the March sell-off, but remains challenged. Market breadth, which refers to the number of stocks above their 200-day moving average, remains relatively low at just 26%. Historically, a measure above 50% represents a healthy level for market breadth. Additionally, intra-stock correlations remain elevated at 0.63, more than double the three-year average of 0.30, indicating stocks continue to move together on macro/COVID-19 headlines, rather than underlying company fundamentals. Furthermore, market volatility, as measured by the CBOE Volatility Index (VIX) was at 34 as of May 6. While this is down from the extreme highs above 80 in mid-March, it still remains more than double the five-year average of 16. Additionally, the VIX futures curve remains inverted, with investors expecting higher volatility in the near term versus the long term.
With more than half of S&P 500 companies having reported first-quarter earnings per share (EPS), the blended earnings growth rate of -13.7% (actual growth combined with consensus estimates) is tracking well below the quarter-end consensus estimate of -6.0%. Not surprisingly, the consensus EPS growth estimate for full-year 2020 has rapidly declined from 9.2% coming into the year to -17.8% at the end of April.
While it is encouraging to see expectations for EPS growth in 2021 exceed 26%, we believe uncertainty around earnings growth will remain high until the economy can come back online.
The combination of rising stock values and the sharp decline in earnings expectations pushed domestic equity valuations well beyond business-cycle highs (Chart 2). The forward price-to-earnings (PE) ratio for the S&P 500 hit 20.4 times (x) at the end of April, above the mid-February prior peak of roughly 19x, and the highest level since 2002. The same trend is true for smaller-capitalization stocks, with the Russell 2000® forward PE climbing to 34x, its highest recorded multiple ever. Ongoing pressures on earnings growth are likely to keep valuations elevated in the near term.
Domestic Valuations 10 Years Ended 4/30/20 (Chart 2)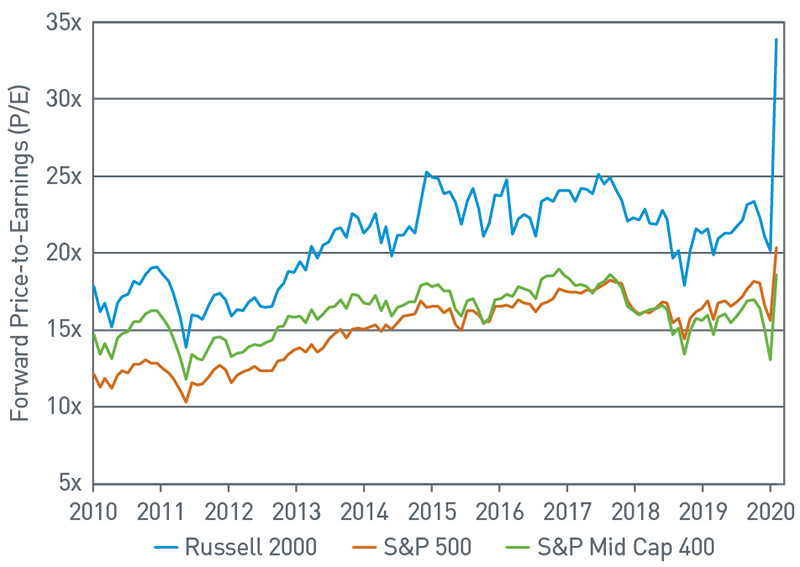 View accessible version of chart 2
Source: FactSet® Research Systems Inc., PNC
Fixed income markets broadly rebounded in April after one of the most challenging months of March on record. Strong performance lifted investment grade corporate bond returns back into positive territory for the year, while high yield and leveraged loans have been sources of underperformance amid credit stress and rising default risk. Supportive Fed policy and fiscal stimulus have helped spreads compress from their widest levels. However, while high-yield spreads remain well below the March peak of approximately 1,100 basis points (bps), they are still elevated at 750 bps compared to the 10-year average of 480 bps. 
Another indicator of the state of fixed income markets is the resurgence of Fallen Angels (i.e., investment-grade companies downgraded to speculative grade). This year's Fallen Angel volume of $150 billion already exceeds the 2009 record of $141 billion. Additionally, three of the seven largest Fallen Angels on record occurred in the last two months: Ford Motor Company ($52 billion), Occidental Petroleum Corporation ($32.2 billion), and The Kraft Heinz
Company ($23.5 billion). However, effective March 22, Fallen Angels will be included in the Fed's expanded credit program, provided the issuer maintains a credit rating of BB- or better, which helps mitigate the transition risk of rating downgrades. Additionally, the combination of central bank action and fiscal stimulus have supported a steady stream of primary market activity (bond issuance) in both high yield and investment grade, which has allowed companies to shore up liquidity needs.
The decoupling of equity markets from fundamental data over the last month as well as the elevated level of credit spreads leads us to question the sustainability of the recent market rally. While the massive fiscal stimulus and seemingly unlimited liquidity from the Fed offer a backstop in the near term, a solution to the ongoing health crisis is needed to return to "normal" functioning of the economy and markets. 
We should begin to get some indication of the timeline to recovery soon, as many states are beginning — or beginning to contemplate — reopening their economies. So far, 19 states have begun reopening, with another 13 set to reopen in the next two weeks. In our view, this might be slightly aggressive, so it remains to be seen if these dates will hold or if the lockdowns will be extended. For example, New York, the epicenter of the pandemic, under a stay-at-home order since March 22, is now set to tentatively reopen on May 15. Even if the state sticks to this date, will people be willing to go back to business as usual? In fact, Governor Andrew Cuomo said recently that it would be a miracle if New York City reopened by mid-May.
In New York, as well as at the national level, all eyes will continue to be on the data to indicate progress against the pandemic. One key statistic is the doubling rate of new COVID-19 cases. In the United States, the doubling rate has improved to 29 days from 19 since mid-April, and New York City's doubling rate is now approximately 40 days, marking a huge improvement. While it seems we could see curve flattening at the national level in very short order, as states with the most number of cases (e.g., New York and New Jersey) are plateauing, it will be important to monitor multiple curves because parts of the country, and some of the largest cities, have yet to improve.
In fact, major cities like Chicago, Dallas, Washington, DC, and Los Angeles have higher doubling rates than the national average, even as the US rate is skewed higher by New York due to the disproportionate number of cases there. 
While data suggesting a plateau in new virus cases present a hopeful sign, we expect the process for life to return to "normal" to be long (Chart 3). For markets, given the significant recovery in the S&P 500 in April, we would expect investors to shift their focus to the underlying fundamentals, which could lead to some downside market pressure and higher volatility. 
Daily Confirmed COVID-19 Cases 1/27/20 to 5/3/20 (Chart 3)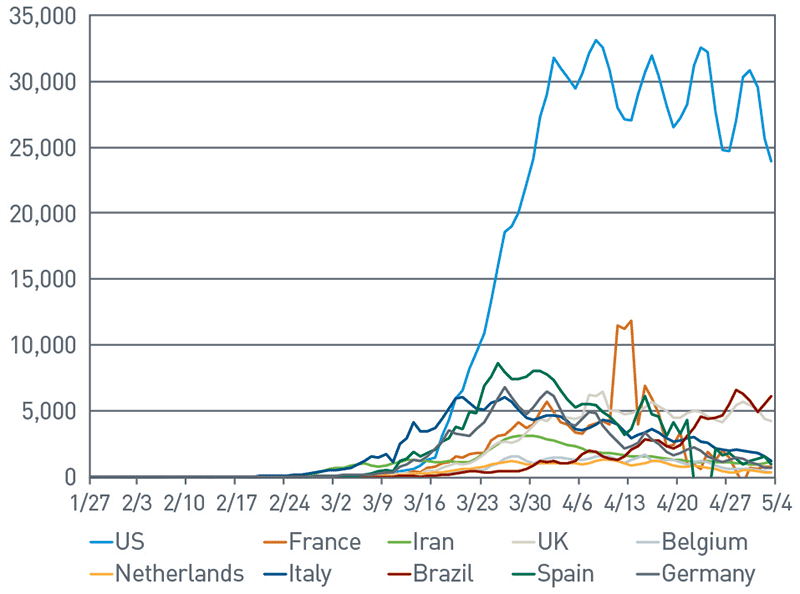 View accessible version of chart 3
Source: Johns Hopkins University
International Developed Markets
Central banks and policymakers pledge "whatever it takes" to combat the coronavirus.
Macro turbulence has once again taken center stage in developed international economies. Just as these markets (especially Europe) were expecting to benefit from the easing of US–China trade tensions, they confronted a more widespread challenge from COVID-19. Investors in developed international markets are witnessing an ongoing tug-of-war between stay-at-home orders that are inherently damaging to short-term economic growth and unprecedented stimulus that could help determine the depth of that downturn.
Economic data have started to reflect these realities, as the euro-area economy posted its worst quarterly contraction ever of -3.8% in the first quarter. The countries hit hardest by COVID-19 (Italy, Spain, and France) also saw the largest declines in economic growth (-4.7%, -5.2%, and -5.8%, respectively). Furthermore, the IHS Markit Eurozone Manufacturing and Services PMIs fell to 33.6 and 11.7, their lowest levels on record, and the Eurozone Commission Consumer Confidence Indicator dropped to an alltime low of -22.7. Additionally, the au Jibun Bank Japan Composite PMI® dipped to its lowest reading since the 2011 tsunami. These measures underscore the acute economic damage from the dramatic fall-off in consumer and corporate activity due to stay-at-home orders. With discussions of reopening in very early stages, ongoing data are likely to remain challenged over the next few months.
To help combat the downturn, major central banks and policymakers have gone into "whatever it takes" mode to buy the global economy time and keep liquidity flowing.
For example, the European Central Bank (ECB) significantly increased quantitative easing through the Pandemic Emergency Purchase Program, which outlines €750 billion in public and private bond purchases through at least year-end. The ECB also further cut funding costs for banks and pledged flexibility when directing purchases to economies experiencing rising interest rates amid recent volatility in financial markets. In Japan, the Bank of Japan recently increased its commercial paper and corporate bond buying programs, while removing the previous ¥80 trillion annual limit on the purchase of Japanese Government Bonds. 
In addition, countries such as Italy, Germany, France, and the United Kingdom have implemented a variety of fiscal stimulus measures that aim to help affected industries and workers as they work through the crisis. In Japan, the government implemented a ¥108 trillion fiscal stimulus program, which is worth roughly 20% of Japan's GDP. While these policies obviously cannot cure the virus itself, we believe these steps are critical to limiting the potential economic damage.
More than a third of MSCI World ex USA Index companies have now reported first-quarter earnings, and the blended earnings growth rate is -35%, well below expectations at the beginning of the quarter. Growth is expected to be negative across the majority of sectors, with cyclical sectors (Consumer Discretionary, Energy, Industrials, and Materials) each expected to deliver negative growth of 55% or more. Consensus EPS growth for 2020 is expected to decline nearly 21%. 
After falling more than 34% from mid-February to mid-March, the MSCI World ex USA Index recovered nearly half of that loss through the end of April, as have the STOXX Europe 600 and the Nikkei 225. Still, developed international stocks have underperformed their domestic counterparts during this recovery, and their corresponding valuation divergence has widened year to date (Chart 4). We expect heightened volatility to remain in the near term given the uncertain path to economic recoveries in Japan and Europe.
International Valuations 10 Years Ended 4/30/20 (Chart 4)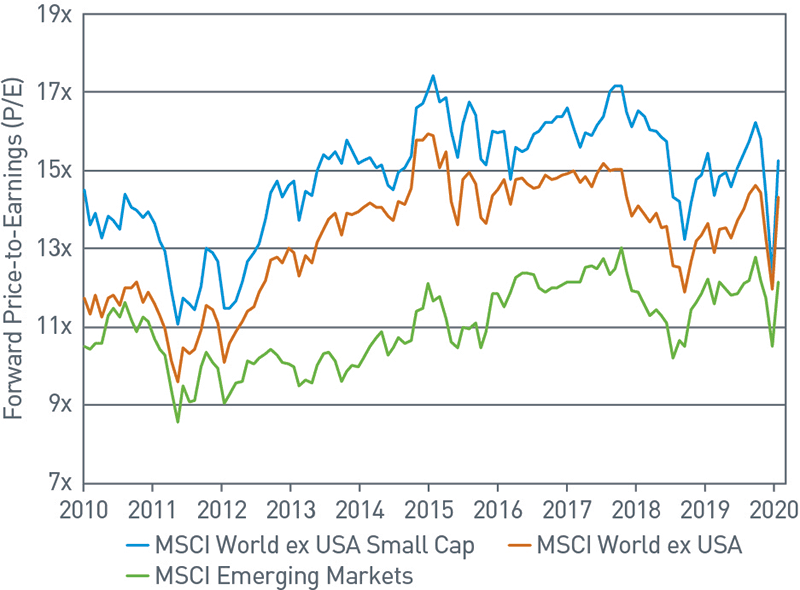 View accesible version of chart 4
Source: FactSet® Research Systems Inc., PNC
Emerging Markets
Emerging markets flatten the curve.
The MSCI Emerging Markets (EM) Index had its best monthly return since March 2016, up more than 9%. Regional participation in the rally was led by EM Asia, EM Europe, the Middle East, and Africa, which generated returns of more than 9%, while EM Latin America was a relative laggard, up more than 6%. While the EM Index lagged domestic equities for the month, it still managed to outpace developed international markets. Year to date, the only major benchmark EM is lagging on a total return basis is the S&P 500.
The earnings backdrop for EM continues to be the strongest (albeit on a relative basis) across the globe, with an EPS growth estimate of -4% for 2020, and a rebound of 22% expected for 2021.
One contributing factor to the relatively better growth outlook for EM is the fact that 2019 was a challenging year for the asset class and thus certain regions are on a different business cycle than the United States. While nine of 11 S&P 500 sectors are expecting negative EPS growth in 2020, just two (Energy and Industrials) are expecting decelerating growth this year in EM.
Another factor in these countries' growth outlook is their respective COVID-19 situations. COVID-19 struck EM Asian countries first, and their response and handling of the outbreak has helped some countries "flatten the curve" and begin to focus on the path to recovery. Therefore, in this period of unprecedented actions to shut down economies and enforce stay-at-home orders, the lagged effect of traditional economic data may not paint an accurate picture in terms of a global rebound. For example, data compiled by Bloomberg indicate Chinese highway traffic across the country is already back to 2019 levels, coal consumption is actually above 2019 levels for this time of the year, and all major cities (excluding Beijing and Wuhan) are back to greater than 80% economic capacity.
One of the strongest country contributors to EM's monthly return was South Africa. While it is surprising given the country is lagging the EM Index by nearly 300 bps annualized over the last five years, its high sector weighting in Materials (>17%), including precious metal mining companies in particular, helped drive performance for the month. We caution the longevity of this outperformance given COVID-19 is only just starting to spread in South Africa, a situation we will continue to monitor.
Emerging market dollar-denominated debt also recovered in April, returning 2.6%, but lagged other fixed income asset classes, including domestic investment grade and high yield.
The asset class has returned -7.1% year to date, but has primarily been driven by weakness in the more commodity exposed Latin America region, which is down 14%, versus a 2% decline in the Asia-Pacific region. We continue to favor emerging market debt over the long term given the asset class's attractive 6% yield and exposure to regions experiencing higher economic growth compared to the developed world.
For more information, please contact your PNC advisor.
TEXT VERSION OF CHARTS
Chart 1: West Texas Intermediate Crude Oil Futures Prices As of 4/20/20 (view image of chart 1)
| | |
| --- | --- |
|   | Dollars per Barrel |
| May 2020 | -37.63 |
| Dec. 2020 | 32.41 |
| May 2021 | 34.68 |
| Dec. 2021 | 36.48 |
| May 2022 | 37.55 |
| Dec. 2022 | 38.88 |
| May 2023 | 39.67 |
| Dec. 2023 | 40.96 |
| May 2024 | 41.71 |
| Dec. 2024 | 42.91 |
| May 2025 | 43.65 |
| Dec. 2025 | 44.88 |
| May 2026 | 45.65 |
| Dec. 2026 | 46.87 |
| May 2027 | 47.65 |
| Dec. 2027 | 48.89 |
| May 2028 | 49.77 |
| Dec. 2028 | 51.00 |
| May 2029 | 51.79 |
| Dec. 2029 | 52.90 |
| May 2030 | 53.63 |
| Dec. 2030 | 54.65 |
| Feb. 2031 | 54.95 |

Chart 2: Domestic Valuations 10 Years Ended 4/30/20 (view image of chart 2)
| | | | |
| --- | --- | --- | --- |
|   |   | Forward Price-to-Earnings (P/E) |   |
| Date | Russell 2000 | S&P 500 | S&P Mid Cap 400 |
| 12/31/08 | 15.7x | 11.3x | 11.1x |
| 12/31/09 | 19.6x | 14.0x | 15.8x |
| 12/31/10 | 18.2x | 12.8x | 15.5x |
| 12/30/11 | 15.7x | 11.5x | 13.1x |
| 12/31/12 | 16.6x | 12.4x | 14.3x |
| 12/31/13 | 21.7x | 15.1x | 17.0x |
| 12/31/14 | 21.8x | 16.0x | 16.8x |
| 12/31/15 | 22.8x | 16.0x | 16.2x |
| 12/30/16 | 23.6x | 16.8x | 18.5x |
| 12/29/17 | 24.2x | 18.1x | 18.2x |
| 12/31/18 | 17.9x | 14.4x | 13.4x |
| 12/31/19 | 23.4x | 18.2x | 17.0x |
| 4/30/20 | 33.9x | 20.4x | 18.6x |

Chart 3: Daily Confirmed COVID-19 Cases 1/27/20 to 5/3/20 (view image of chart 3)

| Date | United States | France | Iran | United Kingdom | Belgium | Netherlands | Italy | Brazil | Spain | Germany |
| --- | --- | --- | --- | --- | --- | --- | --- | --- | --- | --- |
| May 3 | 23,937 | 723 | 1,174 | 4,248 | 331 | 284 | 1,228 | 6,118 | 916 | 680 |
| April 27 | 24,708 | 1,441 | 1,059 | 4,711 | 575 | 319 | 1,972 | 5,528 | 1,761 | 1,256 |
| April 20 | 27,181 | 3,361 | 1,262 | 4,463 | 1,131 | 731 | 2,785 | 2,368 | 3,238 | 1,821 |
| April 13 | 27,012 | 11,834 | 1,568 | 4,858 | 1,309 | 857 | 2,931 | 2,043 | 3,604 | 2,300 |
| April 6 | 30,617 | 3,221 | 2,120 | 4,531 | 1,237 | 910 | 3,491 | 1,680 | 5,525 | 4,391 |
| March 30 | 24,111 | 3,923 | 3,095 | 3,907 | 1,043 | 922 | 4,295 | 860 | 8,003 | 5,259 |
| March 23 | 10,834 | 1,758 | 1,793 | 1,695 | 512 | 740 | 5,083 | 336 | 6,916 | 4,150 |
| March 16 | 1,428 | 746 | 1,141 | 388 | 200 | 307 | 3,655 | 70 | 2,037 | 2,177 |
| March 9 | 254 | 224 | 811 | 46 | 38 | 79 | 1,696 | 6 | 535 | 289 |
| March 2 | 25 | 27 | 648 | 25 | 7 | 9 | 465 | 1 | 46 | 44 |
| February 24 | 14 | ⁠— | 32 | 1 | ⁠— | ⁠— | 99 | ⁠— | 4 | 4 |
| February 17 | ⁠— | ⁠— | 1 | ⁠— | ⁠— | ⁠— | ⁠— | ⁠— | ⁠— | ⁠— |
| February 10 | ⁠— | 2 | ⁠— | ⁠— | ⁠— | ⁠— | ⁠— | ⁠— | ⁠— | ⁠— |
| February 3 | 1 | ⁠— | ⁠— | ⁠— | ⁠— | ⁠— | ⁠— | ⁠— | ⁠— | ⁠— |
| January 27 | 1 | 1 | ⁠— | ⁠— | ⁠— | ⁠— | ⁠— | ⁠— | ⁠— | ⁠— |

Chart 4: International Valuations 10 Years Ended 4/30/20 (view image of chart 4)
| | | | |
| --- | --- | --- | --- |
|   |   | Forward Price-to-Earnings (P/E) |   |
| Date |  MSCI World ex USA Small Cap | MSCI World ex USA | MSCI EM (Emerging Markets) |
| 12/31/10 | 14.4x | 12.0x | 11.6x |
| 12/30/11 | 11.4x | 10.4x | 9.1x |
| 12/31/12 | 13.8x | 12.2x | 10.3x |
| 12/31/13 | 15.5x | 13.9x | 10.1x |
| 12/31/14 | 15.1x | 14.1x | 10.6x |
| 12/31/15 | 16.4x | 14.7x | 11.1x |
| 12/30/16 | 16.2x | 14.9x | 11.9x |
| 12/29/17 | 17.2x | 15.0x | 12.5x |
| 12/31/18 | 13.2x | 11.9x | 10.5x |
| 12/31/19 | 16.2x | 14.6x | 12.8x |
| 4/30/20 | 15.3x | 14.3x | 12.2x |