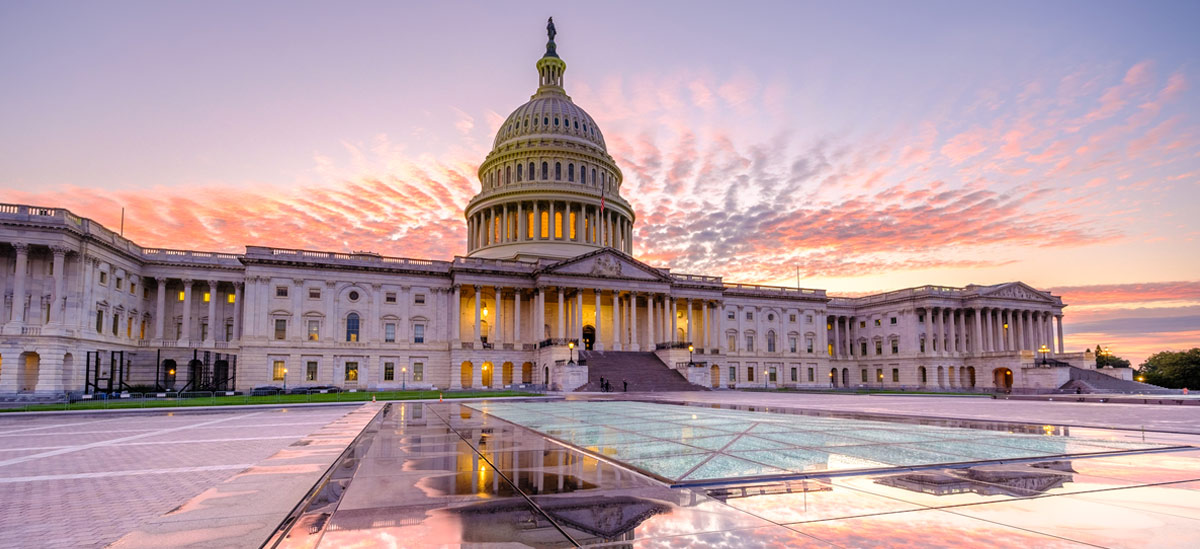 The COVID-19 pandemic continues to plague the United States — and the world — testing the healthcare delivery system and sustainability of providers at every level. This has thrust government policies, patient protections, the supply chain, workforce incentives, innovation and affordability into every conversation.

Lawmakers and regulators have spent the pandemic relaxing rules, establishing and distributing funding, and enhancing hospital transparency standards. While legislative movement and potential passage is a delicate and unpredictable process, this article examines several issues that providers should continue to watch in the remaining weeks of 2021 and into 2022.
Reconciliation
Capitalizing on Democratic control of the White House and Congress, Democratic leaders are seeking to use a fast-track process, known as budget reconciliation, to advance their agenda, including healthcare priorities. Reconciliation allows the Senate to bypass a filibuster and pass the legislation with a simple majority. Democratic leaders hope to include provisions to expand dental, hearing and vision Medicare benefits, negotiate prescription drug prices for Medicare, expand Affordable Care Act Medicaid coverage, incentivize home- and community-based services, and provide for permanent federal funding of the Children's Health Insurance Program.
Many of these provisions have faced obstacles during the process due to slim majorities and cost. For some of these provisions, they will have been weakened, had implementation delayed or have been potentially dropped. Regardless, they will continue to be hot topics and talking points for the 2022 election campaigns.
One such issue is prescription drug pricing. Several moderate Democrats, led by Reps. Scott Peters (D-CA), Kurt Schrader (D-OR) and Kathleen Rice (D-NY), have objected to H.R. 3, the Elijah E. Cummings Lower Drug Costs Now Act, believing the bill goes too far and will not provide the expected out-of-pocket savings to seniors. In turn, they have introduced competing legislation with the hopes of finding a compromise while maintaining a win for Democrats and voters. Some opponents have expressed that H.R. 3 is programmatically an unworkable solution by Medicare and will anger seniors when they see changes to their formularies.
Provider Relief Fund
With the healthcare delivery system overwhelmed by COVID-19, cases leading to a shift of services, challenges and budget concerns, Congress has approved $186.5 billion in funds since the beginning of the pandemic to support the healthcare industry. With the last dollars distributed in September 2021, the Department of Health and Human Services (HHS) will pivot its focus toward reviewing how funds were used. Rather than how and who will receive dollars, the agency within HHS overseeing the Provider Relief Fund, the Health Services and Resources Administration, will begin to review accounting reports to ensure those funds were used appropriately and reporting was done accurately.
While time frames have been adjusted for such use and reporting, the Health Resources and Services Administration has stated, "Recipients identified as having provided inaccurate information to HHS will be subject to payment recoupment and other legal action." Providers receiving funds must ensure the accuracy of their reports or be faced with losing staff time correcting their errors, further public and media scrutiny, and the potential of monetary penalties.
Telehealth
Perhaps the only real benefit of COVID-19 to the healthcare system has been the rapid uptake of telehealth and other technologies across care settings and specialties. For years providers have been hesitant to offer much care via telehealth, in large part because of minimal reimbursement for those services. Policy has lagged far behind technology as advocates have run up against groups like MEDPAC and the Congressional Budget Office, all forecasting that expanded access to telehealth would lead to exorbitant healthcare costs. Despite growing data across numerous fields to counter this narrative that telehealth would be "additive" and prohibitively expensive, lawmakers and regulators trickled out new CPT codes and reimbursable services for years preceding the pandemic. Some larger and more forward-thinking health systems — especially those with more innovative or insular payment structures, such as integrated systems and concierge practices — expanded their telehealth and remote monitoring offerings, and the Center for Medicare & Medicaid Innovation (CMMI) incorporated technology into some of its pilots. But in general, patients had been unable to access care via telemedicine. 
Acceptance of Telehealth?
That all changed — and quickly — in the spring of 2020. In March of that year, health systems around the country closed their doors to in-person visits and elective surgeries and procedures, moving the bulk of non-COVID care online. HHS and the Centers for Medicare & Medicaid Services (CMS) reacted quickly, expanding the universe of reimbursable care, offering waivers and pay for everything from audio-only calls to home care, and promising restraint regarding HIPAA enforcement. All of these new-found flexibilities were tied to the ongoing public health emergency (PHE), which must be renewed by HHS every 90 days.
According to research compiled by the Centers for Disease Control (CDC)[1] and McKinsey & Company,[2] virtual care peaked quickly in mid-April before leveling off. Still, some 20 months into this national emergency, the PHE having been renewed at least six times, telehealth use remains close to 40 times what it was before the pandemic. Patients across demographics having become attached to telemedicine, as have providers from a range of specialties.
For its part, Congress has taken little formal action on telehealth. Congress did write additional latitude into various COVID relief packages, including interoperability reform to 42 CFR Part 2, which governs the sharing of certain sensitive health records. But so far, the legislature has deferred to regulators to set policy through the PHE. Most lawmakers do recognize the need to permanently enshrine at least some of COVID's telehealth allowances. Patient and health IT groups are advocating for permanent expansion of all new telehealth permissions while providers, at a minimum, are desperate for stability that is lacking in a situation where the reimbursement landscape exists in 90-day increments.
Telehealth — What's Next?
Despite apparent political will to finally address telemedicine and have policy catch up with technology, Congress has been focused on other large-scale efforts like infrastructure and President Biden's ambitious reconciliation plans. In the interim, the same lawmakers who have been committed to advancing telehealth legislation for years — a bipartisan group led by members like Sens. Brian Schatz (D-HI) and Roger Wicker (R-MS) — continue to propose comprehensive packages, including the second iteration of the CONNECT for Health Act. Other senior members of Congress have proposed extending all PHE waivers for one year while Washington hashes out which to make permanent and which to rescind. A one-year extension could be included in any number of year-end packages and, depending on timing, is likely to make a permanent telehealth solution a problem for the 118th Congress. While this approach is frustrating for patients and providers alike, the upside is that the longer telehealth is the law of the land, the harder it will be to retract.
Most lawmakers support some permanent extensions, but continued debate revolves around a few key issues:
Whether to cut rates for telehealth visits due to a belief that virtual care requires less overhead
Whether providers should be required to have an existing relationship with a patient prior to offering telehealth services
Whether to continue reimbursement for audio-only services (over the course of the pandemic, we have learned that many patients who are older or live in rural communities or lower-income areas lack access to smart technology)
Which specialties and care settings are ripest for telemedicine and which require more in-person care
Considerations for New Technology
While Congress continues its years-long telehealth deliberation, technology marches on. Innovations in digital health, wearable data collection, remote monitoring and artificial intelligence (AI) are already flummoxing regulators. Countless apps have proliferated, many addressing various specialties and patient groups. Wearable technology has evolved from step counting to cardiac monitoring. These advancements raise serious questions about privacy and data sharing. Some HIPAA enforcement has been paused during the pandemic while the sharing of sensitive Part 2 data has been reformed to mirror HIPAA. In the future, lawmakers will likely need to reconsider HIPAA entirely and whether it makes sense in its current form to regulate a brave new world of digital health. The Food and Drug Administration (FDA) has already recognized the challenges ahead and recently created the FDA Digital Health Center of Excellence. They are delving into the challenging terrain of regulating new technologies and determining where the FDA should and should not have authority. Within this Digital Center of Excellence, policymakers are considering current technologies as well as how to get in front of the next wave. For example, the role AI will play in healthcare technology and medical devices is front of mind.
These new technologies promise to improve health outcomes for users. Remote monitoring and wearables can detect problems early and reduce the need for emergency care; virtual care can provide access to patients who might not have time or resources to otherwise seek help or specialists. While technology has the potential to level the healthcare playing field, it also has the potential to deepen inequities in our healthcare system. Just as the pandemic has created an unexpected laboratory for widespread telemedicine, it has also revealed how inequitable access and outcomes are in the U.S. Low-income patients, people of color, and residents of rural and tribal communities have been hit the hardest, and the future of public health information technology should take that into account.
Health Equity
While they control both Congressional chambers and the White House, Democrats have voiced a commitment to make health equity the centerpiece of any permanent changes to telehealth policy. For years lawmakers have requested data on how telehealth impacts care. Most of these requests pre-COVID centered on cost and measurable outcomes like hospitalization reductions. Now, lawmakers want to see data on how access to technology impacts access to care for the communities that have been historically left out.
Social Determinants of Health
This focus on health equity is also driving growing interest in social determinants of health — those factors outside of pure healthcare that contribute to our health, such as access to food, transportation, secure housing and employment. Managed care organizations have long understood the importance of addressing these pieces of a patient's life to ensure positive health outcomes. While the transition from fee-for-service to value-based care has been slowed in this country by the pandemic and political stagnation, a desire to understand and address the way social determinants impact patients' overall health remains strong across the political spectrum. Some lawmakers see it as a moral imperative while others view it as a fiscal necessity, but whatever the impetus, there is likely to be continued interest in addressing the holistic needs of a patient and payment models to allow for and encourage this type of care.
Surprise Billing
Congress, in a rare demonstration of bipartisanship, passed the No Surprises Act as part of the Consolidated Appropriations Act (PL 116-260), providing patient billing protections and price transparency tools. On July 1, 2021, HHS issued Part 1 of their surprise billing requirements. The rule laid out the regulations associated with emergency billing services, out-of-network cost-sharing, and advance notice of costs. The burden will be on health systems to comply, and the provisions take effect on January 1, 2022. The complexities of altering computer billing systems and ensuring accurate notification shared with patients may require more time to comply than January 1. Congress will be hesitant to legislatively change the implementation date, so many are making the case to HHS with hopes a delay in the start date and/or enforcement.
Healthcare Innovation
The Centers for Medicare and Medicaid Innovation (CMMI) was created by the Affordable Care Act to "test innovative payment and service delivery models to reduce program expenditures … while preserving or enhancing the quality of care furnished to individuals."[3] Since its inception, the CMMI has implemented more than 50 alternative payment models. According to CMS, six payment models have generated "significant savings to taxpayers and Medicare" while an additional four have been expanded in scope and duration.
Recently, the CMMI reviewed their work over the past 10 years and used that information to establish a vision for the next 10 years. This focus and understanding will assist providers as they shape their own strategic plans on behalf of their patients and the communities they serve. In a conversation with "Health Affairs" Editor-in-Chief Allan Weil, the CMMI identified six takeaways from their previous work:
Equity should be the centerpiece of every model.
Too many models can have adverse consequences and place burdens on participants.
There should be a redesign of financial incentives to allow for maximum participation.
Change creates risks, and providers need options to minimize those risks.
Financial benchmarks have created challenges and lessened effectiveness.
Successes of one model need to be incorporated in others to ensure lasting transformation.
Building upon this review, the CMMI will continue with its mission by continuing to drive accountable care, advancing health equity, supporting innovation, focusing on affordability, and finding partners to transform the healthcare delivery system.