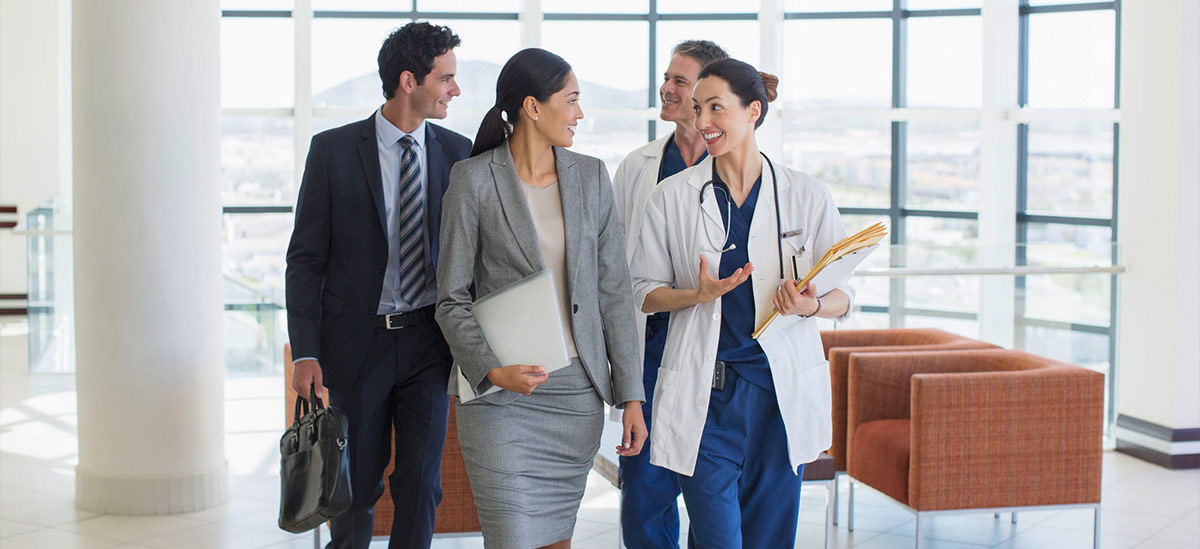 Head of PNC Healthcare Brian Kelly recently revisited his thoughts on the importance of relationships between banks and healthcare organizations. Kelly, who has 20 years of experience in the healthcare industry, including as a healthcare system CFO, reflects that, in the wake of the ongoing economic uncertainty, forging strong relationships has never been more significant.
Q. What should healthcare organizations look for in a banking relationship?
Ultimately, it comes down to this: regardless of what industry you are in, your bank should understand your business, not just your financial situation. The healthcare industry is incredibly complex and subject to an ecosystem made up of multiple types of entities. Insurers, providers, vendors – these organizations have different needs and drivers of revenue and expense, but they're all connected within the healthcare framework. Banks that have a deep understanding of that connectivity are going to be better able to deploy the right solutions to help alleviate specific pain points.
Being able to do this requires taking a specialized approach, such as PNC offers through our healthcare specialty industry model. One advantage of this model is that it factors in healthcare influencers, the emerging providers that are impacting healthcare systems and changing the landscape of the industry. In the face of this kind of change, as well as in terms of managing ongoing uncertain economic conditions, the importance of leaning on an advisor with specialized experience becomes increasingly clear. A dedicated specialty healthcare banker who has their finger on the pulse of what's going on in the industry is going to have a short learning curve in assessing what's driving an organization's pain points. Their focus can help them arrive at decisions and solutions more quickly than you might find with a bank that has a more generalized, traditional approach.  And combining the subject matter capability with the bank's local market presence affords the organization the best of both worlds. 
Q. What are the characteristics of a bank that can be a resource during good times and bad?
Consistency is key. Banks that remain committed to the fundamental ways they operate, regardless of macroeconomic ups and downs, are likely to be well-positioned for long-term strength. A bank's philosophical approach can be just as important as its financial stability. Sometimes, that means delivering tough messages to clients when the times warrant it.
I like to say that PNC has always operated within the fairway. Whether the economic climate has been really good or really bad, we've deployed consistent principles in terms of how we do business. Our clients know what to expect from us when things are good, and they know what to expect when they need our support during challenging times. 
Q. How should a healthcare organization go about getting the most out of the banking relationship?
Asking for help is essential. Often the expectation is that the bank will come to you with solutions, which they should, but it's also important to speak up when you have a need in order to gain greater value than what you might expect from a traditional banking relationship. This means seeing your bank as not just a credit provider or vendor who is there to respond to RFPs, but rather as a subject matter expert in your business. There's a lot of benefit in building relationships with specialists who understand the industry-specific challenges you're facing, as they can work collaboratively and holistically with you to help overcome problems and develop solutions for your business. 
Q. Are challenging economic circumstances likely to affect the relationship between banks and healthcare organizations?
Times of uncertainty, such as we are currently experiencing, serve to underscore just how much relationships really matter. Banks are not looking for a return on a "per product" basis from clients; they want holistic relationships that are scalable and lend themselves to solutions that span a wide spectrum of client needs.
During times of economic downturn, banks must certainly protect themselves appropriately through sound pricing and capital deployment practices. However, they are likely to prioritize their strongest and most trusted relationships and work with those clients to determine the best way to support them, factoring in the nature of the disruptive environment.
For PNC Healthcare, relationships are integral to everything we do, and what makes those relationships work is our deep commitment to understanding the healthcare industry and the wide range of entities that function together within it. That level of specialization is never more advantageous than in a volatile, quickly changing landscape.
Ready to Help
For more than 25 years, PNC Healthcare has recruited and maintained a team that knows the healthcare industry inside and out. We understand the nuances of your business model and can help identify and deploy the right solutions to help you achieve your goals. To learn more, contact your relationship manager or click here.