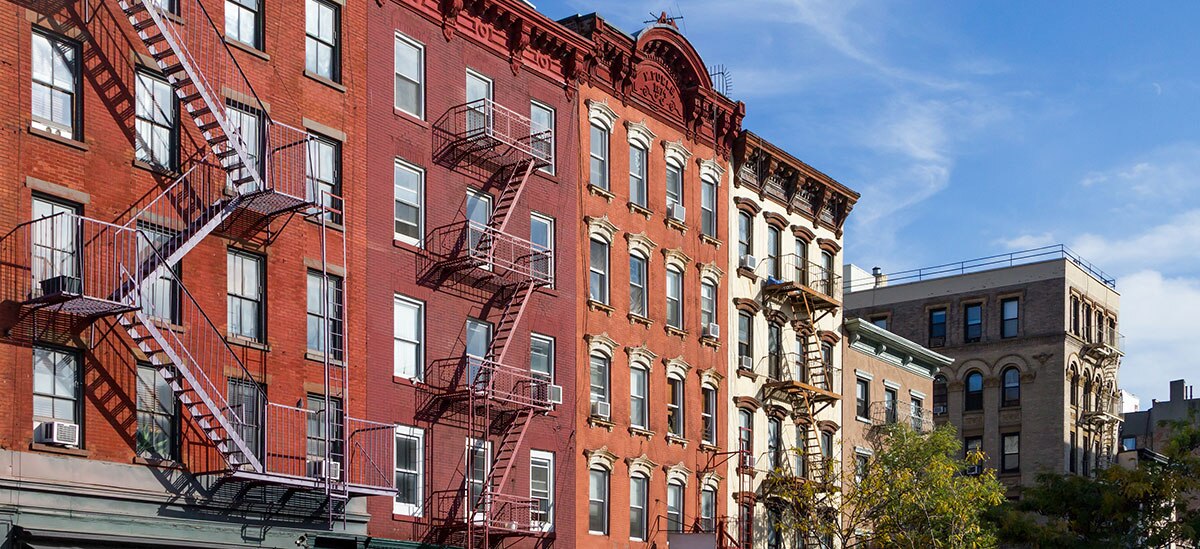 When an older apartment building comes up for sale, the competition among potential buyers is usually fierce. "Affordable housing developers infrequently win the contest to buy older buildings," says Chris Herrmann, senior vice president Enterprise Community Investment, working in the firm's New York City office. "Price dominates the bidding."
Investors pay high prices for older, Class C apartment buildings. They often plan to renovate and raise the rents on lower-income residents, who may already struggle to pay for their housing. The economic crisis caused by the coronavirus has put even more stress on these families—millions of low-income households have already fallen behind in their rent.
However, affordable housing developers may have a chance to make a positive difference, if some of these older properties are sold during the crisis.
 "This may be a historic opportunity to address the affordable housing crisis by accessing some of these properties not originally built as affordable housing," says Deborah VanAmerongen, strategic policy advisor in the affordable housing practice group at the law firm Nixon Peabody, based in New York City.
The Sale of Older Buildings Often Leads to Higher Rents
In recent years, the bidding has been fierce for these properties. Less expensive Class B and Class C apartments are often fully-occupied, the rents already growing as fast—or faster—than current renters can afford to pay. "Value-added" investors often plan to renovate and raise the rents even higher.
"Some renters are displaced and others become increasingly rent burdened," says Herrmann. Most "value added" investors target at least a 20% return on their investment, so $10,000 per unit in renovation would be expected to generate a $167 monthly rent increase at a minimum, he says.
The renters who live in smaller buildings tend to have lower incomes than renters overall and are more likely to work in industries hurt by the coronavirus, according to researchers at the Urban Institute.[1]

Many have already fallen behind in their rent: Of the 73 million households who live in rental housing, one-in-five (20%) have deferred or simply failed to send their latest rent check, according to the latest Household Pulse Survey from the U.S. Census.[2] 
The owners of smaller apartment properties often own just one or two properties, which may be over-leveraged and struggling with economic vacancy, according to Herrmann. Many may be forced to sell.
"There probably are opportunities to buy small (or medium or large) multifamily properties during pandemic at notably lower prices than a year ago," says David Lennon, senior vice president and director of development advisory services at National Affordable Housing Trust (NAHT). "The pool of buyers would be lower, and the pool of sellers would be higher."
But affordable housing developers typically face tough competition to buy any apartment properties. "It is not uncommon for sellers to expect a non-refundable deposit before due diligence and a 45-day closing," says Herrmann. "This makes the most well capitalized organizations, such as private equity and public real estate investment trusts, the most competitive."
Affordable housing developers often plan to eventually apply to state housing officials for federal low-income housing tax credits (LIHTCs) to provide the permanent financing for affordable housing properties. That takes much longer than 45 days.
Fannie Mae and Freddie Mac lenders can provide acquisition loans, but the loans might not close in time for impatient sellers. "Some sellers are unwilling to wait to allow time for agency financing to come together," says VanAmerongen.
"Buyers utilizing tax credits may be able to get a bridge loan from their syndicator or lender," says Jeff Arrowsmith, senior director for CBRE Affordable Housing, based in Seattle. "Buyers also often utilize their own balance sheets, private investor groups, or in some cases institutional capital partners."
For example, Enterprise has invested conventional equity through its preservation funds to help affordable developers buy properties. The financing provides about a three-year bridge to apply for LIHTCs. "This is a good execution, but it does result in a lot of transaction costs that are ultimately passed onto the future LIHTC transaction," says Enterprise's Herrmann.
Other equity sources can sometimes partner with affordable housing developers to buy properties. "If you can bring readily available capital to the transaction, we can keep these deals from getting converted to market," says John Nunnery, senior vice president and manager of preservation investments for PNC Real Estate, Tax Credit Solutions.
Resources Needed to Make Deals Happen
However, affordable housing developers will need some help to successfully buy more than a handful of these properties.
"For these types of deals to happen, sellers (or lenders) will have to get realistic about purchase prices, and there will need to be governmental resources available to finance the acquisition and rehab," says VanAmerongen.
Housing advocates hope the federal government might provide these resources. The House of Representatives had passed several sweeping proposals as part of its response to the economic crisis caused by the coronavirus, though Congress seemed to be deadlocked as of the beginning of December.
"Small deals continue to present financing efficiency challenges," says Paul Cummings of the NAHT. "Unless there is significant public financing support, these are still going to be challenging acquisitions."