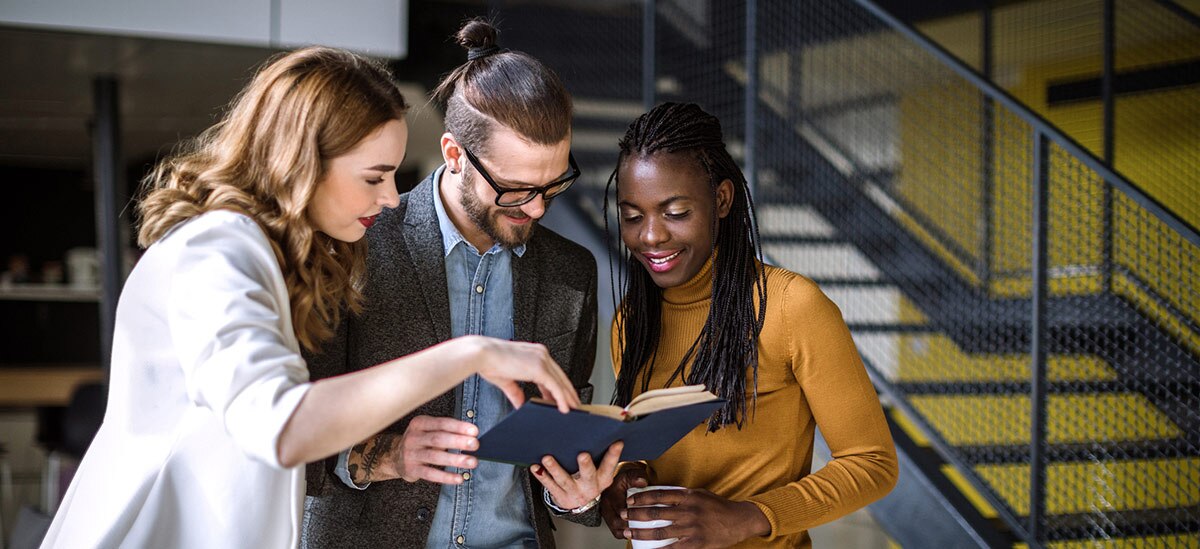 Trending Topics summarizes news, information and perspective on matters affecting businesses and business leaders today. This insight is being provided to keep you up to date on the latest developments and trends influencing these topics. These views do not necessarily represent the views and opinions of PNC. For additional research on these topics, please consult the sources cited in this article.
For years, you've been hearing about Millennials and all the ways they're shaking up the workplace. But now that the oldest Millennials are nearing 40, there's another new kid in town: Generation Z, which includes those born in 1996 or after, is the newest generation to enter the workplace, and they bring a unique worldview and distinctive characteristics.
Who is Gen Z?
No set of characteristics can apply to all members of a particular age group, but research published in The Wall Street Journal shows that many members of Generation Z share similarities.[1] First, unlike any generation before them, they don't remember a world without social media and mobile technology. In addition, many Gen Zs came of age during the Great Recession, watching their parents experience layoffs and tight budgets—and those formative experiences have had an impact on their views about money and work.
Here's a look at some of the distinct qualities that Gen Z brings to the workplace—and what you need to know to help you recruit, hire and maximize these young workers to benefit your organization.
Motivated by Financial Security
After watching their parents suffer through the Great Recession, Gen Zs are more interested in the financial security offered by a steady job than in launching their own businesses. In fact, fewer high school seniors today think self-employment is desirable than they have since 1976, The Wall Street Journal reports.[1] More serious than Millennials and less concerned about finding meaning and personal fulfillment in their work, Gen Zs are more motivated by money.
That attitude may bode well for organizations that need reliable, tech-savvy employees. Organizations may be able to move away from the new perks and benefits that were devised to attract Millennials and get back to basics: A good job with a competitive salary and opportunities for bonuses and raises may be enough to retain young workers.
Cautious About Student Loan Debt
Research shows that Gen Zs are more concerned about student loan debt than their Millennial counterparts. Early reports show that many are eschewing college degrees and going straight to work. Sixty-seven percent of Gen Zs say their top concern is being able to afford college, and 75 percent of Gen Zs say there are other ways to get a good education besides going to college.[2-3]
As a result, more of this younger generation will seek on-demand learning solutions, such as YouTube tutorials, or they'll look for employers that offer robust on-the-job training. Already, companies like Apple, IBM and Google have announced they're no longer requiring college degrees for many positions.[4] Organizations that want to tap into the talent of Gen Z may need to ramp up on-the-job training programs and reconsider degree requirements for some positions.
Interpersonal Challenges
While Gen Zs may bring a sober, focused work ethic to their employers, their presence may also present new challenges. While they're intimately familiar with technology, especially mobile technology, their lifetime reliance on it to communicate with friends, family and teachers has left many of them lacking interpersonal skills. Many Gen Zs seem uncomfortable with face-to-face interactions. "We have to coach our interns, 'If you're sitting five seats away from the client and they're around the corner, go talk to them,'" Natasha Stough, Americas campus recruiting director at EY in Chicago, told The Wall Street Journal.[1]
Part of that ongoing, on-the-job education for young workers may now need to include mentoring and training in soft skills to really harness their talents.
The members of Generation Z are steadily aging into the workforce—and may offer great value to your organization, if you understand how to capitalize on their strengths and overcome their weaknesses.
Ready to Help
PNC offers targeted products and services to help you recruit and retain the right workforce. Workplace Banking® and financial wellness counseling may be available at no cost to your company. Electronic payroll services can streamline your processes while delivering paychecks directly to your employees' accounts. Health savings accounts and group retirement plans have the potential to reduce cost and risk to the company while improving financial benefits to employees. To learn how we can bring ideas, insight and solutions to you, please contact your relationship manager.