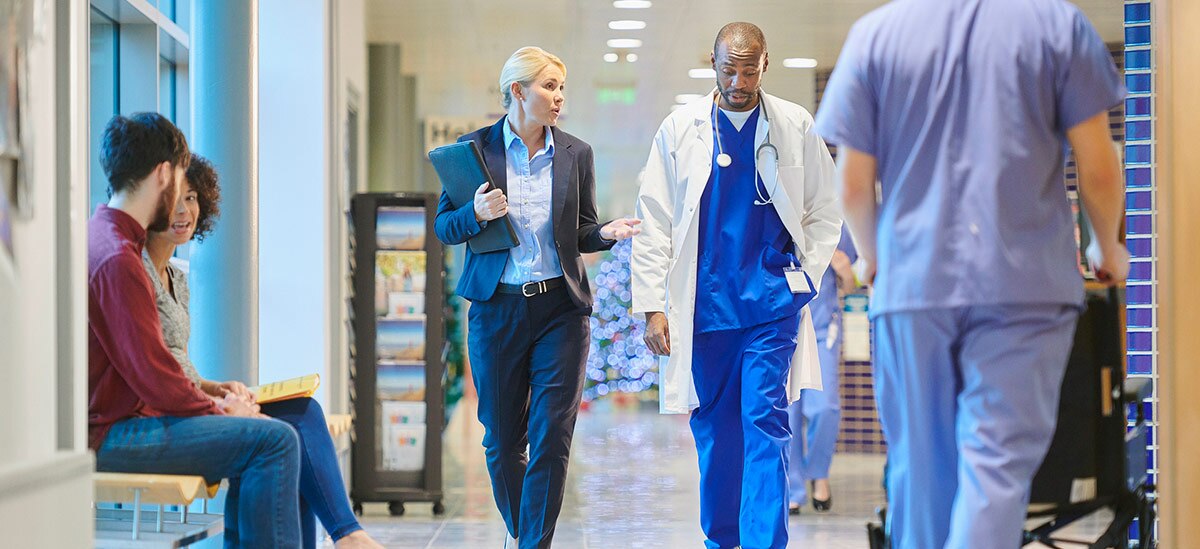 The idea of single-payer healthcare is nothing new. But almost out of obscurity, it now has a marketable name: "Medicare for All".  Bernie Sanders (I-VT) gets a lot of the credit for bringing this to national attention. Since 2017, he has been introducing bills to put the idea on the Congressional agenda.
Medicare for All and a single payer system is gaining momentum. Every one of the 20-plus Democratic presidential candidates is talking about it. And they're not alone. According to Google Trends, public interest in "Medicare for All" has spiked up over 1,000% in the past 12-18 months.  In an April 2019, poll by Kaiser Family Foundation, a majority (56%) of Americans support the idea – at least in concept.
Different Visions
Medicare for All has many forms at the moment: one version in the Senate and another in the House. Both propose a universal, single payer model and would replace the current system of employer and public coverage, such as Medicare, Medicaid, State Children's Health Insurance Program (SCHIP), and Federal Employees Health Benefits (FEHB).
Senator and Presidential Candidate Bernie Sanders was the first to propose Medicare for All during the 2016 election cycle and his most recent version (Medicare for All Act of 2019) is similar to his previous proposal, but it adds long term care services. The Sanders bill provides generous benefits, with no cost sharing (except for prescription drugs).  It also costs $32 trillion over 10 years according to Mercatus, an independent organization that scored an earlier version of the Sanders plan.
Drugs, hospitalizations, physician visits, mental health, medical devices, lab services, dental, and vision would all be provided. In fact, all services would be fully covered with no co-pays or deductibles, except for nominal prescription drug cost sharing. There would be a four year transition period: gradually lowering the age for Medicare eligibility and allowing consumers to buy into Medicare during the transition period. All current systems, except Veterans Affairs and Indian Health Services, will be dissolved into the universal coverage system.
Representative Pramila Jayapal (D-WA) also released a Democratic Caucus version of Medicare for All Act of 2019 (HR 1384) in the House in February 2019. The bill proposes a 2-year transition period which is quicker than the 4-year phase in proposed by Sanders.
But similar to the Sanders plan, there will be no co-pays or deductibles and the following would be covered: drugs, hospitalizations, physician visits, mental health, dental, vision and long-term care. The legislation establishes a global budget for hospital and nursing care, similar to the Maryland Model; a global budget is a firm cap on how much the program will spend each year, which would be divvied up in lump sums each quarter.
Weighing the Benefits
On the one hand, universal coverage would immensely increase access to healthcare resources. During the first hearing on Jayapal's Medicare for All Bill in a House Committee, Democrats advocated for universal coverage because people should not have to choose between their health and wallet. Proponents emphasized that it would reduce hospitals' administrative costs substantially.
On the other hand, eliminating private insurances entirely within a couple of years is a highly ambitious goal. Private insurance is a significant component of our current healthcare system. 158 million Americans have employer sponsored health insurance, according to the Commonwealth Fund. Republicans also argue that the plan is too expensive and provider payments would dramatically decrease to Medicare rates, which are 30-40% lower than private pay.
The CBO Report
The Congressional Budget Office (CBO), a nonpartisan federal agency, released a report on Medicare for All on May 1, 2019. The report did not give an explicit score, nor did it estimate the cost of any specific legislation. However, it presented the opportunities and risks for a single-payer system, which both parties will use to their advantage, as well as concrete details that policy makers need to consider to actualize their legislation.
CBO issued warnings that a single payer system could increase demand and overtax hospitals and clinicians while imposing hefty new costs. The report also echoed hospital arguments that adoption of universal Medicare fee-for-service rates for hospitals would "probably reduce the amount of care supplied and could also reduce the quality of care."
Hospitals could lose as much as $151billion in annual revenues, a 16% decline, under Medicare for All, according to Dr. Kevin Schulman, a professor of medicine at Stanford University and one of the authors of a recent article in JAMA that studied the possible effects on hospitals.
An alliance of pharmaceutical, hospital, insurer, and other industries have formed a coalition to fight Medicare for all. Partnership for America's Healthcare Future features every stakeholder imaginable – and they all oppose the concept of Medicare for All.
Meanwhile, other policy makers have proposed alternative plans that are potentially more feasible near-term.
Medicare-X
Sens. Kaine (D-VA), Bennet (D-CO) and Rep. Higgins (D-NY), have sponsored Medicare-X, which would provide a public option in the Affordable Care Act (ACA) exchanges using Medicare's structure.
Patients who pick a public plan would see physicians in Medicare's provider network and providers would be reimbursed at the Medicare rate, but enrollees would have a different package of benefits that covers all ten categories of ACA essential health benefits.
Premium tax credits would be available for low-income enrollees. The plan would be rolled out to counties with one or zero health plans on the ACA exchange expanding to the entire country in 2023 followed by small business eligibility in 2024. 
Medicare Buy-In
Presidential Candidate Joe Biden supports a version of Medicare Buy-in.
Sen. Stabenow (D-MI) and Rep. Higgins (D-NY), have sponsored a model that would allow people between 55 and 64 to buy into the actual Medicare program.
Sens. Murphy (D-CT), Merkley (D-OR) and Rep. Richmond (D-LA), have authored the Choose Medicare Act, or Medicare Part E, which would allow all individuals regardless of age and companies to buy into Medicare.
This would be offered alongside private insurance via the ACA marketplace.
Sen. Schatz (D-HI) and Rep. Lujan (D-NM) have sponsored A Medicaid Buy-In plan which would create a Medicaid plan option that states can offer through the ACA marketplace. Medicaid plans would be offered on each state's insurance marketplace, and people who do not traditionally qualify for Medicaid could pay premiums and co-pays.
Path Forward
Expansion of Medicare or Medicaid is a more likely, incremental step over the next few years, versus entirely eliminating private insurance and offering an expensive government-run plan that increases taxes for Americans. These efforts alongside shoring up the ACA, reforming surprise billing, and lowering prescription drug prices are higher priorities on Democrats' agenda.
However, Democrats are split on this matter. House Democratic Leader Nancy Pelosi has not endorsed a specific plan, saying all options are on the table. Pelosi wants to shore up the ACA and address drug pricing specifically, before endorsing a universal healthcare plan. 
There was one hearing on Medicare for All in the House Rules committee in April. Rep. Neal (D-MA), the Chairman of the House Ways and Means Committee and Rep. Yarmuth (D-KY), Chairman of the House Budget Committee plan to hold a Medicare for All hearing as well.
No doubt, the Medicare for All conversation will continue -- estimates will emerge, headlines will prevail and financing mechanisms will be debated -- as the 2020 campaign season ramps up. 
---
For more information, please reach out to your Relationship Manager or fill out a simple Contact Form and we'll get in touch with you.