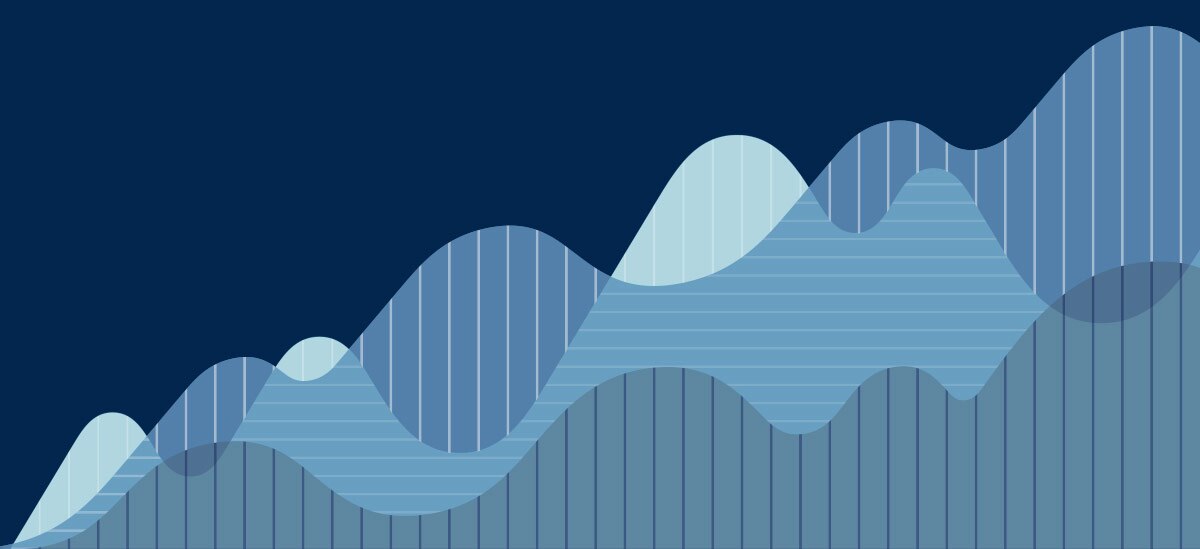 As of September 30, investors have endured three straight quarters of negative equity returns. We have not had a market dynamic like this since 2008; it also happened in 2002 and 2001. In addition, bonds have been down three quarters in a row — something that has never happened! It has clearly been a brutal year for investors, and to have these kind of results outside of a recession is, in our view, unprecedented.
 Since the onset of the pandemic, everything seems like it is happening at warp speed this cycle, beginning with the Covid-induced shutdown of the global economy: the record-breaking market collapse; the three days the market bottomed in the spring of 2020; the record-breaking rally into all-time high territory, and then back into correction territory this year; the market trying to reprice an entire Federal Reserve (Fed) tightening cycle all in one shot. In past cycles, the market seemed to tackle policy tightening in a more systematic fashion, responding to each policy change and Fed meeting one at a time. But this time around, the market appears to be recalibrating all the Fed's actions immediately. It is a hallmark of this cycle and of the high-volatility regime that continues to dominate the multi-asset universe.

We believe the current environment is a function of the perfect storm of macro headwinds: sustained elevated inflation across the global economy; lockdowns in China that continue to disrupt global supply chains; ongoing commodity and energy price pressure from the Russia-Ukraine war; and the much more aggressive withdrawal of policy support from the Fed than markets expected. Markets across the multiasset universe continue to struggle to reprice this rapidly evolving backdrop. Investors are wondering, what are the appropriate valuations for equities given the current backdrop? What is the right level of credit spreads or real yields for bonds? Unfortunately, there is no guidebook for this unique environment.
Equities 
Persistent high inflation readings continued to weigh on equity markets in the third quarter, as the S&P 500® fell 4.9%, bringing the year-to-date return to -23.9%. Equity markets fought off headwinds early in the quarter, as the MSCI World Index climbed more than 7% through September 12. However, a surprise Consumer Price Index (CPI) reading of 8.3% on September 13 led markets to decline 4.3%, their worst daily return of the year.
The surprise CPI reading dampened investors' hope of any kind of a near-term pause in rate hikes by the Fed. As we have said all year, what matters most for markets is what happens to the expected terminal rate. The terminal rate in the Fed's latest Dot Plot is now 4.60%, which is almost 100 basis points (bps) higher than the July Fed meeting. The previous terminal rate of 3.75% felt manageable, both from a valuation perspective and from a historical perspective as it was substantially below "normalized" levels from past cycles. In the 30 years before the financial crisis, fed funds averaged 6.6%; since 2007, it has averaged just 77 bps! At 4.60%, fed funds is deep into restrictive territory for markets, the economy and financial conditions, which, in our view, suggests the odds of a hard landing have gone up a lot and in very short order. There has never been a scenario where the Fed hiked rates to 4.60% and avoided a recession. However, final Fed policy is not a foregone conclusion as it is still very data dependent, and Fed governor rhetoric is beginning to shift, leaving the door open to a policy course change.
As stocks were down for a third consecutive quarter, there are a couple metrics worth highlighting:
Intra-stock correlations matched the second-quarter average of 0.45, the highest quarterly average since first quarter 2020, shedding light on the macro-driven investment backdrop.
Valuations dropped to the lowest level since December 2018, with a forward price-to-earnings (P/E) ratio of 15.2 times (x) for the S&P 500, lower than the depths of the pandemic.
Fixed Income
While equities continued to be volatile, they were outmatched by fixed income volatility during the quarter. The ICE BofA MOVE Index, which measures bond market volatility, marked a new high for the year, coming close to the highest daily level ever. Considering the 10-year U.S. Treasury yield ended the quarter at 3.8%, investors may forget that in early August it had fallen to just 2.6% in anticipation of an imminent Fed Pause.
If we look to the bond market for clues about the path forward, the shape of the yield curve is an important predictor in business cycle analysis. As such, when the curve is anything other than smooth and upward sloping, it usually signals something is amiss. As of October 31, the yield curve is inverted across all maturities beyond two years. While the spread between the 2-year maturity and 10-year maturity is the most inverted since 2000 (-41 bps), potentially signaling a steep recession, this part of the yield curve is prone to false positives. The more important predictor is typically the 3-month to 10-year maturity. That part of the yield curve remained in positive territory all year through the end of the third quarter, until it inverted in the last week of October by about 8 bps. Could this be a repeat of 1998 when the yield curve also gave a false positive, or is this about to be one of the shortest business cycles in U.S. history? In this case, we believe the Fed remains in the driver seat.
While the Fed continues to keep investors on edge with rate hike expectations, macro issues in Europe, particularly in the U.K., triggered interest rate volatility late in the quarter. The primary catalyst was an energy spending rescue package and a significant tax cut offered up by the newly elected U.K. government. These proposals led the pound to fall to its lowest level since 1985. Furthermore, while the Bank of England (BOE) acknowledged the rapidly weakening currency, it did not signal making any monetary policy adjustments until its November committee meeting. Then, the BOE pivoted the next day, engaging in yield curve control, which turned U.K. pensions insolvent overnight. These unanticipated shocks to the system drove significant volatility in fixed income markets.
In our view, it is ironic that with all the Fed rate hikes aimed at bringing down inflation, even at the expense of economic growth, below-investment-grade credit continues to outperform relative to Treasuries. A big part of this dynamic is the lower duration of credit markets, but it is also due to fundamentals that continue to surprise to the upside.
Financial conditions are now at the tightest level since March 2020. It's about one standard deviation above the 20-year average. While it has been a rapid move off the easiest financial conditions ever, we are not in overly restrictive territory for markets or the economy yet.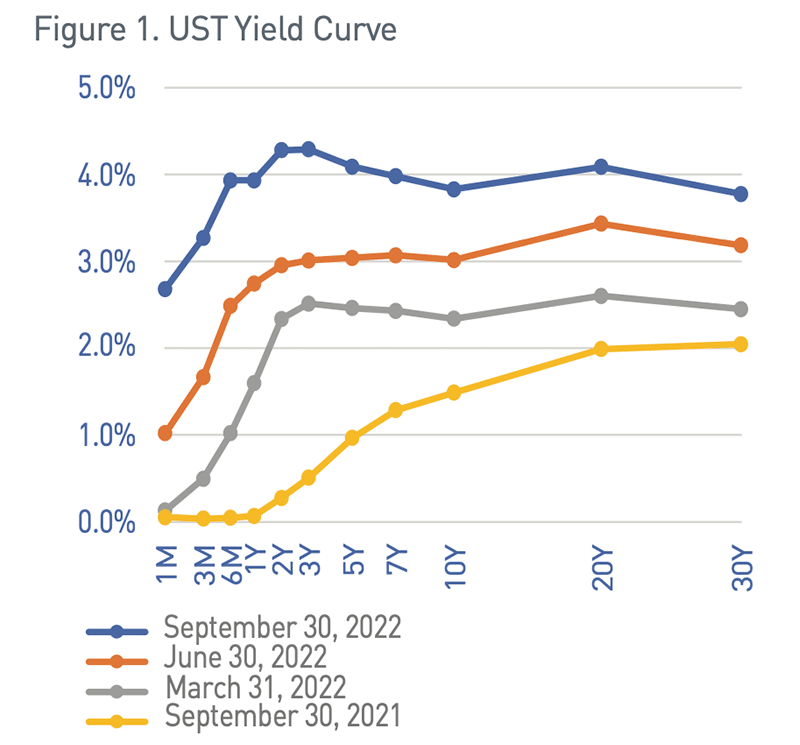 As of 9/30/2022, Source: Bloomberg, L.P.

View accessible version of this chart.
What Led in the Quarter?
Leveraged Loans (1.37%)

Our thesis: Leveraged loans provide credit exposure that we expect to work as a hedge in a rising rate environment given their low duration and competitive yield. In addition, the asset class complements high yield bonds, which have a strong correlation to equity market returns, whereas leveraged loans have a positive correlation to capital markets activity (e.g., mergers & acquisitions) and typically have a higher position on the capital structure compared to unsecured debt.
What worked in the quarter: The Fed raised its policy rate by 150 bps during the quarter, creating a significant tailwind for the asset class. We believe the Morningstar LSTA Leveraged Loan Index would have had a stronger return if not for a 1.1% decline in the last week of the quarter due to the surprise cancellation of a $3.9 billion leveraged buyout (LBO) on the second-last day of the quarter.
Why we still like it: One of the biggest catalysts for the leveraged loan market is activity in debt capital markets. The fourth quarter is expected to include a $13 billion LBO for Elon Musk's acquisition of Twitter, which should be a strong catalyst for market liquidity. In addition, we expect the transaction to help signal to investors that the leveraged loan market remains healthy despite expectations for further aggressive rate hikes from the Fed.

U.S. Small-Cap Growth (0.24%) 

Thesis: We have a positive view on the long-term benefits of the small-cap premium and associated long-term growth prospects. As such, we maintain an overweight asset allocation view toward small cap. Small-cap growth, in particular, has exposure to several industries focused on long-term megatrends, such as the connected world of the metaverse, alternative energy and biotechnology.
What worked in the quarter:

 Two events had a significant influence on small-cap growth performance. First, we believe the passage of the Inflation Reduction Act supported performance during the quarter. The act is expected to bolster support for small-cap growth companies in Technology, Industrials and Energy as one of its focuses is alternative energy. Second, the weight of the Energy sector in the Russell 2000 jumped nearly 66% after the index's June rebalance, increasing from 3.9% to 6.4%. Not only did the Energy sector outperform the overall Growth index by nearly 800 bps, it also outperformed its Value sector counterpart by 300 bps in the quarter as well.

Why we still like it: The forward P/E has dropped to 23.0x, bringing valuations in line with the 20-year average of 25.0x. In addition, small-cap growth generates approximately 75% of revenues within the U.S., which buffers against slowing economic activity across international developed markets.

High Yield Bonds (-0.65%)

Thesis: Over the course of a business cycle, we expect high yield (HY) bonds to outperform core fixed income. The asset class is also traditionally correlated to equity markets rather than the direction of interest rates; thus, the diversification benefit of the asset class is an important consideration for fixed income investors.
What worked in the quarter: Despite interest rate volatility in Treasury markets, HY spreads failed to break the highs set in late June. The low duration of the HY index served as a buffer against Fed rate hikes. In addition, a better-than-expected second quarter earnings season was a positive catalyst for Energy and Industrials issuers.
Why we still like it: HY has outperformed the Bloomberg Aggregate Index in two out of three quarters this year, serving as a reminder that corporate credit is not showing signs of a slowdown in the credit cycle. Part of the reason lies in the refinancing schedule, which is expected to remain subdued for the next 48 months. Thus, we do not expect many companies to be impacted by rising financing costs in the near term.
What Lagged in the Quarter?
Emerging Market Equities (-11.57%)


Thesis: Emerging markets (EM) account for about 40% of global GDP and 35% of global consumption and contribute to 75% of global economic growth, yet EM only makes up 8% of the global equity index. We continue to believe EM demographics, long-term economic growth potential and the multi-year earnings outlook remain strong positive supporting trends for the asset class.
What didn't work in the quarter: Despite better-than-expected economic data and additional fiscal and monetary stimulus, equities in China were led lower by growth stocks that were negatively impacted by rising global interest rates and a weakening currency. The yuan has weakened relative to the U.S. dollar by 12% this year and is now at its lowest level since March 2020.
Why we still like it: From a valuation and earnings growth perspective, EM equities remain an attractive asset class over a three to five-year period. We also believe the commodity exposure in EM is best positioned as a hedge in the event of a sustained rise in global inflation expectations.

Real Estate Investment Trusts (REITs) (-10.83%)


Thesis: We believe REITs provide portfolio ballast, as the sector typically exhibits a low long-term correlation of 0.60-0.80 to global equities.
What didn't work in the quarter: Rising operating costs were a headwind for the sector, especially in Retail, Health Care and Office REITs. From a valuation perspective, the REIT index dividend yield fell below the 2-year Treasury yield for the first time since 2017, lessening the appeal of income from REITs.
Why we still like it: Our exposure is focused on secular growers of 5G telecom/infrastructure (specialty REITs). We believe the 5G expansion is still in the early innings, and our REIT exposure remains a high conviction, long-term theme.

International Developed Large-Cap Value (-10.22%) 

Thesis: While we maintain an underweight to international developed equities relative to the market, we see value in cyclical, value-leaning sectors given rising interest rates and elevated commodity prices.
What didn't work in the quarter: Core European countries such as the U.K., Germany and France were negatively impacted by numerous macroeconomic issues in quarter such as weakening manufacturing PMI data and negative retail sales growth. In addition, the Health Care sector, which is traditionally one of the more defensive sectors in the index, underperformed as litigation concerns and drug recalls had an outsized influence.
Why we still like it: While value has struggled in recent years, we believe the index composition within international large-cap value stands to benefit during cyclical periods of rising commodity prices and rising interest rates.
At the end of the day, we can talk about the strength of the underlying fundamentals, how credit spreads remain fairly well-behaved, how default cycles have not picked up materially across asset class categories, how the U.S. consumer continues to weather this perfect storm and how corporate balance sheets and profitability are holding up relative to later innings like this in prior cycles. And yet, we believe the market only cares about two things: confirmation that inflation has peaked and/or is rolling over; and, that the Fed has completed its policy tightening, or at least has confirmed the end state for monetary policy. In the absence of confirmation on both of these variables, we believe high volatility will continue to dominate and markets will remain choppy. Based on where interest rates are and how much financial conditions have tightened, we believe fair value for the S&P 500 is approximately 15-17x forward P/E, versus 16.8 today. If the economy continues a slowing, but still positive growth path, markets are not priced at recessionary valuation levels (i.e., 10-13x forward P/E).
---
Accessible Version of Charts
Yield Curve

Current Quarter- 9/30/2022

1 Quarter Ago

6/30/2022

2 Quarters Ago

3/31/2022

1 Year Ago

9/30/2021

1 month

2.679                 

1.02

0.131

0.053

3 month

3.27

1.667

0.496

0.037

6 month

3.934

2.486

1.019

0.048

1 year

3.9328

2.7424

1.595

0.0685

2 year

4.2787

2.9533

2.3345

0.2755

3 year

4.2881

3.0082

2.5118

0.5083

5 year

4.09

3.0379

2.4599

0.9649

7 year

3.9808

3.0676

2.4287

1.2851

10 year

3.8286

3.0129

2.338

1.4873

20 year

4.0881

3.4343

2.5995

1.9879

30 year

3.7759

3.1827

2.4476

2.0449
As of 9/30/2022 | Source: Bloomberg, L.P.
What Worked & What Didn't
What Led in Q3

Asset Class

Index

Total Returns YTD

Leveraged Loans

S&P/LSTA Leveraged Loan Index

1.37%

U.S. Small Cap Growth

Russell 2000® Growth

0.24%

High Yield Bonds

Bloomberg US Corporate High Yield Index

-0.65%

 
What Lagged in Q3

Asset Class

Index

Total Returns YTD

Emerging Market Equities

MSCI Emerging Markets Index

-11.57%

Real Estate Investment Trusts (REITs)

FTSE NAREIT All Equity REIT Index

-10.83%

International Developed Large-Cap Value Index

MSCI World ex USA Value Index

-10.20%