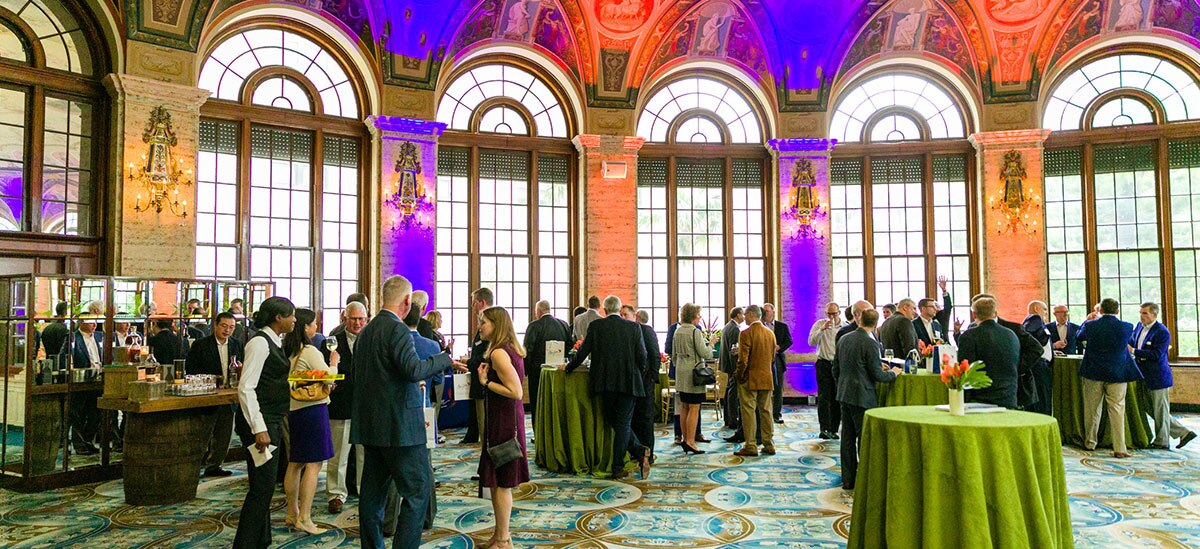 Executives representing the nation's leading healthcare providers, insurers, and technology firms, key industry consultants and advisors addressed some of the most critical issues facing healthcare during PNC's Third Annual Healthcare Symposium at the Breakers in Palm Beach in March, 2019.
We discussed:
Digitization and machine learning: automating tasks that can be supported by math and data
Payment innovation and provider-payer trust to drive quality outcomes
Using technology and artificial intelligence (AI) to free clinicians to focus on what they were trained to do
Blockchain as a vehicle to help drive administrative efficiencies, reduce costs, and bring common standards and definitions to an industry lacking them
Breaking down barriers between pharma, providers and payers to address interconnected issues, help solve each other's problems, and reduce the astronomical costs of cancer care
Innovation: Essential for Relevance and Existence
Brian Kelly, executive vice president and head of PNC Healthcare, set the tone by using examples from today's retail industry to emphasize that innovation is essential to maintaining relevance.  The patient experience must be at the center of any innovation strategy along with the demands from employers, he stressed.
Providers should embrace disruption but keep advances easy to understand by their various constituencies, and set pragmatic parameters for experimentation.  He noted that PNC's advancements in leveraging distributed ledger technology and other payments solutions can help improve efficiencies, increase cash flow and support health care industry transformation.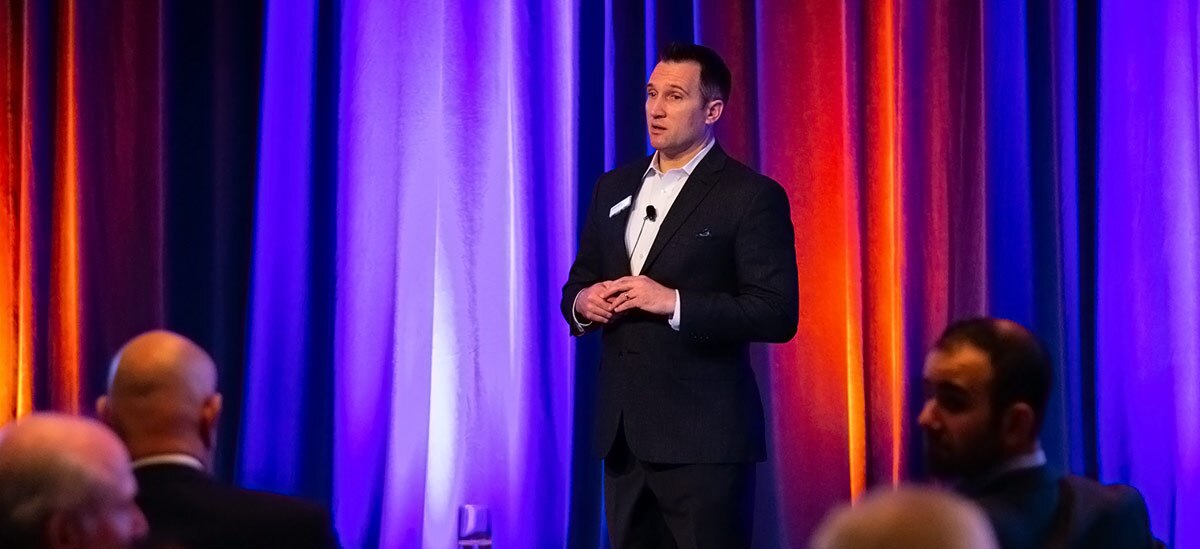 Brian Kelly, EVP/Head of PNC Healthcare
Kevin Surace, an American Technology Innovator, keynote speaker, compared the impact of the internet over the last 20 years to the amount of transformative digitization we can expect in the future. 
Machine learning, he notes, is currently being applied in agriculture, finance, legal, linguistics, and insurance markets. It has been tasked with both simple and complex processes to help improve cycle-time and efficiencies, reduce costs, and most importantly, free up humans for analysis and interpretation. 
Specifically in healthcare, "machine learning" applications offer opportunities to help improve patient outcomes, transcribe medical notes, detect disease, and even diagnose conditions
Addressing healthcare executives directly, he warns "You need to know how to leverage AI. If not, you'll be replaced by another leader or replaced by a competitor using AI. There is a parade…people in the back will be crushed."
Panel Recap: Innovation across Payments, Business Models, Investment, and Clinical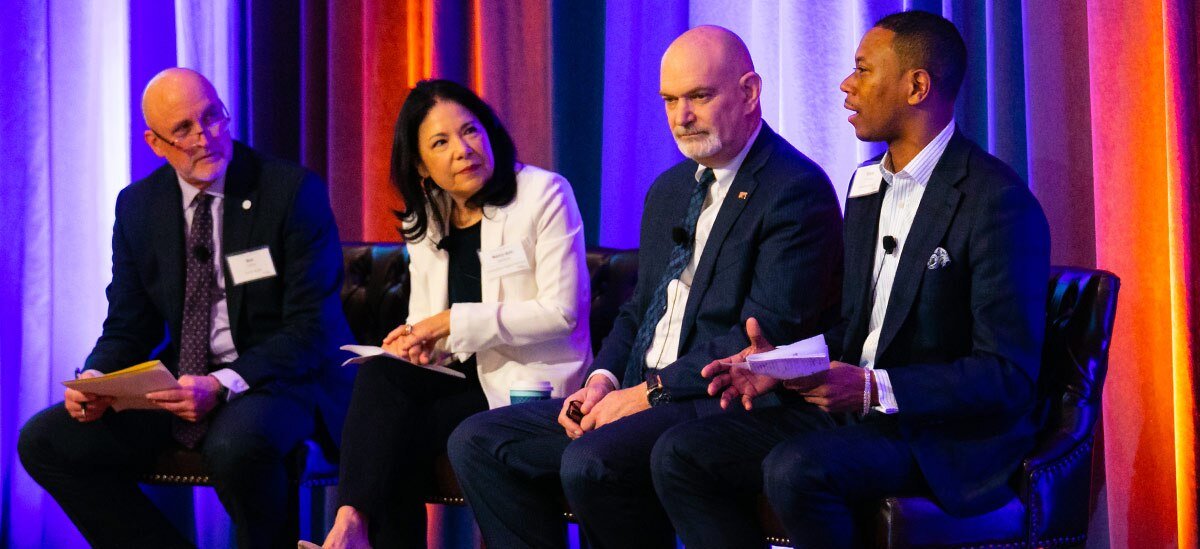 Ben Carter, CFO of Trinity Health; Nancy-Ann DeParle, partner of Consonance Capital Partners; Gyasi Chisley, presently President and CEO at Cancer Treatment Centers of America Hospitals and Clinics; Jeff Crudele, CFO of Allegheny Health Network
Payment innovation: Moderated by Ben Carter, CFO of Trinity Health, the panel covered risk sharing, the underlying need to drive quality outcomes, payer-provider trust, and "Medicare for All" as a battle-cry to bring the coverage issue and impact of dismantling the Affordable Care Act to the fore. 

Nancy-Ann DeParle, partner of Consonance Capital Partners and former White House Deputy Chief of Staff for Policy in the Obama Administration, highlighted the increasing desire for both large and small providers to take risk, and tempered concerns of significant regulatory changes because of inter- and intra-party warfare in Washington DC.
Gyasi Chisley, presently President and CEO at Cancer Treatment Centers of America Hospitals and Clinics, provided the audience with a 9-point framework of lessons learned, which also served as a lens through which to view payments and provider-payer relationships. 
Jeff Crudele, CFO of Allegheny Health Network, pointed out that that "The industry needs to change the underlying language used to frame our cost issues. The entire narrative and approach needs to change before change itself can accelerate."
The panel concluded that payer-provider relationships can be improved by a partnership approach, real-time incentives, more efficient administrative processing and procedures (which AI can help), meaningful and streamlined data, and, put simply, trust amongst one another.
Business Model Innovation: James Clark, Managing Director of Harris Williams, served as the moderator for the panel on innovative new business models in healthcare.  The panelists acknowledged disruption is still nascent in healthcare; while some clinical flows have been disrupted, access to care has not fundamentally changed for the consumer. 
Rich Berner, CEO of MDLive, acknowledged that the business model of the future will be a mix of telehealth, physical locations, and local brands.  As an example, he described how AI and machine learning can help automate and optimize administrative activities, freeing up clinicians to do what they were trained to do.  He also stressed that technology should be used for pre-visit requirements on the patient's terms, not the provider's, and for follow-up and post-visit monitoring. 
Todd Latz, CEO of Go Health Urgent Care, shared that an urgent care strategy should be a priority for all provider executives. Whether it is built internally or with an external partner, the focus should be on retail consumers of healthcare, attracting your customers in digitally-enabled, innovative ways and keeping as much customer activity and patient downstream referrals inside the provider's ecosystem as possible.  
Ben Brier, President and CEO of Kindred Health, discussed how private ownership can foster a freer organic evolution of business models, outside the spotlight of public investor markets.  He feels technology can help rural markets in particular. While health care at its core is an in-person interaction, technology can help manage the logistics and metrics across large populations, including identifying key social determinants driving healthcare needs such as economics, nutrition, and hygiene, among others.
Investing in Innovation: Blockchain was a recurring topic of the panel's discussion, underscoring that its characteristics as a distributed ledger with a shared source of truth has the potential to enable a fundamental transformation in the business of healthcare.  The panelists agreed this can be achieved by eliminating redundant data sources managed by multiple parties in order to drive costs out, improve efficiencies, and help bring standardization to an industry notorious for its customization and non-standard processes. 
Chris Young, VP of Innovation and Virtual Market Development at Ascension Health Alliance, moderated the panel, which also emphasized that healthcare is now on a precipice of needing to switch from product to experience in the eyes of the patient.
Claus Jensen, Chief Technology Officer and Head of Architecture at CVS Health, noted, "The difference between invention and innovation is that invention is doing this different(ly).  Innovation is doing something different so that it matters… a fundamental change for the better." 
Steve Glass, CFO of Cleveland Clinic added, "Saving the patient's life was the initial goal (in healthcare). We need to shift to how we're treating the patient. It's a journey… like Apple and Steve Jobs, healthcare needs to come up with changes the patient doesn't even know they need yet." 
Chris Church, Chief Business Development Officer of Digital Asset, acknowledged that adoption of blockchain is difficult in a multi-player industry without one dominant leader dictating use, but suggested focusing on those situations where a provider or payer has influence over a discrete community or ecosystem, and interoperable software that provides flexibility through open architecture. 
The panel noted that although advances in blockchain will likely be slow in the next 18 months, over a longer horizon, further use of digital analysis/AI/machine learning, telemonitoring, data definitions, and voice-command applications would most likely show tremendous progress over time.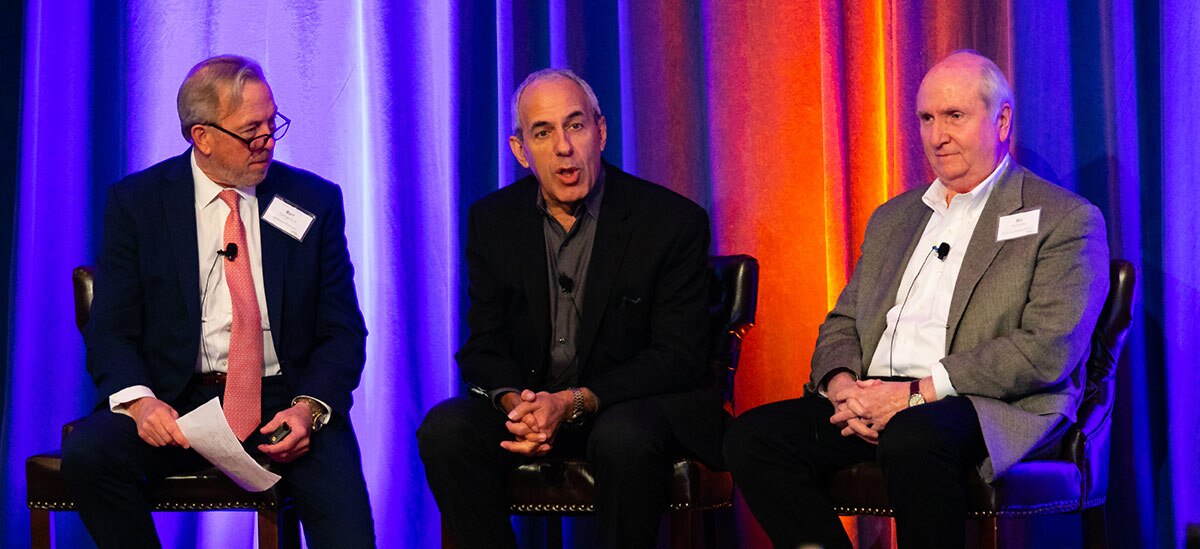 Bert Zweigenhaft, Managing Partner of Upstream Partners; Greg Simon, President of Biden Cancer Institute;  Bill McGivney, Managing Partner of McGivney Global Advisors
Clinical Innovation:  This panel was moderated by Bert Zweigenhaft, Managing Partner, Upstream Partners, joined by Greg Simon, President of Biden Cancer Institute, and Bill McGivney, Managing Partner, McGivney Global Advisors. 
The team acknowledged that the barriers between the pharmaceutical, insurance and provider industries must be addressed in order to reduce escalating costs driven in part by the drug development cycle. Connecting pharma and payers to solve each other's problems is critical to reducing the escalating cost of care, particularly in cancer, where patients are unable to afford co-pays. 
Ideas that the panelists suggested included co-investing in the pharmaceutical development cycle in exchange for lower pricing to help pharma companies manage their long-term liabilities. Changing financial structures can give payers the ability to "amortize" the cost of healthcare over a patient's life, reconcile patient co-payments rather than payers receiving drug company rebates, and leverage the concept of a patient's "baseball scorecard for life" that would measure health metrics and better align distribution of premiums and the impact insurance companies have on advancing patient's lives.
The panel discussed the need to think differently and provided the example of using genetic sequencing for early detection and to reduce costs eventually borne by the entire industry over a patient' lifetime. 
---
For additional details on the Symposium, please contact your healthcare relationship manager or Brian Kelly, EVP/Head of PNC Healthcare: brian.r.kelly@pnc.com. You can also fill out our simple Contact Form and we'll get in touch with you.