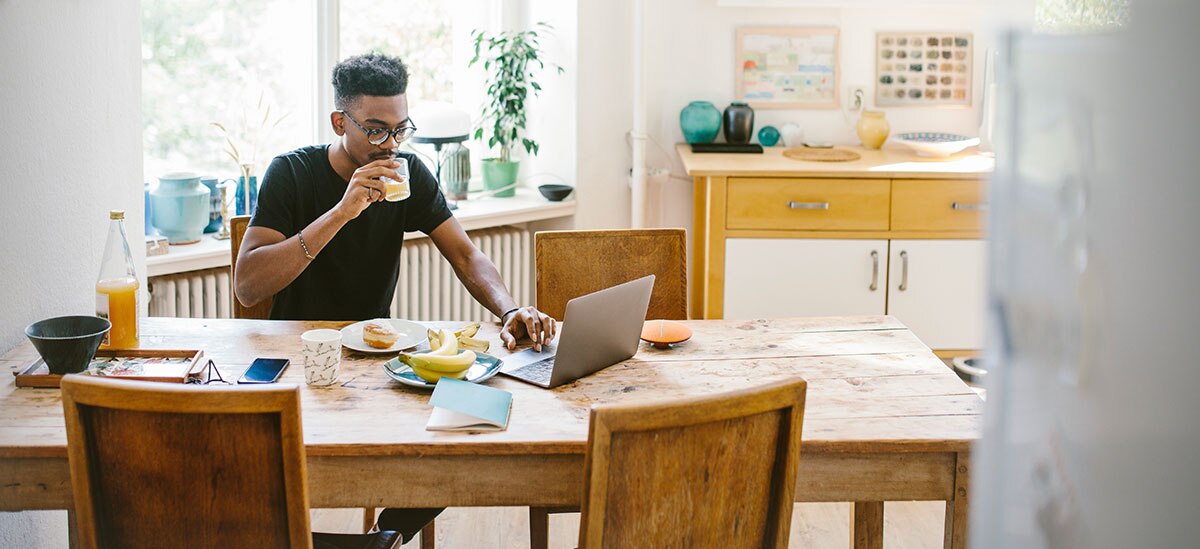 Trending Topics represents an executive summary compilation of news, information and perspective on matters affecting businesses and business leaders today. This insight is being provided to keep you up to date on the latest developments and trends influencing these topics. These views do not necessarily represent the views and opinions of PNC Bank. For additional research on these topics, please consult the sources cited in this article.
The workplace is undergoing dramatic change, fueled by the recent recession, changing lifestyles and human capital technology. The composition of workers has changed to include more freelancers and part-time workers, and everyone can stay connected to the office due to advancements in voice, video and collaboration technology. Meanwhile, with telecommuting and flexible scheduling increasing, many managers and workers still struggle to find the equilibrium point for work/life balance.
Many employers were initially suspicious of workers' requests for greater flexibility, but the bet has paid off. A recent study found that some form of telework is offered by 88% of surveyed organizations, 82% offer flexible work hours, and 81% support part-time schedules. More than 60% of survey respondents believe that flexibility has a positive or extremely positive impact on employee engagement, motivation and job satisfaction.[1]
Improvements in technology and connectivity also have extended the office workforce to include the "freelancer nation." The Freelancers Union estimates that 53 million Americans — or 34% of the U.S. workforce — are freelancing. Freelancers include independent contractors who work on a project basis, as well as moonlighters, temp workers, multi-job part-timers and agency business owners. Collectively, freelancers contribute more than $700 billion to the national economy and help U.S. businesses remain agile in the global marketplace.[2]
Freelancers provide businesses with a broader talent pool and greater agility, as particular skill sets can be tapped only when needed. Businesses can access global networks, academic and professional networks, and online agencies for those skills not available locally. Virtual team members can be located anywhere in the country or around the world, as social networks, intranets, teleconferencing and project management work tools all make location irrelevant. 
Managing The "Freelance Nation"
Human resource professionals believe that this increased use of freelancers represents a permanent shift in workplace culture. Freelancers are expected to account for 40% of the American workforce by 2020.[3] As more freelancers provide work teams with specialized skills and just-in-time labor, managers are challenged in many ways. They want to ensure maximum productivity and strive to integrate freelancers with in-house teams.
Human capital management companies have created workforce technology that enables companies to manage both internal and external workers. These technologies are generally cloud-based solutions that can be used with full-time, part-time, contract and temporary workers from multiple locations. They track time and attendance, handle scheduling, record expenses, manage payroll and taxes, bill time by client and project, and perform analytics to help optimize workforce productivity.
Team collaboration can be handled easily with apps and software for sharing files, emails and calendars. Video and telephone conferencing technology is widely accepted, as noted in a recent study where 63% of respondents felt that in-person meetings could be replaced with virtual meetings using the right technology.[4]
Online Learning Proliferates
Both internal and external workers need ongoing opportunities for training and development to keep skills up to date. Although the average worker changes jobs every four and a half years,[5] training is still viewed as a benefit and an investment in talent, as well as a cost of doing business.
Websites like Lynda.com and Generalassemb.ly bring online training to employees and freelancers alike.[6] They provide the opportunity to hone creative and business skills in a diverse range of subjects such as web design and development, product management, data analysis, digital marketing, audio/video production, game design and mobile app development. Some courses even count toward certification through well-regarded organizations such as the Project Management Institute. Workers' LinkedIn profiles frequently tout new skills and training accomplished through online study.
Building Team Spirit
While businesses are embracing the flexible, anytime/anywhere workplace, there remain challenges to managing workers of varying types in multiple time zones and employment arrangements. Today's flexible workplace requires a culture built on trust and respect. It is critical for managers to set clear expectations for work projects and to provide timely feedback. By focusing on shared goals and using technology to communicate effectively, integrated teams of in-house staff and freelancers can work well together.
To discuss these topics in more detail, please contact your PNC Relationship Manager.