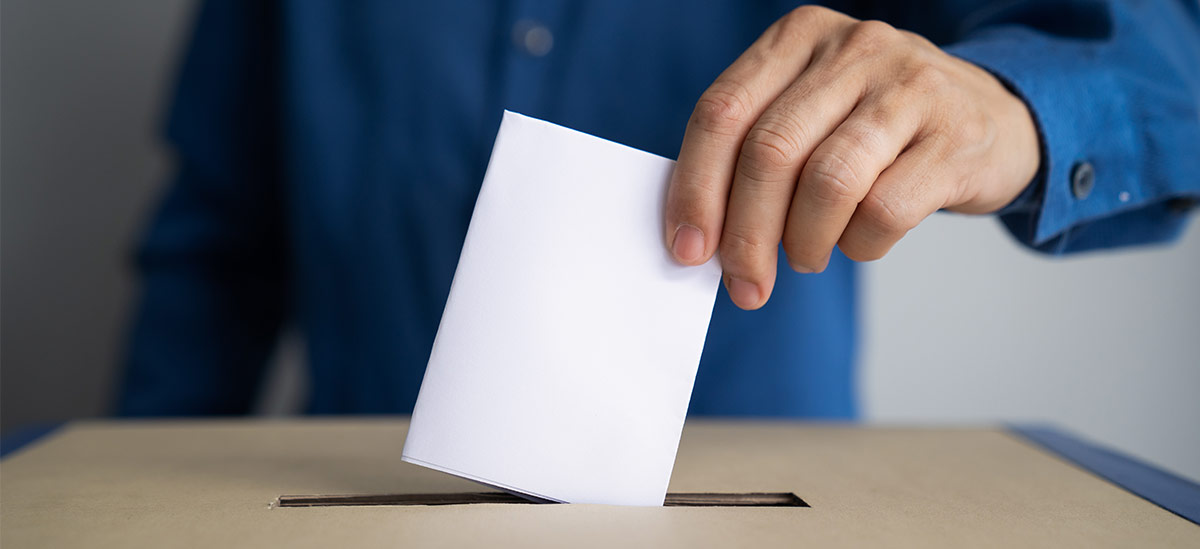 In this edition of Strategy Insights, we take a look at historical election predictors to see how they stack up this time around, examine the two candidates' campaign platforms, and consider the effects of a change in congressional control, among other issues.
Is There a Good Predictor/Indicator of Election Outcomes?
If we use the health of the economy as our lens, every president since the 1920s who has avoided a recession in the two years prior to reelection has gone on to win. Based on this, President Donald Trump's reelection chances looked solid to start the year. However, with the onset of the COVID-driven recession in February, those chances may have been upended. Our analysis also suggests a high correlation between election outcomes and real disposable income per capita. According to the Bureau of Economic Analysis, over the last 15 years, year-over-year growth in real disposable income per capita has averaged about 1.7%. More recently (since mid-2017), the average rate increased to more than 2%. However, with the onset of the COVID-19-driven recession, this measure has become more volatile. In the first quarter this year, it fell to just 0.9% before jumping to nearly 12% in the second quarter, largely due to fiscal stimulus measures enacted in response to the pandemic.
Bottom Line: COVID-19 and the associated economic downturn, along with the impact of continued social distancing measures, will muddy the waters when it comes to previously used market and economic election indicators. In short, there's no one measure that we view as perfectly reliable when it comes to predicting this year's outcome.
What Are the Areas of Focus of a Trump Second Term Likely to Be?
Coming into this year, we believed the president would build his case for reelection on his accomplishments to date, with a focus around the strong economy. However, COVID-19 has significantly altered President Trump's ability to run on his economic record. The spread of the virus in the United States and the corresponding economic shutdown caused US GDP to fall nearly 5% on a sequential basis in the first quarter of 2020 and nearly 32% (revised) in the second quarter, the worst quarterly decline on record. We believe it's likely the president will focus on pre-COVID economic performance and tout that his policies are best suited to return the economy to a growth footing.
A key focus of the president's reelection message also appears to be his plan to take a tougher stance on China. After signing the Phase 1 trade agreement in January, prospects for better long-term relations between the two countries seemed to be improving, offering a boost to his reelection prospects. However, in the ensuing months, the president has explicitly blamed China for the COVID-19 outbreak and has suggested the country is not complying with its trade agreement. As a result, tensions between the two countries have escalated, and the president has stated that if reelected he will take a tougher stance on China in his second term.
Taxes are another potential area of focus for a Trump second term. Although the president has continued to suggest he will introduce further tax cuts for the middle class, we remain skeptical that this legislation would pass through Congress. In fact, with improving prospects of a Democratic sweep of the White House, Senate, and House of Representatives, we believe the probability of tax increases now appear greater than tax cuts.
Bottom Line: Despite the COVID-19-induced recession and market volatility, we expect the primary pillar of President Trump's reelection campaign will focus on the economy – both what he was able to accomplish pre-COVID as well as what he could do to reignite growth coming out of the pandemic. Issues to watch in a second term include technology and healthcare company regulation, as well as the potential for further change on the Supreme Court bench.
What Does Biden Want for America?
In analyzing several of Biden's policy proposals, we see tax increases as key to his platform. He plans to "reverse some of President Trump's tax cuts for corporations and impose common-sense tax reforms that finally make sure the wealthiest Americans pay their fair share" by raising individual rates back to pre-Tax Cuts and Jobs Act levels and corporate rates back to 28% from the current 21%. If these tax increases were enacted early in a Biden term, we estimate this would reduce 2021 earnings per share (EPS) for the S&P 500 by roughly 11-12%. In our view, about half of the EPS hit could be recovered if Biden were to eliminate the China-related tariffs imposed on US companies by President Trump's trade policies.
Also, government oversight with regard to energy policy, carbon emissions, the labor market, technology companies, financial services, and general business regulation would likely increase under a Biden presidency, in our view. We believe Biden would look to reverse many of the regulatory reductions enacted by the Trump administration. A divided Congress makes complex policy changes like healthcare or tax reform difficult, but broad executive regulatory powers can quickly affect various segments of the economy.
Bottom Line: While we believe it's likely we'll see proposals for increased taxes and regulation under a Biden White House, particularly if Democrats gain control of both houses of Congress, these efforts would be directed toward a number of initiatives, including infrastructure spending, further healthcare reform, supporting the middle class, and promoting greater racial equity.
What is the Likelihood Democrats Control the House of Representatives and the Senate Postelection?
Currently, Democrats hold a majority of 232 seats in the House of Representatives versus Republicans' 198. One member is an Independent, and four seats are vacant. With all House seats on the ballot again in 2020, and in light of the solid pickup in Democratic seats in 2018, the likelihood of Republicans regaining control of the House appears quite difficult, in our view. In the Senate, Republicans effectively hold a 53-seat to 47-seat majority, with two Independent senators typically voting with the Democrats. Democrats would need a four-seat swing to take control of the Senate, or three seats if they were to retake the White House, with the vice president casting the tie-breaking vote for a majority. A total of 35 seats are being contested this cycle, with Republicans defending 23 of these seats. As we noted previously, control of the Senate will be key to determining if either President Trump or a President Biden would be able to move his legislative agenda through Congress. After the COVID-19 pandemic, the rising prospects that Democrats will re-take control of the Senate is the biggest change to our initial outlook on the election late last year.
Bottom Line: The prospects of Democrats regaining control of both houses of Congress is increasing. Should Democrats have control of the Senate, the long-standing filibuster procedure could be in jeopardy for the minority party. Its elimination only requires a simple majority vote, and while acknowledging the change itself could be filibustered, it has a high probability of being debated and voted on, in our view. From an investment perspective, this scenario may not be the most favorable outcome.
The 2020 presidential election is in the home stretch, and yet investors know all too well there is no foolproof way to forecast what happens in November. Polling data, combined with the economic impact from COVID-19, suggest the probability of a Democrat victory for the White House is likely, while the stock market "poll" is pointing to a President Trump reelection at this point. The least favorable outcome from a market perspective, in our view, would be a Democratic sweep of the White House and Congress, but investors will have to stay tuned until November 3 – and probably even later – to know the final results. 
FOR AN IN-DEPTH LOOK
Strategic Insight Fourth Quarter Election Investor Guide