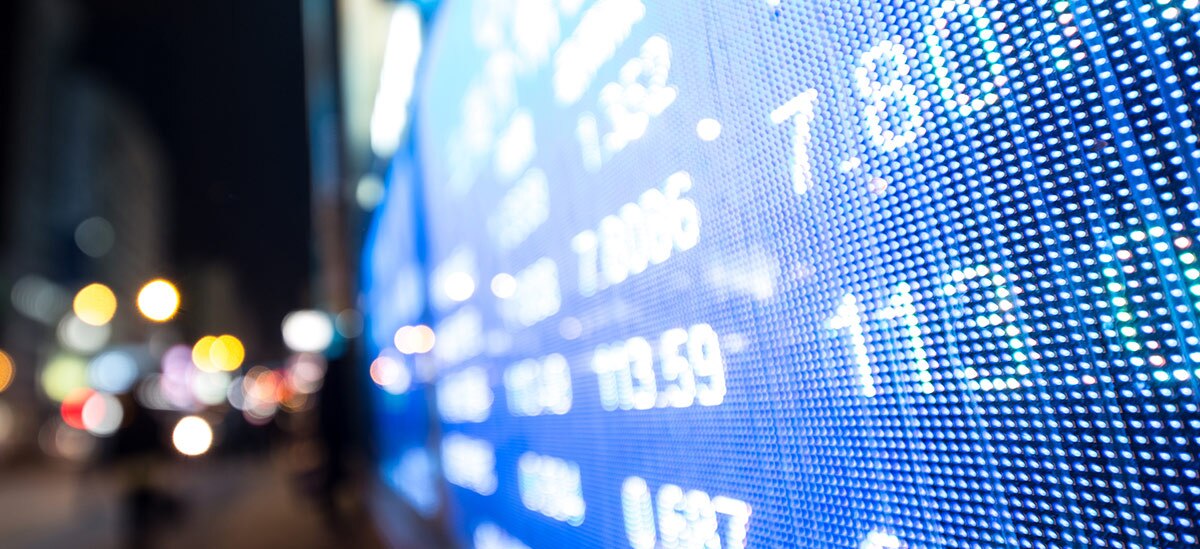 In this quarter's Strategy Insights, we pose and answer 10 frequently asked questions on a wide range of topics, from Brexit to the 2020 presidential election to the outlook for earnings for the remainder of 2019. We think the list speaks to the complexity of issues investors continue to wrestle with this year.
1. How much time is left on the proverbial economic cycle clock?
Based on our analysis, the countdown to the next recession has begun, but we think it's too early to expect a recessionary bear market. We've found that once the Recession Risk Index (RRI) crosses definitively above 50, a recession occurs an average of eight quarters later. Given the RRI crossed 50 in August 2018, the probability of a recession increases in late 2020. We believe this gives investors an idea of where we are in the economic cycle.
Bear Market Declines During Recessions Have Been More Severe than in Bull Markets
2. What will the ultimate impact of trade tensions be?
With the tariff increases so far this year, we would expect a rise in consumer and corporate costs later in 2019. If tariffs persist, rising costs could begin to pressure record-high profit margins. Still, operating and profit margins for the S&P 500® remain at 20-year highs. Tariff increases may also put investor and corporate confidence at risk. We believe confidence is more important than a direct tariff impact.
3. Is the market dismissing a harder-than-expected Brexit outcome?
Our answer is more complicated than a simple yes or no. U.K corporate fundamentals have remained surprisingly solid. But U.K. consumer confidence and leading economic indicators are at their lowest levels. There are also unknown factors, including the future of Parliamentary leadership. Further, the border between the Republic of Ireland and Northern Ireland has been a point of contention for some time. Thus, we do not see Brexit as a binary outcome but rather as a myriad of potential scenarios.
4. If capital expenditures (capex) are slowing, what are companies doing with their cash?
Following the Tax Cuts and Jobs Act, many thought lower tax rates and the cash repatriation holiday would unleash net-new capex programs. Sure enough, there was a brief pop in corporate capex growth in mid- 2018, but it faded just as fast. We have, however, seen a material pickup in merger and acquisition (M&A) activity relative to the last few years. First-quarter 2019 saw a resurgence in volume, with deals worth more than $1 billion breaking their all-time record, and it looks as though the second-quarter number will be equally as robust. If we see a recession coming in late 2020 or early 2021, that doesn't leave much time on the clock for multiyear capex programs to add value. We believe the M&A trend will continue.
Mergers and Acquisitions a Popular Choice for Capital Spending As of 2Q19 
5. What is your outlook for earnings?
As the economic expansion becomes the longest in U.S. history, we've started to see headlines scrutinizing earnings weakness or even forecasting an outright earnings recession.
However, based on historical dynamics between consensus earnings estimates and actual results, along with expectations for a strong second-half 2019, we remain confident in positive earnings growth in 2019.
Also, while tariffs and trade tensions may make it challenging for management teams to make earnings projections, we believe current estimates already incorporate some of the impact from the U.S.-China trade dispute.
Trajectory of Earnings Revisions As of 2Q19
6. What is an inverted yield curve?
An inverted yield curve is a phenomenon in which investors take the unusual position of accepting a lower rate of interest for longer maturity bonds versus the rate of interest available in shorter maturities. Growth expectations have come down, but not yet to the point that would argue for an imminent recession. Although we continue to respect yield curve inversions as a meaningful signpost within our business cycle analysis, we do not overestimate their importance within a larger framework of economic data. In our view, these data are providing consistent signals that late 2020 is still a reasonable expectation for increased caution.
7. What asset class looks most attractive today?
We believe mid-cap equities may offer an increasingly attractive opportunity for investors. Comparing the Mid Cap Index to the S&P 500 shows mid cap has a significantly smaller exposure to the Communication Services sector. The combination of Financials and REITs also results in more than one-quarter of exposure in the Mid Cap Index. From a factor exposure perspective, this gives mid cap a higher inherent value-tilt than large cap. We believe the anticipated uptick in M&A activity this year should help mid- cap companies, as they are in the sweet spot of a consolidation environment. On the flip side, mid caps can reap big synergy benefits from acquiring small caps that need scale/platform to support growth. We also expect mid-cap earnings growth to accelerate, supported by a healthy domestic economy focused on services companies predominately found in mid-cap sectors.
8. What is PNC's view on investing in gold? 
Some investors choose to own gold over the long term due to the widely held view that it protects against inflation.
However, we do not recommend commodities, including gold, in our strategic asset allocations because we believe they do not generate meaningful inflation-adjusted returns over the long term.
Instead, we believe stocks are a more effective hedge against rising prices.
9. Ten years into this economic expansion, where are the signs of excess/frothiness?
If we had to point to any excesses in the credit markets, it would be nonbank lending activity, specifically in the leveraged loan market. A growing method of leveraged loan issuance is through so-called "covenant lite" lending, which refers to debt issued with "light" restrictions on collateral, payment terms, and levels of income/earnings. In spite of these concerns, we see a frothy market, not a leveraged loan "bubble." We recommend limiting portfolio exposures to this portion of the fixed income market and, where possible, using actively managed strategies.
10. With 2020 election rhetoric picking up, how is the political environment shaping up?
With 18 months to go before the 2020 presidential election, we have started to get some questions regarding the political environment.
In previous elections, general consensus focused on stock market performance as the best predictor of election outcomes, but our analysis suggests the highest correlation with election outcomes tends to be real disposable income per capita.
In our view, that may very well put President Donald Trump in a position of strength if this metric continues to stay stable at current levels or even accelerate. Potential voter turnout in 2020 could also be a key determinant of the election results, although we acknowledge historical voter turnout has been volatile.
We are still generally positive about prospects for the markets in the second half, though our list of concerns has grown. The global economy continues to expand at a level that should continue to support positive year-over-year earnings growth, albeit at a much slower pace than 2018 on a year-over-year basis.
Please contact your PNC Representative or fill out a simple form and we will get in touch with you.
FOR AN IN-DEPTH LOOK
Strategy Insights: 3Q 2019