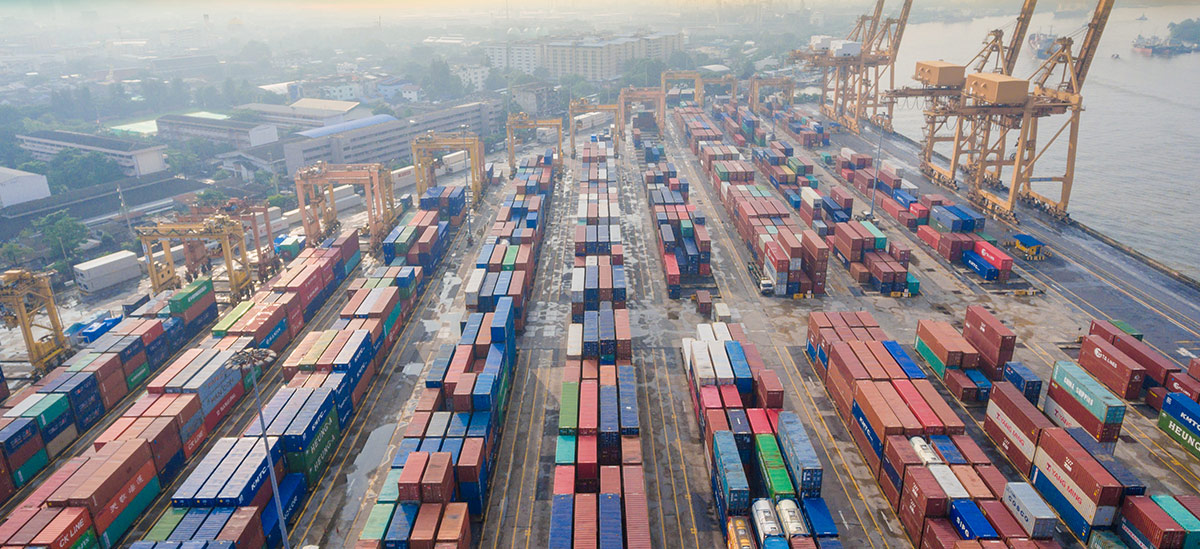 While there may be differences between U.S. and Canadian banking structures, Canada is working toward payment systems that will be familiar to U.S. companies to further facilitate cross-border transactions.
With business and industry becoming increasingly globalized, it is imperative for companies to achieve synergies within their working groups. To accomplish this, Canada is steadily working towards providing upgraded payment rails, new standardized file formats, and other payment technologies that will closely resemble what is currently found in the United States.  As a result, U.S. companies doing business in Canada will soon have the functionality that they are accustomed to at home.  Here are 10 tips to help smooth the way for U.S. companies considering expansion in Canada.
1. The Canadian Banking Structure
Canada has 35 domestic banks and 21 subsidiaries of foreign banks that are permitted to offer the full range of wholesale and retail banking services. There are also five cooperative credit associations that are federally regulated. In addition, 32 foreign banks have established branches in Canada.  PNC Bank is one of these institutions.
Canada is a dual currency country with clearing systems and payment services in both Canadian (CAD) and U.S. dollars (USD).  The USD clearing systems are separate and unique from those in the U.S. such as the Federal Reserve, the Clearing House, and U.S. banks.
Canada's two main interbank payment clearing systems are the Large Value Transfer System (LVTS) and The Automated Clearing Settlement System (ACSS).
LVTS is the country's real-time settlement system, used for high-value and urgent electronic payments (wires). ACSS is the country's main retail payments clearing system. It is used to process bulk electronic payments (ACH) as well as CAD-denominated checks.   Both are operated by Payments Canada (formerly the Canadian Payments Association).  
Statistics of Instrument Usage and Value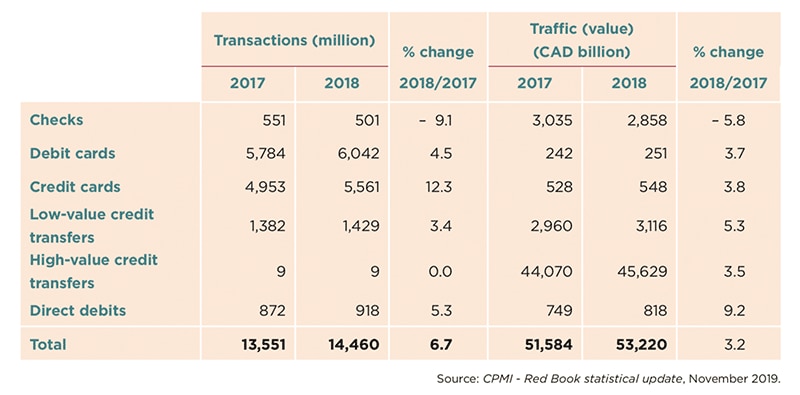 View accessible version of this chart.
2. Payments Canada Modernization Initiative
The payments ecosystem in Canada (and around the world) is rapidly changing: Consumers and businesses want faster payments and access to funds, enhanced security and privacy. Businesses want richer payment data and operating environments that promote efficiencies like end-to-end straight-through processing.  As a result, Canada is currently undergoing an expansive payments modernization project spearheaded by Payments Canada.
This modernization initiative will include a new core clearing and settlement system, which will replace both ACSS and LVTS. The many benefits for this project include real-time payments, the addition of enriched data for reporting electronic payments, as well as adoption of ISO 20022 data standards.
Payments modernization focuses on bringing leading-edge functionality to Canada, and will bring Canada back into alignment with the United States and other global markets.  A direct outcome of payments modernization will be faster processing of funds, more data travelling with payments, and increased funds availability. This Canadian investment into the payment rails will also increase the similarities to U.S. payment systems and technology.
As part of this project, PNC has embarked on a multi-year, multi-million dollar investment to enhance Canadian payment capabilities and to align with new payment Canada standards.
3. ACH Payments
Electronic Funds Transfer (EFT), Canada's version of ACH, currently lacks data and transparency into addenda records when compared to the U.S. systems.  Only a restricted amount of characters can be passed along with each payment in Canada.  This can require additional time and costs for companies during the reconciliation process.
As part of the Payments Modernization Initiative, additional transaction detail will be available, similar to the U.S. market.  In developing a stronger payments ecosystem, Canada has added an additional clearing window at 7 p.m. EST to accommodate payments taking place on the West Coast of Canada.  Previously, the latest clearing time for ACH payments was 5 p.m. EST.
ACH payments can be sent individually, as a bulk payment file with several ACH instructions, or as part of other payment times in a Mixed/Integrated Payables File.  Canada has seen a movement from manual file uploads to direct connectivity between Enterprise Resource Planning (ERP) platforms and bank systems for sending payment instructions.
What's Next for the Low-Value System
Payments Canada has introduced new EFT rules as part of its modernization program. The new rules came into effect in September 2018. Combined with the introduction of a two-hour funds availability option for automated funds transfers in October 2018, they enable new features such as same-day payroll, expedited bill payments and faster settlement of invoices.
Payments Canada has also announced plans to develop a new batch payment system. The new system, called Settlement Optimization Engine (SOE), will replace the existing ACSS and USBE systems. The SOE project will be implemented in three phases. Phase I, which will involve the development of an "ACSS like" replacement is scheduled for 2021. Phases II and III will be implemented in 2022 or beyond. This project is part of Payments Canada's multi-year strategy to upgrade the national payment system infrastructure.
4. Cheque Payments
"Check" is spelled "cheque" in Canada. The use of cheques has been in decline in Canada in favor of electronic payment instruments. However, cheques remain popular, especially with small companies and consumers.
There is no clearing float in Canada.  Cheques clear overnight in a batch process through the same system that Canadian ACH clears through (ACSS); but what's different is that they are backdated to the prior day's date of deposit.  And it's also important to know that Canada accepts post-dated cheques.
Unlike here in the U.S., remote deposit and image cheque clearing are relatively new to the market.  Yet according to Payments Canada, electronic imaging is on the rise and will shortly account for nearly half of all the cheques exchanged between financial institutions.
5. Lockbox Services
When you conduct business in Canada, having accounts in-market and being able to initiate and receive local currency payments not only improves the clearing of funds, but it also reduces the foreign exchange risk that comes with cross-currency transactions.
Establishing a lockbox for processing large amounts of cheques may benefit your organization from a quantitative (float times as it relates to cost of funds, finality, and interest earnings opportunity) as well as a qualitative perspective (improved information reporting with remittance information and time saved from a resource perspective).
Having a Canadian mailing address for payments has several advantages for U.S. companies. In instances where organizations don't have resources available to process incoming cheques, it could be beneficial to outsource this work to an in-market Canadian lockbox, so you can direct your energies to core operations rather than to reconciliation.
Alternatively, a Remote Deposit Capture (RDC) device can be advantageous if you receive a limited number of cheques and prefer to leverage an in-house scanning device rather than establishing lockbox services.
6. Integrated Payables
An Integrated – or Mixed – Payables file optimizes a corporation's payment protocol by automating the disbursement function with a single transmission of one, consolidated payment file. Within this single, consolidated file, a company can send all of their payables in one place: cheques, ACH/EFT, wire, and card payments.
By establishing connectivity from a company's ERP system directly into the bank's operating platform, you can optimize efficiency, enhance data integration, tighten process control and capitalize on a reduction in processing costs.
This type of payables setup has been popular in the U.S. for several years, and is now beginning to become mainstream in the Canadian market. Certain providers are even able to accept a single payables file for payments that need to be made in both countries through the one consolidated file. It is important to talk to your banking provider about their ability to accept an integrated Payables file as your company strives to optimize the accounts payables process.
7. Real Time Payments
With a focus on real-time payments, it is Canada's objective to develop and improve access to fast, convenient payments and funds transfer systems.
Canada's new real-time payments system, called the "Real-Time Rail," is a 24/7/365 system that will facilitate the delivery of low-value payments in a matter of seconds when it comes online in 2020. Real Time Payments will provide a faster alternative to less efficient payment options, support last-minute payments, and provide certainty of receipt.
This will act as a platform for future innovation in Canada, and it will serve as a platform for innovation by supporting new value-add service offerings built on top of this platform. An increased focus on faster real time payments is taking place in Canada in line with other countries such as the United States, England, and Australia[1].
8. Commercial Card Payments
Using commercial cards for payments can improve reporting and control. Establishing a single card provider, in conjunction with other treasury services, can provide opportunities to review and upgrade supplier agreements and qualify for revenue sharing in the form of a rebate. As companies work towards optimizing their payables process, consider converting low dollar invoices - historically paid by cheque - to now be paid with card.
The use of payment cards continues to increase in Canada, especially among retail consumers, and corporate cards are available through some banks. Visa, MasterCard and American Express are the main credit card associations in Canada. Interac is the main debit card system operating in Canada. Debit cards supporting both Visa and Interac networks are also available. Domestic transactions made via these cards are processed through the Interac system, with online and international transactions processed via the Visa network.

9. Know your Customer and Due Diligence in Canada
As corporations look to open accounts in Canada, they are required to complete Know Your Customer (KYC) and Due Diligence items. Companies are required to identify any individual who owns (directly or indirectly) 25% or more of the legal entity. 
Although companies may have U.S. accounts open with their U.S. bank provider, Canadian accounts will still require their own in-market regulatory and compliance approval.  Even when working with the same bank in both countries, a review of Canadian-specific regulations and sanctions is required.  Every country has its own unique regulatory and compliance procedures that must be fulfilled.      
10. USMCA—the New NAFTA?
When U.S. organizations decide to expand beyond the borders of the United States, Canada is often their first choice due to geographic proximity to customers and supply chains, as well as opportunities to recruit highly-skilled talent and operate in a predictable business environment.  The North American Free Trade Agreement (NAFTA) has provided nearly three decades of tariff-free access to the Canada-U.S. relationship in most sectors. Having come into effect on July 1, 2020, the new U.S.-Mexico-Canada Agreement (USMCA) will expand on these provisions in many key ways.
It is important to review your North American supply chain, business registrations, and banking structures as a result of these upcoming changes to obtain "first out of the gate" competitive advantages.  Specifically, the USMCA provides new digital/technology sector provisions, enhances intellectual property protections, streamlines customs procedures in North America, and facilitates e-commerce.  The USMCA also requires companies in various sectors, such as automotive and dairy, to adjust to new compliance realities, and all companies operating in North America need to be aware of changes to various labor protections.  Speaking to your banker about your company's needs will ensure that supply chain and treasury management functions run efficiently, ensuring the ability to adapt to market changes.
Banking in Canada
It's important to take a fresh look at how you are operating in Canada. As Canada improves payments systems and introduces leading global technology, collaborating with a bank or strategic supplier who understands your business model, and can work alongside your company as it grows, will become vital to your business.
In the face of a constantly changing economic landscape, ensuring your treasury management provider and account structure are flexible and optimized for your needs is more important than ever. We recommend keeping up to date on developments that will affect your business and potentially influence the structure of your banking relationships and services in North America.
About PNC Bank Canada Branch
Established in Canada in 1998 and a Canadian commercial lending foreign bank branch since 2001, PNC Bank Canada Branch ("PNC Canada") offers specialized knowledge and experience to help you succeed in this vital cross-border marketplace.
Ready to Help
If you are a U.S. company with actual or projected operations in Canada, or a Canadian company, PNC Canada can assist you with credit, depository, and treasury management products and services. If you are interested in exploring how PNC Canada might be able to assist with your Canadian operations, we encourage you to contact your Relationship Manager or visit pnc.com/canada.
Accessible Version of Charts
Statistics of Instrument Usage and Value
 
 
Transactions (million)
% change 2018/2017
Traffic (value) (CAD billion)
% change 2018/2017
 
2017
2018
2017
2018
Checks
551
501
-9.1
3,035
2,858
-5.8
Debit Cards
5,784
6,042
4.5
242
251
3.7
Credit Cards
4,953
5,561
12.3
528
548
3.8
Low-value Credit Transfers
1,382
1,429
3.4
2,960
3,116
5.3
High-value Credit Transfers
9
9
0.0
44,070
45,629
3.5
Direct Debits
872
918
5.3
749
818
9.2
Total
13,551
14,460
6.7
51,584
53,220
3.2
Source: CMPI - Red Book statistical update, November 2019.