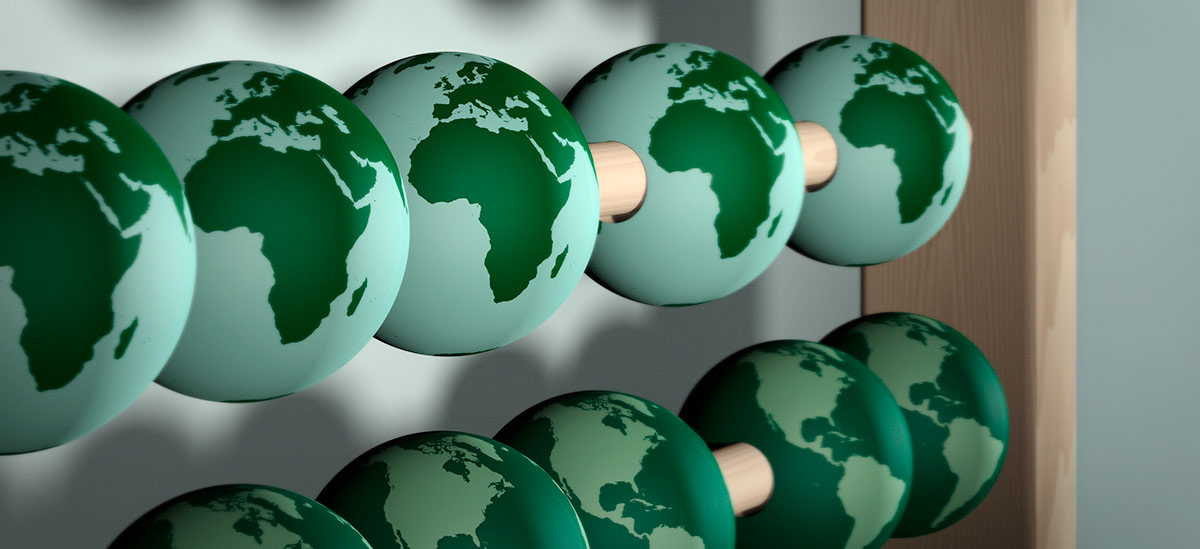 In 2015, stakeholders across the public, private and nonprofit sectors came together to develop a plan to combat climate change. In a rare moment of global consensus, the international community approved the Paris Agreement to slow the Earth's rising temperature to below 2 degrees Celsius (and really, closer to 1.5 degrees) by the end of the century.
Today, more than five years into the Paris Agreement, estimates show that Earth's surface temperature is on path to rise by as much as 2.7 degrees by the year 2100, if emissions continue to increase at the same rate they have since 2000.1 
Figure 1: Global Average Surface Tempertures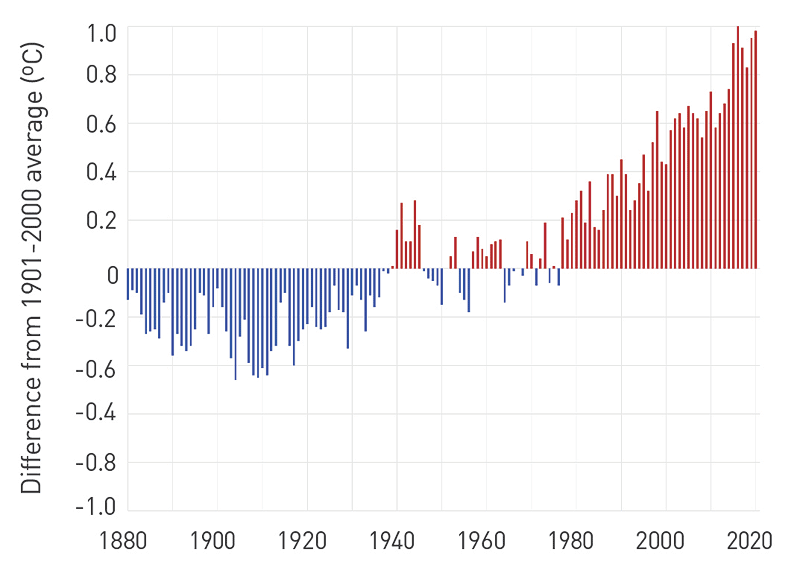 Source: www.climate.gov
Source: PNC

View accessible version of this chart.

The impact of a warming planet creates a domino effect that we believe has serious implications for investors. As an introduction to our continuing conversation on investing for climate change resiliency, PNC's Head of Responsible Investing (RI) Nick Ashburn discusses some of the key issues examined and agreed to at COP26 and how the PNC Asset Management Group navigates environmental considerations in portfolios.Representatives from countries that committed to the Paris Agreement met in October for the United Nations Climate Change Conference, also known as the 26th Conference of the Parties (COP26), in Glasgow, Scotland to provide updates on their progress and commit to additional actions.
What was agreed to at COP26, and why should investors take notice?
The Glasgow Pact agreed to at COP26 maintains the target for limiting rising surface temperatures to 1.5 degrees Celsius through the end of this century. An understated, but significant, outcome of the conference was a commitment to embed scientific reports into the decision-making process. The parties recognized the importance of aligning their actions with findings from the latest report from the Intergovernmental Panel on Climate Change (IPCC) and acting with the urgency recommended by the scientific community.
The actions agreed to at COP26 included reaffirmed and new commitments to areas such as:
Reducing methane emissions 30% by 2030

Halting and reversing deforestation—including pledges from Brazil, Indonesia and Russia that combined represent 90% of the world's forests
"Phasing down" power generated by coal
Recognizing the impacts of rising temperatures and the risks it may pose to the global financial system
How will the effects of climate change impact investors?
The scientific community is united in its consensus that human activity since the Industrial Revolution has accelerated the natural warming cycles Earth typically experiences. While COP26 primarily highlighted the role of governments in combating climate change, the private sector was also represented, recognizing that innovation and investment will likely play a large role in helping to address these critical issues. As investment managers, we echo the concern about the possible financial risks posed by climate change.
A warming planet creates a domino effect with negative consequences ranging from more severe and intense weather events, to rising sea levels in coastal areas and prolonged periods of drought in others. This can put company assets at physical risk, disrupt supply chains, and put more stress on strained infrastructure. In addition to physical risks, investors should understand the potential risks, opportunities, and implications due to changing consumer preferences and an evolving regulatory landscape, with calls for a transition to a "low-carbon economy."
The domino effects of climate change will likely have consequences for how businesses operate and how investors will make capital allocation decisions. Therefore, we believe it's increasingly important for investors to navigate the economic risks and opportunities of climate change, and integrating environmental, social, and governance (ESG) factors into the investment process can help do so.
Speaking of ESG, where do environmental concerns overlap with social factors?
COP26 devoted significant attention to the health effects of climate change. While public health officials grapple with the COVID-19 pandemic, they are also exploring how to adapt to climate-related hazards to prevent widespread illness and fatalities. For example, officials are now considering the physical and mental health impacts of living without power or being stranded in high waters without food or medicine in the aftermath of more frequent, destructive hurricanes.
Climate change also has an outsized effect on less-developed countries and low-to-moderate income (LMI) communities.2  Wealthier countries account for nearly all greenhouse gas emissions contributing to climate change; yet they failed to meet their commitment to raise $100 billion per year to help developing countries — who bear the brunt of climate change — build infrastructure and protect against its effects. The consequences of climate change in poorer countries can range from lower crop yields and famine to accelerating urbanization that stresses already strained infrastructure in cities — all the way to rising sea levels that threaten entire small island nations.
In the United States, low-income communities of color experience forms of environmental racism, including more prevalent exposure to increased levels of toxic air pollution and inequitable outcomes in disaster recovery efforts. Government policies and corporate decisions have allowed landfills, hazardous waste sites and other industrial facilities (e.g., refineries) to set up operations near LMI and predominantly Black communities.3
Climate change has serious implications for both workers and society at large. When viewed through an ESG lens, investors can look to new research, more prevalent data, and sophisticated quantitative models to better assess how climate change could affect their portfolios.
How are investors navigating a rapidly evolving landscape?
Climate change research isn't just for scientists. There's a growing body of academic and industry guidance with mainstream adoption that addresses the role of climate change in business operations, accounting and finance. In 2020, 47% of companies in the Russell 1000® used the Global Reporting Initiative (GRI) standards and 41% aligned with the Taskforce for Climate-related Financial Disclosures (TCFD) in their corporate sustainability reports. Increased standardization of disclosure and data can help investors understand the potential environmental issues in their portfolios.
The timeframe for analyzing climate change risks is often longer-term than — let's say — the timeframe in a discounted cash flow model. Although some companies are already experiencing the effects of climate change, it could be 25-30 years before many see major impact. Still, investors such as pension funds and multi-generational families are acutely looking at these long-term horizons.  
Figure 2: Projected Annual Global Carbon Emissions and Projected Global Temperatures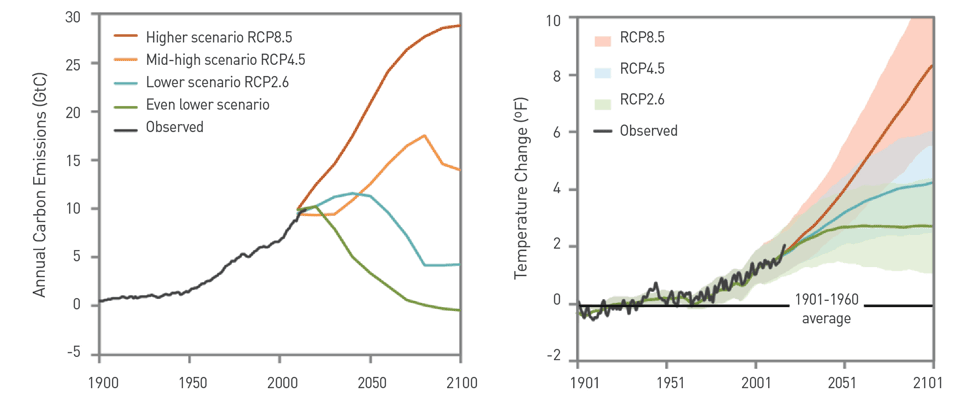 Source: www.climate.gov
View accessible version of this chart.

Data quality has improved, as a result of, frameworks like TCFD, and the quantitative models that can help identify climate-related risks in portfolios are also getting better. Scenario analysis is one of the most useful ways for investors to incorporate environmental factors into the investment process. This tactic applies probabilities to assess climate risks among different outcomes across future scenarios. For example, one branch of the decision tree might lead toward the 1.5 degrees Celsius warming target, while others would look at what happens with the status quo or worst-case scenarios. This type of analysis can help investors understand the sensitivity of portfolio returns based on different assumptions of temperature rise. 
What might investors be surprised to know?
Investors may not remember that there have been successful outcomes from collective action on climate change before. When scientists discovered a growing hole in the ozone over Antarctica, they homed in on chlorofluorocarbons (CFCs) as the main cause. At the time, CFCs were widely used in refrigerators and air conditioners. In the late 1980s, countries from around the world ratified the Montreal Protocol, which regulated the quantities of CFCs and is considered one of the most successful attempts to combat anthropogenic (i.e., human-driven) climate change.
The Montreal Protocol also highlights the transition risks private industry and investors may face in the future. If you invested in companies that produced chemicals contributing to CFCs, or manufactured appliances that blew CFCs into the air, the Montreal Protocol likely affected your bottom line. Yet these industries survived, and we still enjoy the luxuries of refrigeration and air conditioning today. While climate change mitigation vis-à-vis reducing greenhouse gas emissions tends to attract the most attention by the media and at convenings like COP26, innovation and adaptation that enable environmental and social resiliency to climate change are also significant. It's about both risk and opportunity.
What's next?
Talking about climate change can be overwhelming — either because it feels like a political landmine or because there's so much to digest. As we continue our conversation on climate change, we'll dive into some of the big questions for investors:
With 99% consensus on human-driven climate change, what are the challenges, and how can we change course?
How do we inform our analysis and decision-making to support our clients' investment goals?
How do we assess investment risks and opportunities when implementing a climate change resiliency strategy?
We'll address these questions over the course of our discussion on climate change. PNC's RI team is eager to share the insights gained from our research and how we help our clients build more resilient portfolios, which in turn, we hope will result in a more resilient planet.
---
Accessible Version of Charts
Figure 1: Global Average Surface Temperatures
Source: www.climate.gov
| | |
| --- | --- |
| Year | Difference from 1901 -2000 Average (Degrees Celcius) |
| 1880 | -0.2 |
| 1900 | -0.4 |
| 1920 | -0.6 |
| 1940 | 0.3 |
| 1960 | 0.1 |
| 1980 | 0.3 |
| 2000 | 0.7 |
| 2020 | 1.0 |
Figure 2: Projected Annual Global Carbon Emissions and Projected Global Temperatures

Source: www.climate.gov
| | | | |
| --- | --- | --- | --- |
|   | Year | Annual Carbon Emmissions (GtC) | Temperature Change |
| Scenario 1  | 1900 | 1 | 0 |
|   | 1950 | 1 | 1 |
|   | 2000 | 5 | 1.5 |
|   | 2050 | 20 | 4 |
|   | 2100 | 27 | 8 |
| Scenario 2 | 1900 | 1 | 0 |
|   | 1950 | 1 | 1 |
|   | 2000 | 5 | 1.5 |
|   | 2050 | 1 | 3 |
|   | 2100 | 1 | 5 |
| Scenario 3 | 1900 | 1 | 0 |
|   | 1950 | 1 | 1 |
|   | 2000 | 1 | 1.5 |
|   | 2050 | 1 | 2.5 |
|   | 2100 | 1 | 2.5 |