Corporate pension plans have observed an increase in funded status volatility over the last several months. Considering the potential consequence of lower funded ratios on company cash contribution requirements and financial statements, many plan sponsors seek to minimize the impact of the downside volatility observed in months like December 2018 and May 2019. We will discuss how the adoption of a well-executed glidepath strategy can improve outcomes during stressed periods.
Pension Volatility — History
From a market perspective, equity risk and interest rate risks are the primary contributors to changes in pension plan funded levels. Specifically, rising equity markets (which increase assets) and/or rising interest rates (which reduce liabilities) can improve funded levels and create upside volatility. Falling equities or rates can produce downside volatility. Review of Milliman's Monthly Pension Funding Index over the last 10 years shows there is a high degree of funded status volatility and that periods of upside volatility are typically followed by downside scenarios. Recently, we witnessed this in the first three quarters of 2018, where funded levels increased in most months before dramatic reductions in the fourth quarter, in particular December which observed a 4% decline.
Milliman Pension Funding Index (As of May 31, 2019)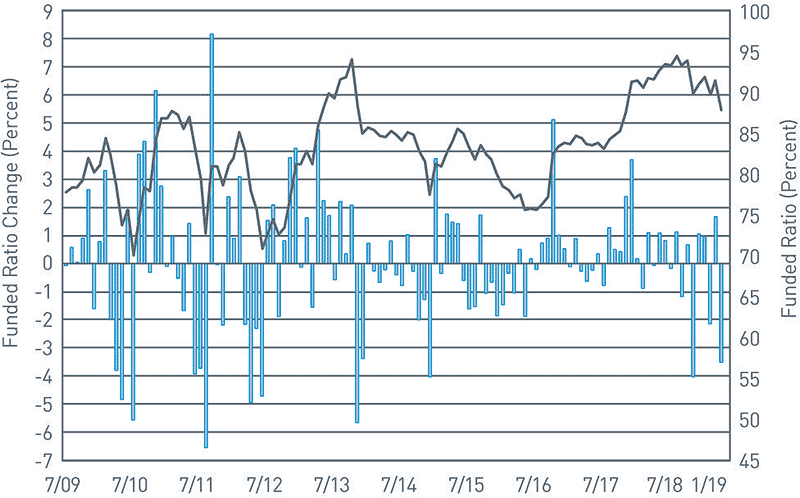 Source: Milliman, PNC

Taking Advantage
Plan sponsors have an opportunity to lock in some of the gains during upside periods by implementing a glidepath strategy.
A glidepath strategy has a higher allocation to equity-like assets at lower funded levels (where more returns are desired), and a higher allocation to fixed income assets that behave like the liability as the funded status improves (when less volatility is preferred). For example, a plan may see equity allocation decline from 60% or more in the early stages of a glidepath, to 0–10% once the plan is well funded. With the glidepath, if equities perform well and increase the assets/funded ratio to a certain level, the plan can sell out of equities at higher equity prices. If interest rates rise and reduce plan liabilities such that the funded ratio improves to a certain level, the plan can purchase more bonds at lower prices.
Not all glidepaths create the same result; execution is key.
Managing the glidepath with a daily review of funded status allows the organization to shift investments when the markets provide the signals. Without the frequent monitoring and execution, funded status could fall backward quickly before action is taken. Though the Milliman Pension Funding Index shows a monthly view of funded status, there is additional volatility and potential opportunities within a given month. By measuring funded status on a daily basis and implementing portfolio changes immediately (typically achieved with a discretionary investment manager), the plan's financial health could be improved.
Timely Execution — Result
Plan sponsors with glidepaths in place at the beginning of 2018 that were close to reaching triggers likely crossed one or more funded ratio thresholds during the year. Based on our experience, the March/April timeframe saw increased de-risking activity. In addition, September was another busy period, as a number of plan sponsors made required or discretionary contributions to take advantage of changes in the tax law. The result is smaller equity allocations and larger long-duration fixed-income allocations that performed better during the fourth quarter. The pain observed during the volatile month of December and for the full year was significantly less for those who de-risked with a well-executed glidepath. Ultimately, the glidepath can create a smoother path to fully funding the pension, which could help at measurement dates for financial statement reporting and deriving contribution requirements.
The expectation is that interest rate and equity market volatility will continue to exist, and as such, we expect plans that adopt these glidepath strategies will continue to benefit from the pension funded status roller coaster.
For more information, contact Kimberlene Matthews, Director of Pension Solutions, at 312-338-8138 or kimberlene.matthews@pnc.com.