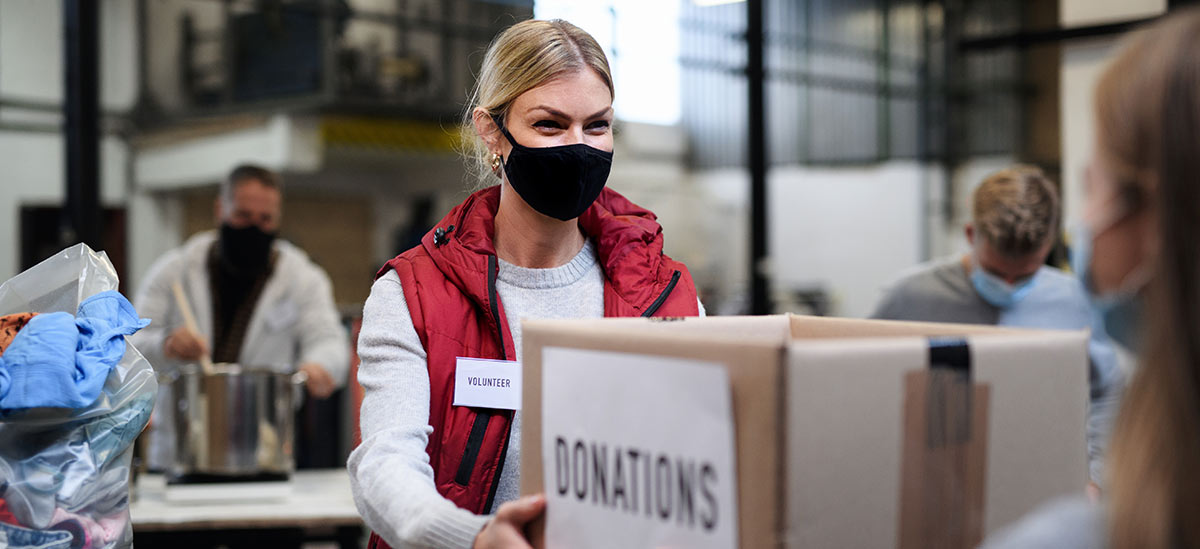 In September 2021, PNC hosted our annual nonprofit webinar entitled, "State of Nonprofits: Recovery and the Path Forward". Topics included managing operations, fundraising, and investing for nonprofits. Leaders from across the nonprofit sector were invited; they asked a variety of relevant questions during the event. This paper recaps some of the important questions posed during the event and provides PNC's answers and insights.


1. Trends in Giving 
Q: "We saw a major shift last year in donors giving more to human services-based nonprofits (food, housing, health) and less to cultural institutions (museums, arts, libraries). Any further commentary surrounding trends in giving?"
A: According to the most recent Giving USA annual report, there was a disproportionate fundraising experience among nonprofit types in 2020, including significant increases in giving to education, human services, public-benefit society, international affairs, and environmental/animal causes. The shift in giving to organizations focused on public society benefit and human services makes sense considering the urgent needs of vulnerable communities throughout the pandemic and renewed focus on racial and social justice. 
Giving to cultural institutions was down in 2020, following what had been an increase in 2019. Cumulatively, since 2018, giving to cultural institutions has remained flat. The study also revealed that giving to religious causes, foundations, and health related organizations was flat or down during 2020.
The impact these disparities in fundraising have had on the operations of nonprofiit organizations depends on the organization's capitalization model. Organizations with more diverse funding models were more insulated from the potential impact of disruptions brought about by the pandemic and social justice movements of 2020 and 2021.
As a result of thes disruptions, many nonprofits are reevaluating their business models by establishing or strengthening long-term asset pools ("rainy day funds"), reinvigorating fundraising efforts, and leveraging technology to relieve the reliance on in-person engagements. 
2. Corporate Social Responsibility
Q:"While corporate responsibility is re-emerging, 
how long do you anticipate it will take before corporate giving returns to pre-pandemic 
levels?"
A: Several factors influence corporate philanthropy 
including U.S. Gross Domestic Product (GDP), market conditions, and the regulatory environment. GDP and corporate pre-tax profits both decreased in 2020 and may have influenced the 6.1 percent decrease in corporate giving reported by Giving USA. If history is an indicator, 2021's positive GDP and corporate pre-tax profit growth should bode well for an increase in giving. We are also seeing an increase in the formalization of giving programs at many corporations. This includes the creation of corporate foundations and corporate donor advised fund programs. These actions may result in a more stable funding pool for qualified charitable recipients. Note that philanthropy is only one component of corporate social responsibility (CSR). CSR also comes in the form of diversity, equity and inclusion programs, volunteerism, and environmental impact.
3. Gift Matching Programs 
Q: "Does PNC anticipate employer gift matching programs will gain popularity?"
A: Employer gift matching programs are a great way to incentivize giving at the individual and corporate 
level. Many businesses have started to be more intentional in their giving programs and are using formal gifting vehicles to facilitate the impact. This is driven by an increased focus on corporate social responsibility. PNC encourages this trend and recently released a white paper entitled Company Sponsored Philanthropy that focuses on direct giving, corporate foundations, and donor advised funds. 
One of the main obstacles of gift matching programs is administration. Managing an abundance of small grants can make it difficult to facilitate the gifts. Imagine hundreds of grant requests (each of which must be vetted to ensure the recipient is a qualified 501(c)(3) public charity) in amounts that are less than $50. This situation can effectively make it more expensive to manage the program than to make the gift. Several technology companies and platforms are making the process of managing and vetting smaller gifts easier, allowing corporations to better scale their programs to accommodate matching gifts.
4. Return of Required Minimum Distributions (RMD)
Q: "What is PNC seeing clients do in terms of Qualified Charitable Distribution--have these increased since 2020?"
A: The CARES Act allowed individuals forego taking 
a Required Minimum Distribution (RMD) in 2020, and so those who may have normally taken advantage of the opportunity to give through a Qualified Charitable Distribution (QCD) may not 
have felt as compelled to do so.
In 2020, PNC saw a total of 2,341 QCDs. In 2021, we saw a total of 2,563 QCDs from January 1, 2021 to September 23, 2021. This represents a 9.4% increase from 2020 so far in 2021, and if the pace continues, could result in an increase of upwards of 50% year over year.
5. Cryptocurrency
Q: "Any comments on the emerging cryptocurrency markets?"
A: For an overview on cryptocurrency, check out our paper Going Down the Cryptocurrency Rabbit Hole.
In our view, cryptocurrency (crypto) is not just a passing fad. We believe crypto will continue to gain popularity along with other unique assets like non-fungible tokens (NFTs). Crypto is also becoming a topic of interest among donors and a more popular form of donation. This means that organizations need to consider updating their Gift Acceptance Policy, and establish their process for accepting cryptocurrency. To accept this form of gift, you can either establish the infrastructure to receive, hold, and sell the assets, use a third-party payment processor, or use a Donor Advised Fund. We recommend contacting your custodian before accepting these assets.
6. Saving for a Rainy Day
Q: "How would you impress upon donors the need to build a rainy-day recession (endowment) fund? Donors prefer to fund capital projects and specific mission initiatives."
A: The events of 2020 reinforced the timeless counsel that preparation is key for nonprofits. Having a reserve fund, should unforeseen expenses arise, is a best practice for any organization. While there is no one-size-fits-all answer in terms of how much an organization should have in a reserve fund, aiming for 3-6 months of operating expenses is generally a good place to start. For endowments, having 2x the annual operating budget is the industry standard. While building this reserve through fundraising is typically challenging, as donors often prefer to give to specific initiatives, events of the past 18 months may make donors more receptive to the idea.
One way to navigate this challenge is with scenario analysis. Running a model using various scenarios and assumptions over a 5, 10, and 15-year timeline can make a compelling case. One client with whom we worked projected they would run out of money within 8 years if they kept the same spending trajectory. However, if they cut personnel and costs too far, they would not be viable or effective. They revealed this information to a few key board members and donors to show the inflection point the organization had reached, the challenges they would face if they did not find a funding solution, and the plan for a successful path forward. If your organization has excess cash, starting a rainy-day fund with a goals-based investment approach could provide stability during future unforeseen events. A first step would be defining the organization's financial goals—these can focus on attaining a certain level of net assets, providing a specific level of budget funding through annual distributions from an investment pool, or obtaining some liquidity target, to name a few.
7. Donor Advised Fund Grant Distributions
Q: "What is the best way for a nonprofit to capitalize on potential gifts from a Donor Advised Fund?"
A: Many Donor Advised Fund (DAF) sponsors remind donors annually to make their grant recommendations, or even require in their grant agreements that recommendations be made within five years of funding their accounts. The Accelerating Charitable Efforts Act (ACE) was proposed to the U.S. Senate in June 2021. The bill seeks to encourage distributions by introducing qualified and nonqualified classifications for DAFs. This proposed legislation is the latest iteration of an ongoing effort to reform Donor Advised Fund regulation. For more information on the proposed Act, see our white paper 
The Accelerating Charitable Efforts (ACE) Act
.
Often, the reason donors are slow to make grants from their DAF is that they are overwhelmed with the myriad choices and opportunities to give. To help the decision-making process for DAF contributors, nonprofit organizations can enhance donor education. Some sponsoring organizations promote charitable giving opportunities on their webpage, which provides an opportunity for charitable organizations to reach potential donors. Consider reaching out to sponsoring organizations to see if this opportunity is available to you.
8. Unrestricted Giving
Q: "How can we, as nonprofit leaders, work with funders to continue fueling the trend towards unrestricted or less restricted funding?"
A: The strategy should begin with donor education. 
This could be as simple as explaining the differences between restricted and unrestricted giving and the impact that this has on your organization and mission. For instance, having more unrestricted dollars reflects a stronger organization from a financial health perspective. That, in turn, can impact lower the cost of borrowing, affording the organization more financial flexibility.
Having restricted funds can be limiting and even jeopardizing to a nonprofit organization. In one instance we saw last year, an organization witha very large endowment was forced to make a special donor appeal during the pandemic because the endowment was largely restricted. The unanticipated expenses brought on by the pandemic left the organization with insufficient budget flexibility to optimize operations. This cautionary tale is a great case study in the need for unrestricted assets. By making the donor an "insider," you'll be able to more easily make the case for unrestricted giving while simultaneously earning the donor's trust.
9. The Labor Market and Return to Work
Q: " Can you provide commentary around the labor market?"
A: The pandemic continues to impact the global reopening process, with regions experiencing uneven recovery in the labor market.

The nonprofit workforce was especially impacted in 2020. We have since seen substantial recovery, with an average of 44,624 jobs recovered per month over 2021. Researchers estimate that we may not see a full return to pre-pandemic workforce levels until Fall 20221.
Many sectors are experiencing labor shortages and having difficulty filling open positions. If this is the case for your organization, consider looking for candidates outside of the nonprofit industry who have experience in positions that require similar skillsets to the role you are filling. You can also redistribute role responsibilities to the staff you have and offer to train employees who are looking to expand their skills and grow professionally. By doing so, in addition to filling in unstaffed roles, you'll be providing professional development opportunities to loyal employees, which may help with long-term employee retention.
10. Private Donors/Funds
Q: "Many private donors/funds don't accept applications from nonprofits, so how can organizations gain access to them?"
A: There has been a recent trend towards more intentional giving by private donors seeking to influence targeted outcomes. These private donors and their advisors tend to be clear about the funding priorities, mission, and geography they want to support. In many cases, the donor may have already completed most of the leg work to vet a particular charitable organization without soliciting a formal application from the nonprofit. Realistically, some of these donors do not have (or want to create) the infrastructure to vet applications. Positioning your organization to benefit from this kind of donor includes polishing he unique story that your website and publicly available financial information tell. Because you may not even be aware your organization is being evaluated, it is just as important to be readily "found" during the private donor's search as it is for you to "find" the donor. We saw this more recently with gifts made by megadonor MacKenzie Scott in the absence of an application process. The funding decisions were made based on her team's "stealth" research. It may help to consider what Ms. Scott and her team of researchers would think about your organization if they only had access to what is publicly available on the internet. For more information on megadonors and the mega donation process, see our white paper, Preparing for Mega Donations.
Of course, creating a great web site and hoping it will draw in donors will likely result in highly unpredictable results from year to year. Given this backdrop, our recommendation is to follow the tried-and-true practice of relationship building. With private foundations, it helps to get a sense of what the donor has funded historically to see if there is synergy between your organization's program areas and the apparent interests of the private donor. This information can usually be found on the private foundation's IRS Form 990-PF.

Follow this link to view a replay of the 2021 State of Nonprofits Webinar. Visit the link for more insights and to stay connected with PNC Institutional Asset Management.