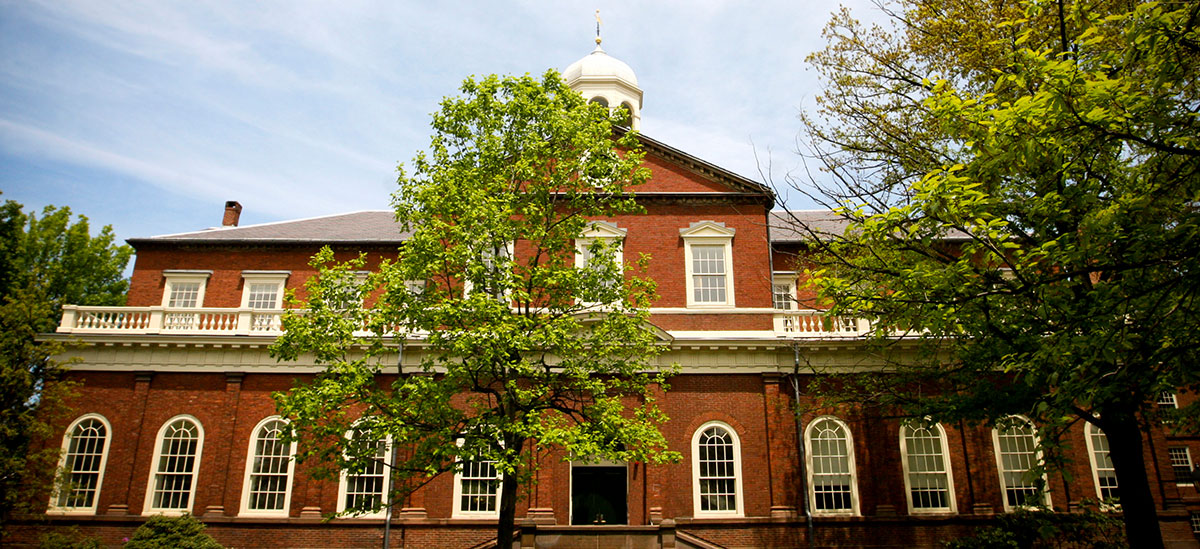 The executive summary of the 2020 NACUBO-TIAA Study of Endowments® (NTSE),[1] covering July 1, 2019–June 30, 2020, was recently released. The study gathers data from 705 U.S. colleges and universities regarding their investment programs.
The investment objective of an endowment may vary depending on the overall mission of an organization. However, the underlying fundamentals share common characteristics; that is, the investment portfolio is generally expected to provide a modest source of ongoing revenue and income, while preserving purchasing power, to help support the operating budget of the organization and any donor-designated programs.
Here we review the current state of endowments, focusing on returns based on asset allocation and endowment size, using information from the 2020 NTSE, published by the National Association of College and University Business Officers (NACUBO).
Pandemic Impacts on Endowments
The observation period for the fiscal year (FY) ended June 30, 2020 meant the effects from the COVID-19 global pandemic began to impact endowments in the latter half of the observation period. The economic shutdown around the world stressed the balancing acts endowments face related to funding operating budgets with steady and predictable distributions and maintaining real, long-term value of endowments.
Although the Coronavirus Aid, Relief, and Economic Security (CARES) Act helped many colleges and universities during a period of significant uncertainty, endowments themselves were not permitted to receive CARES Act funding. In some cases, there was negative public pressure on large well-known colleges and universities to turn down the support and instead tap their endowments to cover funding shortfalls. NACUBO suggests institutions may benefit from expanded efforts to educate constituents and the general public on the purpose of endowments as long-term support vehicles and not as rainy day funds that can be used to meet any perceived needs.
For more information on the potential harm of special distributions, please see our white paper Understanding Special Distributions from Long-Term Asset Pools.
Performance by Endowment Size
Based on data compiled over the past few years, the primary differentiating factor in performance among endowments has been size. On average, large endowments, those with assets exceeding $1 billion, historically have outperformed smaller endowments, those with less than $500 million in assets. These large endowments, which account for about 16% of all endowments by number and about 80% of total endowment dollar value tracked in the NTSE report, typically attract the most headlines and scrutiny, resulting in several misconceptions about overall endowment performance.
It should come as no surprise that returns were challenged across the first half of 2020. While markets generally recovered from the lows of March 2020, they hadn't made enough progress to record meaningful FY2020 returns by the end of the fiscal year reporting cycle.
In general, this year returns were positively correlated with endowment size, with the larger endowments outperforming the smaller ones. However, the difference in overall performance was significantly narrower than in recent years. The gap between net returns of the largest endowments in the study (2.51% for endowments with more than $1 billion in assets) and the smallest in the study (2.46% for endowments with less than $25 million in assets) was just 0.05 percentage point (Chart 1). This is very similar to the 0.1-percentage-point gap seen last year. It is worth noting that the lowest performing endowments, those with asset size between $251 and $500 million, generated a return about 115 basis points below the largest endowments with a reported 1.34% return.
Average Net Investment Return (Percentage Points)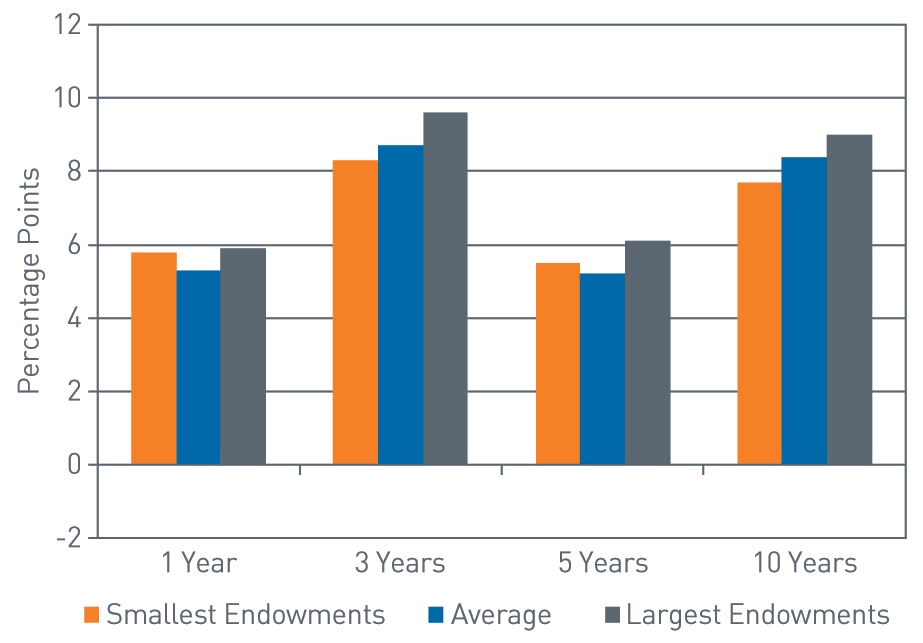 View accessible version of this chart
Source: NACUBO
While one-year performance is not insignificant, most endowment managers use a longer-term view for planning purposes. While the performance was relatively flat across size cohorts on a one-year basis, the largest endowments generally remain the best performing cohort over longer investment horizons. In normal years, we have seen outperformance by larger institutions increase as the investment period is extended. This year, the spreads tightened significantly: The 3-year spread between the largest cohort and the smallest cohort is 0.54 percentage points, the 5-year return spread is 0.41 percentage point and the 10-year spread is 0.48 percentage point.
Over each of the timeframes, the best performing cohort was the largest, with an average return of 5.93%, 5.69% and 7.94% over 3 years, 5 years and 10 years, respectively. Similar to the prior fiscal year reported, there was little correlation this year between size and return on a one-year basis. Indeed, the smallest endowments were not the worst performing; instead, the medium-sized endowments, that is, those with $25-500 million in assets, were the worst. This U-shaped return curve seen in the past few years, where the largest and smallest endowments on average outperformed mid-sized ones, appeared out through the 10-year annualized returns; however, the longer 15-year, 20-year and 25-year net annualized returns showed a linear trend between larger size and larger returns.
Spending Policy and Long-Term Return Objectives
For the second time in a decade, all size cohorts generated 10-year returns above the long-term objective reported at 7.1% this year (Chart 2). In our view, that return may still be skewed by the calendar effect from rolling off materially weak market performance from 2008 and the robust positive returns generated during 2019. We also believe the 7.1% return objective is worth noting. In past survey results, endowments in the study reported they required an annual return as high as 7.7% (back in FY2011) to maintain their purchasing power after spending, inflation and investment management costs. While the long-term return objective decreased to 7.1%, spending rates have increased to the 4.6% level reported in FY2011 (e.g., when there was a 7.7% return objective). This would suggest that the divergence between the two would need to be reconciled over the longer term if investment programs intend to maintain the purchasing power of their assets, requiring either increases in required return objectives or decreases in spending rates in future years, or some combination of both.
Average Return versus Long-Term Return Objectives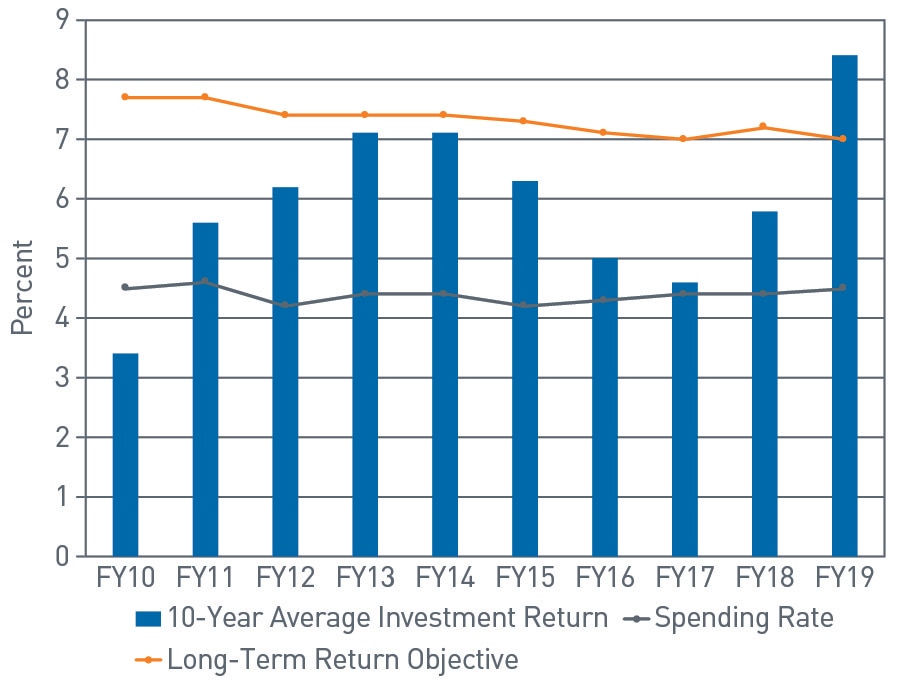 View accessible version of this chart
Source: NACUBO
Shifting to how the distribution is spent, for the second year in a row the report included information on what the distributions are intended to support (Chart 3). The largest percentage of the distribution was to "Student Financial Aid," followed by the "Academic Programs" and "All Other Purposes" categories. These numbers appear to be largely unchanged year over year, which might suggest any changes related to the global pandemic and lockdown of on-campus operations will largely be reflected in next year's results, in our opinion.
Recipients of Investment Program Distributions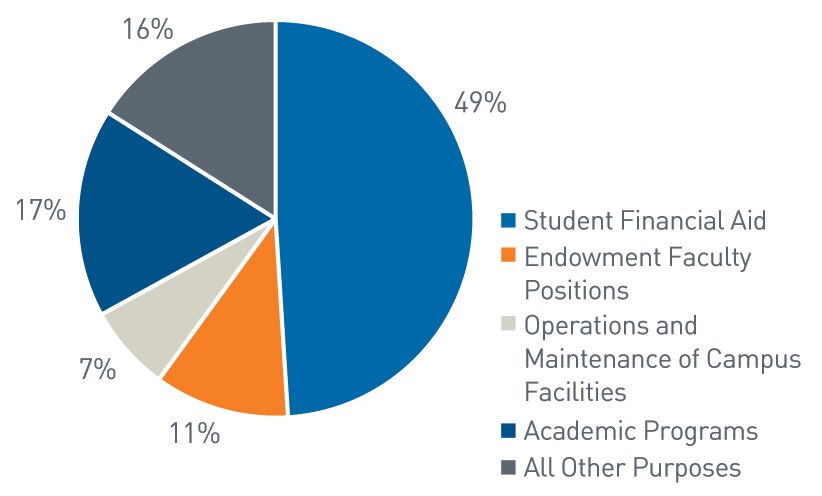 View accessible version of this chart
Source: NABUCO
Asset Allocation by Endowment Size
A more granular look helps decipher how endowments have adjusted their asset allocations based on size. Only firms with assets in excess of $1 billion have an above-average allocation to alternatives on a dollar-weighted basis; on an equal weighted basis, the $251-500 million and $501 million to $1 billion cohorts also have an above-average allocation to alternatives. The smaller the endowment, the more traditional the asset allocation tends to be; that is, there is greater emphasis on public equities and fixed income investments with less exposure to alternative strategies.
Asset Allocation by Endowment Size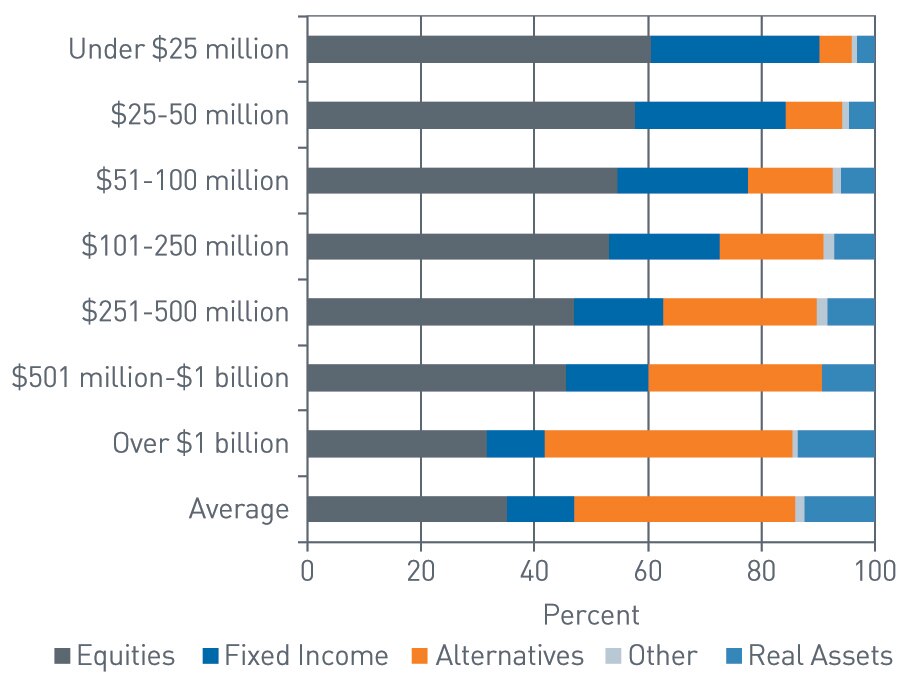 View accessible version of this chart
Source: NACUBO
With U.S. equities and investment grade fixed income classes logging the best performance for FY2020, it is logical institutions with greater exposure to these asset classes outperformed, explaining the U-shaped distribution where the smallest institutions outperformed the middle cohorts. Conversely, private energy and energy infrastructure, marketable real assets and non-U.S. equities were cited as a drag on performance in FY2020, causing portfolios with higher exposures to underperform relative to their peers. This was again seen in the one-year performance of institutions in the middle size cohorts, from $50 million to $1 billion, which had the greatest exposure to these asset class categories in the report.
Reevaluating Allocations and Strategies
Every endowment must balance multiple and sometimes conflicting goals, including meeting return objectives, limiting undue volatility, managing shortfall risk and minimizing expenses. It can be a tall order, and some endowments appear to be managing these objectives better than others.
It is remarkable how far the markets and economy rallied back from lows in 2020, with valuations now well above pre-COVID-19 levels across the multi-asset class universe. However, this suggests there is less room in 2021 for the equity markets to run based solely on multiple expansion — the bar is set higher for the year — and the baton must be handed off to earnings growth if the market is to advance meaningfully from where it finished 2020. In fixed income, central banks around the world have reinstated zero interest rate policy and expanded balance sheets in an effort to support economic and financial market conditions. This has meaningfully lowered interest rates across fixed income and ushered in a new era of challenges for fixed income-oriented investors in a growth- and yield-seeking world.
With that said, we believe one of the biggest challenges currently facing investors is the possibility of slower long-run growth, even once we emerge from the pandemic. That is, the global economy may not be able to sustainably generate growth above the sluggish trajectory of the prior business cycle. In our view, this could lead to below-average investment returns for both stocks and bonds over the next 10 years. Even though we believe there is still plenty of progress to be made in a post-pandemic world, our expectation is that forward returns will slow.
The reality of what we believe to be a lower-for-longer return environment has been consistently reflected in PNC's annual Capital Market Assumptions. Valuations remain quite full by most metrics we track, which suggests to us they will be a key governor of more muted price appreciation in the decade ahead. We also believe there are cyclical factors to consider as part of a qualitative assessment of the environment:
where we stand at this stage of the business cycle (early innings, but still highly dependent on the path of COVID-19);
unprecedented global monetary policy accommodation and supportive financial conditions; and
still sluggish long-run global economic growth (official growth forecasts increased only slightly year over year).
In order to address lower return expectations, we believe investors need to continue to reassess their asset allocation and portfolio positioning. The traditional 60/40 "balanced" allocation to stocks and bonds may not be sufficient to meet the average endowment's long-run goals and objectives. It isn't just about the stock and bond allocation split; it is also what comprises those asset class categories. In light of what appears to be a lower-for-longer expected return environment, we believe investors should consider the following strategic asset allocation themes:
Sizable allocations to public equities

Maintain domestic equity bias relative to market capitalization weights
Structurally overweight small cap and mid cap

Lower allocations to fixed income

Focus on liquidity characteristics, potential volatility reduction and duration positioning
Incorporate credit, emerging market and unconstrained exposures

When practical, no more than 20-30% allocation to alternatives

Preference for private investment vehicles
Exclude long-only positions in commodities/natural resources
Conclusion
We are positive about prospects for the equity markets in 2021, while we think the backdrop for fixed income is likely to create a difficult road ahead. As investors slam the door shut on 2020 and the longest business cycle on record, we have just begun to crack open another door to a new cycle and potentially a new era.
Assuming the pace of vaccinations continues on schedule and there is no need to take more lockdown measures in response to COVID-19, we believe the global economy should continue to recover in 2021 at a pace and level that should support robust positive year-over-year earnings growth. We believe that this, along with strong returns July 1, 2020 – December 31, 2020, creates the potential for FY2021 to end with performance at or above long-term return objectives on June 30, 2021.
---
Accessible Versions of Charts
Chart 1: Average Net Investment Return (Percentage Points)

|   | Smallest Endowments | Average | Largest Endowments |
| --- | --- | --- | --- |
| 1 Year | 2.46 | 1.82 | 2.51 |
| 3 Years | 5.39 | 5.17 | 5.93 |
| 5 Years | 5.28 | 5.09 | 5.69 |
| 10 Years | 7.46 | 7.48 | 7.94 |

Chart 2: Average Return versus Long-Term Return Objectives
|   | 10-Year Average Investment Return | Spending Rate | Long-Term Return Objective |
| --- | --- | --- | --- |
| FY10 | 3.40% | 4.50% | 7.70% |
| FY11 | 5.60% | 4.60% | 7.70% |
| FY12 | 6.20% | 4.20% | 7.40% |
| FY13 | 7.10% | 4.40% | 7.40% |
| FY14 | 7.10% | 4.40% | 7.40% |
| FY15 | 6.30% | 4.20% | 7.30% |
| FY16 | 5.00% | 4.30% | 7.10% |
| FY17 | 4.60% | 4.40% | 7.00% |
| FY18 | 5.80% | 4.50% | 7.20% |
| FY19 | 8.40% | 4.36% | 7.00% |
| FY20  | 7.48%  | 4.59  | 7.10%  |

Chart 3: Recipients of Investment Program Distributions

| | |
| --- | --- |
| Student Financial Aid | 48% |
| Endowment Faculty Positions | 11% |
| Operations and Maintenance of Campus Facilities | 7% |
| Academic Programs | 17% |
| All Other Purposes | 17% |

Chart 4: Asset Allocation by Endowment Size

|   | Equities | Fixed Income | Alternatives | Real Assets |
| --- | --- | --- | --- | --- |
| Average | 33.43 | 12.35 | 42.81 | 11.4 |
| Over $1 billion | 30.07 | 12.35 | 46.18 | 11.4 |
| $501 million-$1 billion | 43.23 | 15.03 | 33.03 | 8.71 |
| $251-500 million | 44.26 | 16.55 | 30.77 | 8.42 |
| $101-250 million | 52.39 | 20.49 | 20.19 | 6.93 |
| $51-100 million | 54.34 | 25.35 | 14.66 | 5.65 |
| $25-50 million | 58.14 | 28.6 | 7.85 | 5.41 |
| Under $25 million | 59.3 | 30.85 | 6.52 | 3.33 |